5 Micro-Gestures That Actually Make A Difference, According To A Social Activist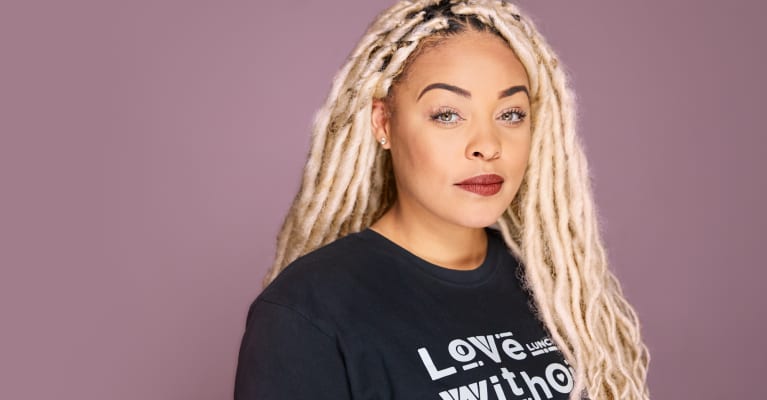 Homelessness and hunger: two very complex, vast social issues. It's easy to feel overwhelmed by the weight of them, as it ultimately takes a dismantling of our systems and structures in place to truly get to the root of the problem. Which may have you wonder: Is there anything you can do on the ground level that actually makes a difference?
Ask LaRayia Gaston, activist and founder of the nonprofit organization Lunch On Me, and the answer is a resounding yes. "We can get overwhelmed by the problems," she says on this episode of the mindbodygreen podcast. "[But] the state of the world is no one person's problem to solve... It's all of us showing up, doing our part, and things will cancel out themselves." (She also spoke about this very topic at mbg's revitalize event back in 2018, as well as in mindbodygreen's very first documentary.)
In other words, we can focus on micro-gestures to lessen the burden on homeless and hungry individuals, which in turn creates a chain reaction of positivity and love. What do we mean? Let Gaston explain below.
"We don't need to have some huge life-altering shift to show up for the world. We need to see the small missed opportunities in our daily life," says Gaston. Enter micro-gestures: simple, daily interactions that can yield big impacts.
Approaching the problem from a bottom-up perspective can help empower you to make real, efficient change, rather than succumbing to the overwhelming weight of the issue. "It's easy to be overwhelmed if we're frozen, if we're not doing anything toward something better," notes Gaston. That said, think of micro-gestures as daily opportunities to curate kind, loving interactions. According to Gaston, restoring a sense of love helps a lot more than you think.
5 simple micro-gestures you can do. 
Below, find the small acts Gaston does on the daily:
Gaston loves her coffee—she typically grabs a cup of joe four or five times a week. That's a perfect opportunity to make someone's day, she notes. If she sees someone outside of a coffee shop or gas station who needs help, she'll say: "Hey, love, I'm going inside. Can I get you something?" Just like you might ask a family member or friend if they needed something at the store before driving off.
"You normalize the idea of just being caring," she explains. "You're taking what you do with your family and your [household], and you're bringing it to strangers."
2.
Bring water bottles in your car.
If you live in a driving city, perhaps keep a case of water bottles in your car (much easier than carrying them around all day). Ask people if they're parched and/or warm, and hand them out.
3.
Keep granola bars in your bag.
"I always have one or two granola bars in my purse," Gaston says. They're small and portable enough to fit in a day bag, yet you can find filling options that pack in nutrients. A simple phrase like, Are you hungry? I have an extra granola bar is so simple, but it can make someone's entire day.
4.
Keep small bills on hand.
Gaston recommends keeping small bills on hand, just in case you're near a restaurant, coffee shop, or gas station. Something as little as five dollars can truly make a big difference: "You can still be intentional," says Gaston. "'Hey, I hope this can help you later. Here's five dollars—this is what I had in my bag.' But I put it in my bag with the intention that I'm going to help someone wherever I'm at."
At the end of the day, the best thing you can do is acknowledge the people you see. Don't underestimate the power of a smile, of asking them if they're OK—this is what gives them a sense of humanity and dignity, both of which are arguably just as important as something to eat.
"I see people who you can tell have had a hard day, and I ask them, 'Are you OK? Is there something I can do to help you? What's your name?' These are small things, and it shifts dialogue; it restores humanity."
With micro-gestures, you can help fight homelessness and hunger without becoming overwhelmed by the complexity of the issues. As Gaston notes, "I'm not changing the world as a whole. I'm changing my corner of it."