The Mica Issue Isn't Solved — The Latest On The Sparkly Stuff In Your Makeup

Beauty & Health Editor
By Jamie Schneider
Beauty & Health Editor
Jamie Schneider is the Beauty Editor at mindbodygreen. She has a B.A. in Organizational Studies and English from the University of Michigan, and her work has appeared in Coveteur, The Chill Times, and Wyld Skincare.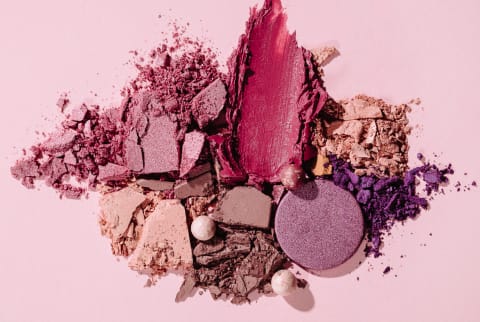 Image by Ani Dimi / Stocksy
February 10, 2020
We carefully vet all products and services featured on mindbodygreen using our
commerce guidelines.
Our selections are never influenced by the commissions earned from our links.
When you think of "cruelty-free" makeup, animal testing typically appears front of mind, but cruelty-free beauty means so much more—it entails everything from testing the formulas to mining the minerals that give us the glow we love. We've known for a while that the beauty supply chain can sometimes be, shall we say, shady. The industry was quick to react when mica sourcing became a trending topic, with op-eds and exposés alike shedding much-needed light on the problem.
But despite some slow progress, the mica issue still isn't solved—a few industry insiders are now trying harder than ever to do something about it.
To recap: What is the mica issue? 
Mica is the mineral that gives our favorite shadow palettes and blushes their quintessential glow. In addition to giving you glittery lids and radiant cheekbones, it's a relatively safe substance to use, which is why so many brands have depended on it for clean, high-quality formulas. But there's an apparent problem in its sourcing: Mica is typically sourced in socially and economically challenged regions where there's risk of poor work conditions, inadequate pay, and even child labor.
"Mica is one of the hardest supply chains to track," Gregg Renfrew, founder and CEO of Beautycounter, tells mbg. "Most companies believe they are responsibly sourcing mica, usually relying on certificates that state 'child-labor-free.' When you personally audit mines however, it is clear that the entire mica industry doesn't have traceability."
According to Renfrew, even though certificates may state the supply chain as "child-labor-free," the actual process becomes a bit fishy. In order for companies to confidently say they responsibly source mica, tons more investigation is needed. This is just what they are highlighting in their new documentary about the issue.
Beautycounter now investigates their own supply chain with thorough, on-the-ground audits, where they travel to the actual mines in order to see firsthand whether or not the sourcing process involves ethical practices. The brand does recognize how other companies might not have the means to accomplish these on-the-ground audits, encouraging everyone to complete over-the-phone audits, at the very least.
The current state of the union.
We by no means are the first to report the humanitarian issue—many publications have exposed the mica problem and have made great strides toward brand transparency and stricter regulations. For example, Aether Beauty and ColourPop are among the many beauty brands who ethically source from mines in Japan, Europe, Malaysia, or within the U.S. Glossier also tweeted back in 2017 that they only "partner with those who use ethical labor practices," as mica is found in their Gen G and Haloscope products. They state this promise in full on their code of conduct page.
Beauty giants like L'Oréal, Estée Lauder Companies, and Coty have all joined the Responsible Mica Initiative (RMI), a group that aims to eradicate child labor in the states of Jharkhand and Bihar in India—their goal is to create an entirely sustainable supply chain by 2022. Clean beauty hub Credo also recently joined RMI in the hopes of creating a 100% clean, sustainable industry.
Some brands have even noted their uncertainty about their mica sourcing, admitting they were unable to successfully track the supply chain and instead decided to forgo mica altogether: Lush cosmetics, for example, has been transparent about this predicament and decided to remove mica from their products entirely, turning toward a synthetic, lab-made substance, just to be safe. Milk makeup also uses this synthetic mica, noting how it offers a cleaner and more consistent shine.
So, what can we do?
Us consumers can help tackle the issue by pressuring more brands to opt for stricter regulations or, at the very least, transparency about the process.
Beautycounter encourages consumers to text "MICA" to 52886 in order to pressure government officials to take action. Another proactive way to spark change is to email your favorite beauty brands and ask them whether the mica they use is sustainably sourced. A simple act, sure, but it can reveal some valuable information that might not be available online. In fact, there's already a populated Reddit thread in place, where people are constantly adding in responsibly sourced brands accompanied by screenshots of email responses.
In terms of the future, Renfrew is confident in the power we have to eradicate the issue worldwide: "We have seen consumers transform the practices of the chocolate and coffee industry—similarly riddled with labor issues—and so, too, we can bring transparency and dignity to mica mining."
Needless to say, the push toward transparency about our translucent, shimmery shades is long overdue.

Jamie Schneider
Beauty & Health Editor
Jamie Schneider is the Beauty Editor at mindbodygreen. She has a B.A. in Organizational Studies and English from the University of Michigan, and her work has appeared in Coveteur, The Chill Times, and more. In her role at mbg, she reports on everything from the top beauty industry trends, to the gut-skin connection and the microbiome, to the latest expert makeup hacks. She currently lives in Brooklyn, New York.