Make The Most Of Roasted Chestnut Season With This Mushroom Soup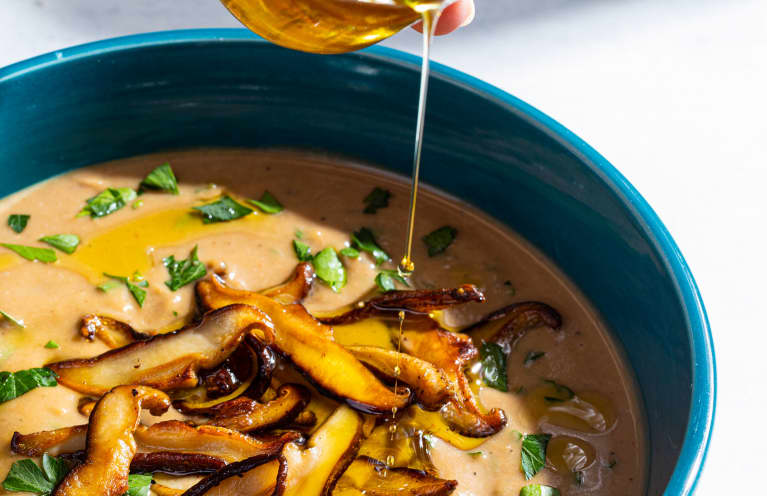 Our editors have independently chosen the products listed on this page. If you purchase something mentioned in this article, we may
earn a small commission
.
Chestnuts aren't just for plain ol' roasting over an open fire. This Mediterranean-inspired dish uses them alongside one of our other favorite ingredients, mushrooms, to create a perfectly balanced soup that's great for this time of year.
From America's Test Kitchen's More Mediterranean, this recipe is a variation on a traditional dish from Turkey, which is the third-largest producer of chestnuts in the world. Specifically, the authors write: "We were inspired by kestane çorbasi, a pureed chestnut soup that can lean sweet or savory depending on who is at the stovetop. Along with the woodsy, rich chestnuts, our soup achieves an appealing sweet-savory balance from shallots and mushrooms (both classic ingredients). The addition of baharat in our version, which we saw in some ­recipes, manages to augment all the distinct flavors in the soup with its ­complex spice."
Baharat is a popular seasoning blend in Turkey, that usually includes spices like paprika, nutmeg, cumin, and cinnamon—but similar to garam masala, it can vary depending on where it's made (or who makes it). Though this is traditionally a pureed soup, in this version, the authors call for stirring in sautéed shiitakes after blending, for welcome added texture and some bonus mushroom benefits.
Chestnut Soup With Mushrooms & Baharat
2 cups water, divided
¼ ounce dried porcini mushrooms, rinsed
2 tablespoons extra-virgin olive oil, divided, plus extra for drizzling
1 pound shallots, quartered
1 teaspoon table salt, divided
¾ teaspoon Baharat
14 ounces (3 cups) peeled and cooked chestnuts, chopped
2 cups chicken or vegetable broth
10 ounces shiitake mushrooms, stemmed and sliced thin
¼ teaspoon pepper
¾ cup plain whole-milk yogurt
½ cup plus 2 tablespoons minced fresh parsley, divided
Microwave ½ cup water and porcini mushrooms in covered bowl until steaming, about 1 minute. Let sit until softened, about 5 minutes. Drain ­mushrooms in fine-mesh strainer lined with coffee filter, reserving soaking liquid, and chop mushrooms fine.
Heat 1 tablespoon oil in Dutch oven over medium-low heat until shimmering. Add shallots and ½ teaspoon salt, cover, and cook until shallots are softened and beginning to brown, 12 to 15 minutes, stirring occasionally. Stir in minced porcini and baharat and cook until fragrant, about 30 seconds. Stir in chestnuts, broth, reserved porcini soaking liquid, and remaining 1½ cups water and bring to boil. Reduce heat to medium-low, cover, and simmer until chestnuts are very tender, about 20 minutes.
Meanwhile, heat remaining 1 tablespoon oil in 12‑inch nonstick skillet over medium heat until shimmering. Add shiitake mushrooms, remaining ½ teaspoon salt, and pepper; cover, and cook until mushrooms are softened, about 5 minutes. Uncover and continue to cook, stirring occasionally, until liquid has evaporated and mushrooms begin to brown, 8 to 10 minutes longer; set aside.
Working in batches, process soup and yogurt in blender until smooth, about 1 minute. Return pureed soup to now-empty pot. Stir in all but ¼ cup reserved browned shiitakes and bring to gentle simmer over medium heat, adjusting consistency with hot water if desired. Stir in ½ cup parsley and season with salt and pepper to taste. Serve, sprinkling with reserved shiitakes and remaining 2 tablespoons parsley and drizzling with extra oil.
You can purchase peeled and cooked chestnuts jarred or vacuum-packed, which makes easy work of using chestnuts in this recipe that purees the soft fruit. If you can't find them precooked, or if you're attracted to the baskets of raw chestnuts at the store in the winter months, you can prepare them at home. When ­purchasing, be sure to look for nuts with glossy shells and avoid those that rattle when shaken, as this indicates that they have dried out.
For this recipe, cut 20 ounces of whole chestnuts in half crosswise, then blanch for 8 minutes in 8 cups of boiling water. Remove the pot from the heat, leaving the nuts in the water. One at a time, hold the chestnuts with a dish towel and squeeze the shell to extract the meat. Using a paring knife, trim any bits of husk.
Excerpted with permission from More Mediterranean: 225+ New Plant-Forward Recipes, Endless Inspiration for Eating Well from America's Test Kitchen.
Want to turn your passion for wellbeing into a fulfilling career? Become a Certified Health Coach! Learn more here.