The Beauty Routine Hairstylist Matt Newman Has Been Using As Of Late

mbg Beauty & Wellness Editor
By Jamie Schneider
mbg Beauty & Wellness Editor
Jamie Schneider is the Beauty & Wellness Editor at mindbodygreen. She has a B.A. in Organizational Studies and English from the University of Michigan, and her work has appeared in Coveteur, The Chill Times, and Wyld Skincare.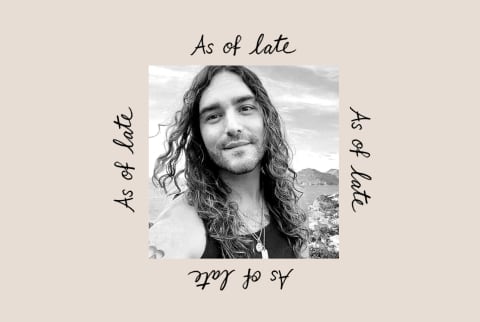 August 23, 2022
Our editors have independently chosen the products listed on this page. If you purchase something mentioned in this article, we may
earn a small commission
.
Beauty routines are never truly stagnant—practices evolve and change like we do. In
As of Late
,
we chat with influential folks about their current products and rituals. Here, we get a snapshot of what they're doing right now: the sacrosanct formulas they use until the last drop, the fresh launches they've got their eyes on, and of course, the why behind it all.
Advertisement
This ad is displayed using third party content and we do not control its accessibility features.
It all began with a really good hair day.
Before Matt Newman (aka @mattloveshair) became one of TikTok's resident hair experts, he worked as a stylist's assistant during fashion shows and shoots, but as his freelance gigs came to a halt in 2020, his boyfriend suggested he try making hair videos for fun. Why not, right?
"I started posting some hair content, and the first few ideas didn't really click, but since I blow-dried my hair the first day to make content, I made a few more videos as the week went on," he tells me over the phone. (Never let a good blow-dry go undocumented, as they say.) "At the end of the week, the last video I posted got a few hundred thousand views, and I took that and ran with it."
Since the viral TikTok that started it all (a dry shampoo hack!), Newman's page has skyrocketed in popularity—now, over a million users eagerly consume his hairstyling hacks, expert product recs, and, of course, his bouncy blowout tutorials. Recently, I was lucky enough to chat with Newman about all of the above, including the face mask that got him through a six-hour flight, the brow gel he was desperate to get his hands on in Europe, and the hair balm that's 100% worth the steep price tag. Below, he shares everything he swears by right now.
The tried-and-true: A blow-dry tip.
"This is controversial, but I fully stand by it. For blow drying hair, personally and for my clients, I rough dry [until the hair is] 20% dry instead of 80% dry, as most people will tell you. I just like to start with a wetter blow dry.
"While you are drying the hair, the more intention you use, the more control of your style you have. So when you rough dry to 80%, you take away a lot of your ability to control the outcome of the style. When you rough dry only 20%, you get rid of that excess water, but you have more room to build in the style you want.
"If you have tight coils or tight waves, that's the right way to style it to smooth it out. But I even believe that for fine hair, if you ultimately want to put bend and lots of bounciness in it, you are better off building that in from 20% rough dried than 80% rough dried."
Advertisement
This ad is displayed using third party content and we do not control its accessibility features.
The surprise hit: A strong-hold brow gel.
"I got the got2b Glued brow gel when I was in Europe… I posted a series of videos desperately searching for it when I was on a brand trip to Amsterdam. I could not find it, and then someone got it for me in Europe.
"I thought it was going to be too intense, and it would be flaky and gross, but I totally effing love it. You definitely shouldn't apply too much, or you will get flakiness, but oh my gosh, it freezes my eyebrows. I did a wear-test video one time, and it was like 12 hours without them budging."
The secret: A cleansing balm/shaving gel.
"Speaking of my trip to Amsterdam, I went to the tulip fields where Bloomeffects grows their proprietary ingredients for their own products. They have a cleansing jelly balm that when you add water to it, it gets really milky, and I have been using that to shave my face instead of shaving cream.
"I forgot my little travel-size [lotion], and I saw the cleanser, so I just picked it up to use it, and I was blown away by how much I loved it. I have tried everything over the years to get away from [traditional] shaving cream. It makes a really good shave for me, but it dries me out to no end. This has been the most perfect product ever. I've never finished a skin care product faster."
The up-and-coming: A pre-shampoo mask.
"Mane Method has a batana oil mixed with castor oil mask. It comes in a tin, it's solid, and when you rub it in your palms, it breaks down completely into an oil, and I'm obsessed.
Advertisement
This ad is displayed using third party content and we do not control its accessibility features.
"It's interesting that I finally got to the place of using castor oil because it's so thick. I'll style my hair with argan oil for no-blow-dry days—I don't tend to go for castor oil because it's just too heavy for those moments. [This] is a pre-shower mask, so I will use a really heavy application before a wash day for air dry waves and a very light application before a wash day for a blowout… I adore it. It's so good. I've gone through almost all of it already."
Mane Method
Mane Method Repair Hair Mask
$ 49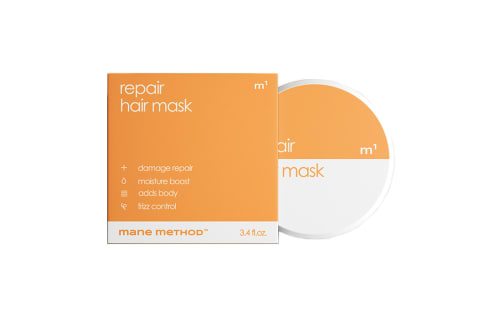 The pleasure: A hair balm & elastics.
"The skin care brand Sisley makes a hair balm that is solid, and when you rub it in your palms, it breaks down to a very liquid, viscous-like oil, and the fragrance alone makes it worth the $125 cost. If you have fine, frizzy hair like me and you want to do an air-dry day, it's a nice way to add oil… It gives a nice sheen, and a little goes a long way. Like, I'll never finish this container probably. That makes it worth it.
"Something [else] that is a higher ticket item but is absolutely worth it and I buy for myself on repeat are Slip Silk Elastics. Not the Silk Scrunchies, the Silk Elastics—they're the tighter thinner ones. I use nothing else."
Sisley
Sisley Restructuring Nourishing Balm
$ 125
A blend of hair-healthy oils (shea oil, macadamia oil, moringa oil, babassu oil, and meadowfoam seeds oil) wrap the strands in a blanket-like barrier of moisture. Apply to your tresses either 30 minutes before your wash day or overnight for a deeper treatment—either way, you'll be met with glossy, silky strands.
The carry-on: An in-flight mask.
"This is new to my routine, and it went viral [on social media]. I got so much hate on Instagram, but I stand by it one million percent, over and over again. It's the Charlotte Tilbury Cryo Recovery Face Mask. It is a reusable, cooling gel product that you freeze and strap on really tight. Then there's little metal beads that you put over your pressure points, so it's for depuffing, and I am obsessed with it.
"I filmed it and posted it from an airplane as a stunt. It was a quick clip of me putting it on, and I used text to explain that I asked the flight attendant to put it next to the ice bin so it would be cold. The opening shot is me putting it on and saying, 'I begged the flight attendant to put this next to the ice bin.' I cannot tell you how much hate this got, [but] I asked super-duper nicely…we had so much fun. They were dying that I asked them to do that, and they thought it was so cool. I obviously picked my moment respectfully.
Advertisement
This ad is displayed using third party content and we do not control its accessibility features.
"I literally came from a week of New York Pride events and a full day of Governor's Ball with a brand partner, working until 10:00 at night and had a 6 a.m. flight to go to Pride with TikTok in LA. I was going from the plane to an LA pride event, so that's why I did it on the plane, because I was literally going [right to] an event and [to] be photographed. I would otherwise just bring it with me and use it after the flight in a reasonable capacity."
The advice my best friend gave me: Break the rules.
"One of my best friends from growing up is a celebrity stylist, and she has a very dedicated Instagram following, long before I ever used social media. Her name is Allison Bornstein, and she taught me that there are no rules for how you're supposed to look. Like you can't wear brown with black, or you can't wear a belt where there's no loops, or whatever it might be. She taught me to just completely disregard all of those rules and do what makes me feel good, and I bring that into my hairstyling routine, too.
"I specifically remember, I had my favorite brown leather belt I always wore with blue jeans and a T-shirt. And then when I moved [to New York], I ended up in all black all the time. I remember saying, 'Can I still wear this belt, even though I'm wearing black jeans and a black shirt instead of blue jeans and a white shirt?' I thought that was a rule, that you can't wear black and brown. She goes, 'I think all those rules are stupid. I don't think any of those rules are even valid.' I was like, thank you. This was 10 years ago, and I needed to hear it then, and it stays in my mind today."
Advertisement
This ad is displayed using third party content and we do not control its accessibility features.