This Matcha Mojito Is Going To Be THE Drink Of Summer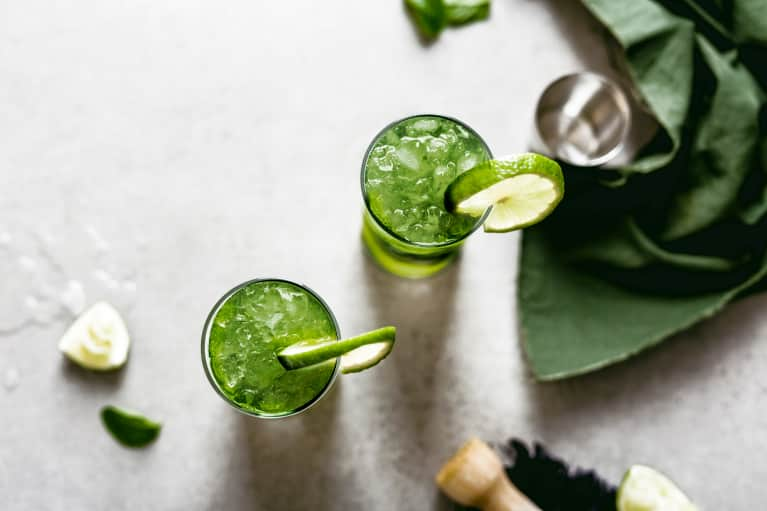 It's no secret that we're obsessed with matcha here at mbg—so when we stumbled upon this matcha mojito at NYC matcha hot spot Matchaful, we knew we'd found the drink of summer. The combination of fresh mint leaves (great for soothing your stomach and eliminating bloat), lime juice (proved in studies to improve heart health), and matcha, which boosts energy and helps with anxiety, is bright green and both refreshing and vegetal. It's sweetened with just a touch of maple syrup, which keeps it vegan and adds a caramel undertone.
We convinced the women of Matchaful to share the recipe, so you can try it at home. Feel free to make it with or without the alcohol!
8 to 10 organic mint leaves
1 ounce organic lime juice
1 teaspoon ceremonial-grade matcha (we love Matchaful's Emerald)
4 ounces filtered water
1 ounce white rum or gin (optional, but we love St. George's Botanivore Gin)
2 ounces sparkling water
Handful of ice cubes
Add mint to a cocktail shaker, Mason jar, water bottle, or anything with a lid, and use a muddler or the back of a wooden spoon to muddle to release the flavors. Add lime juice and muddle a bit more.
Add the water, ice cubes, matcha, maple syrup, and alcohol (if using). Put lid on and shake vigorously to combine.
Pour into a glass. Top it off with 2 ounces of sparkling water, garnishing with mint leaf. Serve immediately.
And do you want to turn your passion for wellbeing into a fulfilling career? Become a Certified Health Coach! Learn more here.