What The Heck Is A Margarita Burn? Here's How To Avoid & Treat It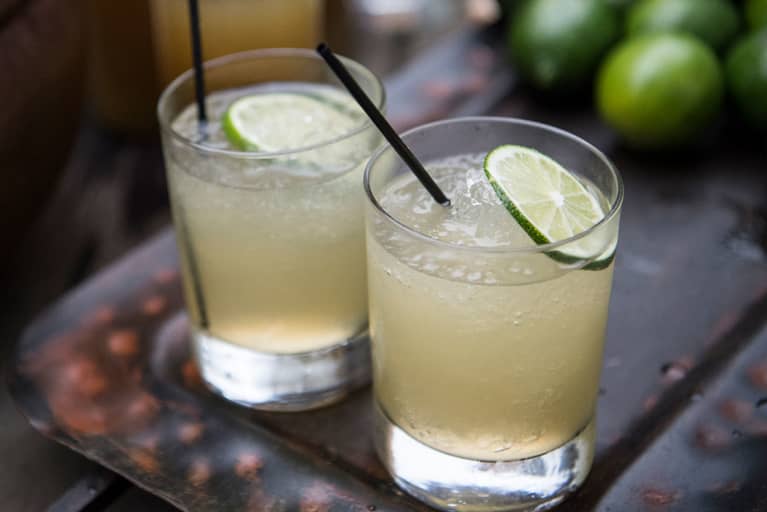 TikTok has become a go-to beauty destination for many, but above all else, the app serves as a tool for people to share their experiences—be it with a certain product, service, or routine. Sometimes, you'll even come across videos on your For You Page documenting a user's beauty mistake, meant to warn others against making the same blunder. That's certainly the case with this story.
In a recent TikTok video, lifestyle content creator @pretty.frowns shared her experience with a unique form of dermatitis she got from an all-too-common activity: drinking a cocktail on the beach. Yep, an innocent trip beachside can result in a condition called phytophotodermatitis, often referred to as "margarita burn." Here's the scoop on this skin reaction.
What is a margarita burn?
Phytophotodermatitis is essentially a form of dermatitis that comes from plants and light. In this case, lime juice and sunlight—since margaritas typically contain a load of lime juice (and people typically tend to sip on them in sunny weather), this reaction is commonly called a "margarita burn."
Yes, really: The combination of lime juice on the skin and sunlight can cause a form of dermatitis. This reaction can show up as dark spots, blistering, redness, a burning sensation, and just general irritation on the affected area. Depending on the severity of the reaction, some may experience more of these symptoms than others. In @pretty.frown's experience, the reaction was localized on the corner of her lip and presented as a discolored, painful patch.
Most experts recommend treating margarita burn like you would a sunburn: anti-inflammatory skin soothers (think aloe and colloidal oat), a cold compress, and extra sun protection to avoid making the reaction worse. While you're at it, you might want to stow the exfoliating acids and retinoids for the time being and stick to gentle, nourishing products (ceramides, hyaluronic acid, squalane, et al.).
Unfortunately, this reaction can take a few months to heal—so patience is key. Of course, if you're dealing with more severe symptoms (like intense burning or peeling), it's best to see a dermatologist as soon as possible to diagnose and treat this reaction.
And if you are planning on mixing citrus and sunlight, do so with caution. You can keep a damp rag close by and wipe off your face after sipping your beverage to ensure you wash away any residual juice. Just remember to reapply your sunscreen after each wipe.
The moral of the story? Drinking margaritas on the beach may be the peak of leisure, but it does pose a unique risk to be mindful of.
Thanks to TikTok, more and more people are becoming aware of phytophotodermatitis, or the infamous "margarita burn." To avoid this often painful skin reaction, be sure to wipe your face after drinking your citrus cocktails and reapply sunscreen each time. If you're past this point already, treat your skin with extra-gentle care or visit a dermatologist to determine the best next steps. If you're experiencing a rash around the mouth but have ruled out margarita burn, you may want to read up on another common reaction: perioral dermatitis.