6 Things You Need To Know Today (March 28, 2018)
mbg Health Contributor
By Gretchen Lidicker, M.S.
mbg Health Contributor
Gretchen Lidicker earned her master's degree in physiology with a focus on alternative medicine from Georgetown University. She is the author of "CBD Oil Everyday Secrets" and "Magnesium Everyday Secrets."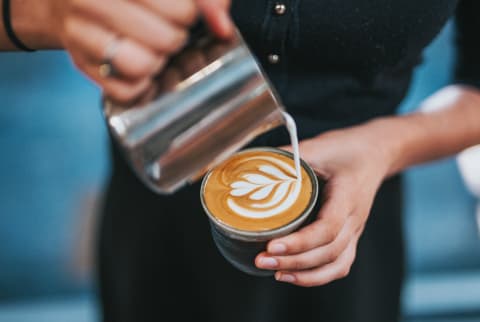 March 28, 2018
1. Thanks to cannabis, your coffee is about to get a whole lot better.
A company called Front Range Biosciences is using the growing practices they developed for growing bacteria- and virus-free cannabis and applying the technology to coffee to make a cleaner, better-tasting bean. "It's really like a manufacturing process for plants," explained the company's CEO. "You don't have to deal with pests, so you don't have to use pesticides. You control your environment." (Wired)
2. Sexual desire is a lot more complicated than most people think.
According to a paper recently published in the Journal of Sex Research, understanding our sexuality and sexual desires is a complicated endeavor—but one that's very worth exploring. In a large review of studies, researchers explored not only why the spark dies in so many long-term relationships but what to do about it. One thing worth considering? In long-term relationships, having an orgasm shouldn't be the only goal of sex. (The Cut)
3. We need a better system for recording sick patients' wishes.
While doctors are encouraged to talk to terminally ill patients about how they wish to spend their last days and moments, there is not a good place to record the results of these conversations. The author, an E.R. doctor who has polled other clinicians, proposes an online portal that is standardized across hospitals or the requirement that all patients have a health care proxy who can make decisions in their place. (NYT)
4. What makes a hero?
If you think a hero is made up of a collection of psychological traits (bravery, strength, altruism), think again. A new study found that what prompts a person to become a hero might have more to do with the community she's in. Researchers determined biographical availability, socialization, and situational context to be the factors most relevant in determining whether a person would act heroically. (Science Daily)
5. The demand for healthy options puts pressure on the alcohol industry.
Transparency in food is no surprise––and now, consumers are asking for the same when it comes to alcoholic beverages. First step? Stricter menu labeling and readily available calorie information. Recent studies have indicated that a growing number of drinkers are prioritizing nutritional labels of their beers and spirits. (Food Dive)
6. A mother's stress levels during pregnancy may directly affect her developing baby's brain.
New research released by the Cognitive Neuroscience Society draws a connection between the mother's prenatal stress and brain development thanks to fMRI scanning technology. Thirty- to 37-week-old fetuses of mothers from low-resource, high-stress environments had nervous systems that were organized with "reduced efficiency," and in particular their stress response centers, the cerebellum, had developed differently. This is the first time scientists were able to observe these effects in utero, which could help them develop guidelines for building better fetal brain health in the future. (Science Daily)