3 Major Gua Sha Mistakes, Straight From An Eastern Medicine Expert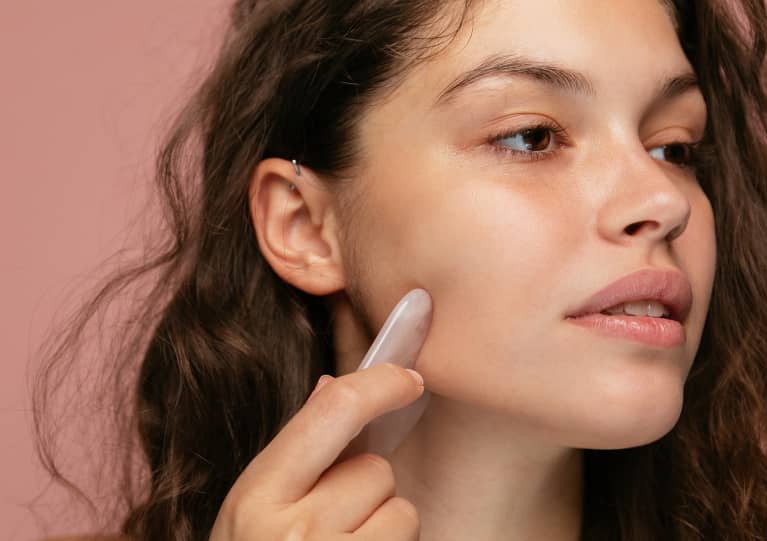 This article was produced to support the mindbodygreen supplements+ line. Our supplements adhere to the highest standards of ingredients and quality. We hope you enjoy these products, for more information
click here
.
All it takes is a quick scroll through TikTok or Instagram, and you'll find gua sha videos aplenty. Influencers and skin care aficionados all love to espouse their unique routines—complete with oils, stones, and techniques—as the best of the best. But as I learned from skin care expert Debbie Kung, DAOM, LAc, in a recent episode of Clean Beauty School, the best routine is one you craft for yourself, over time, with patience and kindness toward your skin.
"Gua sha is a type of modality and medicine that's accessible to anyone, and that's what I really love about it. It's something that is so traditionally ingrained in Asian culture for such a long time that we don't think anything of it. You don't have to have a medical degree. You don't have to have 'experience' with it. You can just try it," she says. "Obviously, once you start doing it, there are certain techniques and ways to make it work in your favor and what you're addressing, but the bottom line [many of the stones, rituals, and products] work."
Now, just because there's no "perfect" way to do this doesn't mean you can't make mistakes. Here, the things that Kung sees most often that may be messing with your gua sha practice:
Getting the right stroke and pressure for your skin—and the specific area of the body or face you're working on, for that matter—will take some practice.
"I think it's great that social media is spreading the gospel of gua sha, but I will say that there are a lot of videos out there that are really only for younger people. When the skin ages, the dermis becomes thinner and more sensitive," she notes. "There are many videos out there of people under 30 and still have very healthy skin, and they're really aggressively pressing and pulling their face. That won't work for more mature skin, as it may cause irritation and damage."
If you're practicing the right pressure and motion, Kung even recommends practicing on your forearm before moving to the face. The face is very delicate and doesn't heal as quickly, so you want to be mindful not to be aggressive toward it while you're learning your way around a stone.
2.
Not using face-appropriate oil.
You may already know this, but if you don't: Always apply a face oil prior to using your stone. The oil will help lubricate the stone and skin, so it glides across the epidermis effortlessly—that way, it can work its magic underneath.
And ultimately, the oil that you decide to use will be dependent on your own needs, skin concerns, budget, and so on. But one thing Kung notes not to do? Use body oil.
"It's important that you are choosing a very good-quality, high-vibrational facial oil. So the golden rule was to use oils that are made for the face. For example, don't use coconut oil, as it is not made for the face," she says. "The oils that I recommend are things like jojoba oil, which is the closest thing to skin's natural sebum. Sebum is what we naturally produce to keep skin moist, keep bacteria out, and protect the skin barrier. So when in doubt? Use jojoba oil."
However, that's not Kung's go-to preference for herself: She notes she loves rosehip seed oil and sea buckthorn oil. "Rosehip seed oil is actually shown, in small increments but used frequently, to have similar effects as retinol in the long term. Sea buckthorn oil has one of the highest levels of vitamins C, A, E, and B, as well as containing things like folic acid and ferulic acid."
When you watch someone who has been doing gua sha for a while, you'll notice there's a certain air to the way they move their stones: It's with an impressive ease.
"This is something that most people, including myself, when you first start to learn facial gua sha, is that you tend to be very stiff with your wrist," she says. "To have a loose wrist with your gua sha means you can twirl your hands so that you can get different angles of the tool while you're doing the same smooth stroke. You really want to get your arm and wrist into it: twisting, relaxing, and twirling the stone so you can manipulate the tool to actually work those facial features."
Gua sha is for everyone—beginners and experts alike. And everyone should feel free to experiment with the modality to find a routine and ritual that works for them. But, of course, there are common mistakes you should be avoiding, says Kung. If you want more of her tips, be sure to check in on this episode.
If you're looking for more engaging beauty conversations, listen to our new beauty podcast, Clean Beauty School. Subscribe on iTunes, Google Podcasts, or Spotify.