How To Make A Vibrant & Flavorful Low-FODMAP-Friendly Hummus
mbg Contributor
By Phoebe Lapine
mbg Contributor
Phoebe Lapine is a food and health writer, gluten-free chef, wellness personality, culinary instructor, and speaker, born and raised in New York City, where she continues to live and eat. She holds a B.A. from Brown University.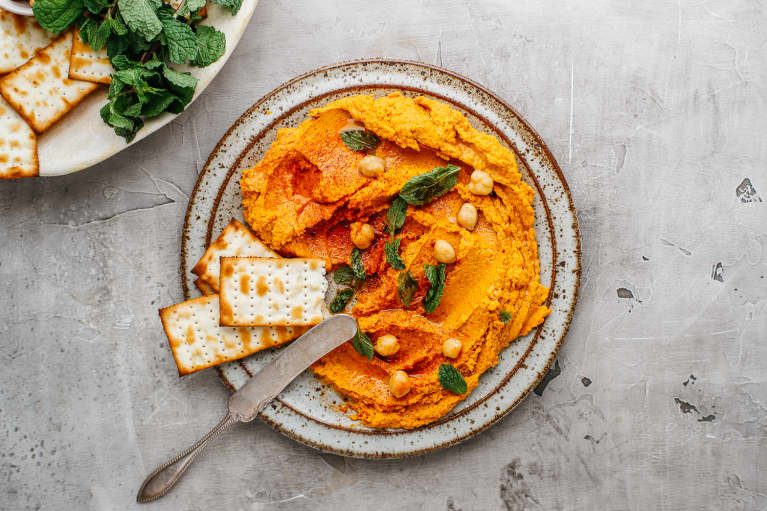 In her latest book
,
SIBO Made Simple
, writer, chef, and SIBO sufferer
Phoebe Lapine
gives a guide to small intestinal bacterial overgrowth (SIBO) as well as the many things she's learned on her journey to manage her symptoms. This recipe for low-FODMAP hummus makes an otherwise limited food something those struggling with SIBO and other gut health issues can enjoy more easily.
Although canned chickpeas are allowed on a low-FODMAP diet in quantities of ¼ cup per serving, to make a whole batch of hummus, it helps to have something else to add volume to the dip. Roasted carrots provide a subtle sweetness to the hummus. For a more traditional hummus, omit the carrots and use the whole can; just make sure to limit your intake to ¼ cup total per sitting.
1 pound carrots (about 8 medium), unpeeled and cut into 1-inch pieces
1 tablespoon extra-virgin olive oil
1 teaspoon sea salt
1 teaspoon ground cumin
1 cup canned chickpeas, drained and rinsed
¼ cup tahini
3 tablespoons freshly squeezed lemon juice
Preheat the oven to 425°F. Line a baking sheet with parchment paper.
On the prepared baking sheet, toss the carrots with the olive oil, ½ teaspoon of the salt, and ½ teaspoon of the cumin and arrange in an even layer. Roast in the oven until the carrots are tender and caramelized, about 30 minutes.
Remove the pan from the oven, and transfer the carrots to a high-powered blender or food processor, along with the chickpeas, tahini, lemon juice, the remaining ½ teaspoon of salt, remaining ½ teaspoon of cumin, and ¼ cup of water.
Puree until smooth, adding more water as needed to reach your desired consistency. Taste for seasoning and add more salt as necessary. Garnish with a drizzle of olive oil or garlic-infused oil.
Serve the hummus alongside crudités or low-FODMAP, gluten-free crackers.