Life Has Become More Stressful In Recent Decades, According To New Study
mbg Editorial Assistant
By Eliza Sullivan
mbg Editorial Assistant
Eliza Sullivan is an editorial assistant at mindbodygreen. She received a B.S. journalism and a B.A. in english literature from Boston University.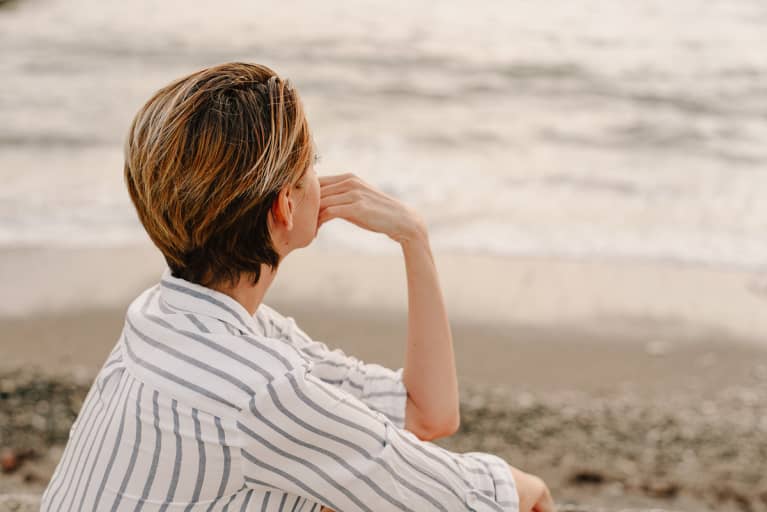 This article was produced to support the mindbodygreen supplements+ line. Our supplements adhere to the highest standards of ingredients and quality. We hope you enjoy these products, for more information
click here
.
We're all becoming acutely aware of stressors in our lives—the news cycles and instability of our current situation do little to promote mental calm. And the study of stress is a growing discipline, one that continues to provide us with more context for our experience. A new study from Penn State may provide some insight into just why stress has become such a prominent topic in our daily lives.
How our experience with stress has changed in recent decades.
According to their research, published yesterday in American Psychologist, people of all ages have more daily stressors than they did in the 1990s. But the most dramatic increase in stressors was reported in middle-aged participants.
"On average, people reported about 2% more stressors in the 2010s compared to people in the past," said David M. Almeida, Ph.D., a professor of human development and family studies at Penn State, "what really surprised us is that people at midlife reported a lot more stressors, about 19% more stress in 2010 than in 1990."
According to Almeida, that increase in stress translates to around 64 days of stress per year for people between ages 45 and 64. The study began with collecting data from 1,499 adults in 1995 and comparing it to data collected from 782 different adults in 2012.
The data was collected via interviews; participants were asked about different stressful experiences they had experienced over the last day and to rate the severity of the stress they experienced and whether the emotional experience of the stress leaked into other parts of their life.
With this data, researchers saw that not only was higher and more frequent stress reported, but a lower overall sense of well-being accompanies it, indicating the pervasive nature of stressful events.
Why might middle age coincide with increased stress?
While the results weren't what the researchers expected, they were able to identify why middle age can be stressful.
"We thought that with the economic uncertainty, life might be more stressful for younger adults, but we didn't see that. We saw more stress for people at midlife," Almeida said. "Maybe that's because they have children who are facing an uncertain job market while also responsible for their own parents. So it's this generational squeeze that's making stress more prevalent for people at midlife."
The trope of the "midlife crisis" may seem like just a cliché, but this evidence suggests that acute levels of stress are often experienced at this age, and researchers hypothesize that it may be linked to that fact that it coincides with being responsible for more people than ever before.
"With that responsibility comes more daily stress, and maybe that's happening more so now than in the past," said Almeida. He also added that the increase in stress over the years may have to do with the increased pace of our lives with the advent of technological advances.
As we begin to acknowledge the increases in stressors in our lives, it's equally important to begin to hone stress management techniques that work for us as individuals.