Kelly Clarkson Opens Up About The Diet That Helped Her Lose 37 Pounds & Heal Her Thyroid

Contributing Food Editor
By Liz Moody
Contributing Food Editor
Liz Moody is a food editor, recipe developer and green smoothie enthusiast. She received her creative writing and psychology degree from The University of California, Berkeley. Moody is the author of two cookbooks: Healthier Together and Glow Pops and the host of the Healthier Together podcast.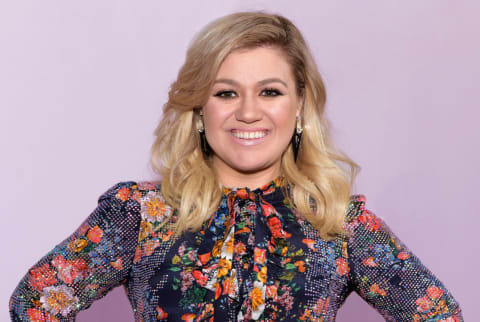 June 13, 2018
Kelly Clarkson has finally opened up about her recent weight gain and more recent weight loss, and the reasons behind both are more complicated than they initially appeared. The weight gain, she told Hoda Kotb on the Today show, was because of a thyroid disorder, and the subsequent slim down came from getting her hormones back under control. "I know the industry loves the weight gone, but for me it wasn't (about) the weight," she said. "For me, it was 'I'm not on my medicine anymore.'"
To heal her body, she used the methodology outlined in Steven Gundry, M.D.'s book, The Plant Paradox. "I'm not working out! I think people think I'm working out, and I'm like, 'Don't think I'm going to come play some sport!'" she told Extra at the CMT music awards. "I literally read this book, and I did it for this autoimmune disease that I had, and I had a thyroid issue, and now all my levels are back up. I'm not on medicine anymore because of this book; it's called The Plant Paradox (by Steven R. Gundry, M.D.). It's basically about how we cook our food, non-GMO, no pesticides, eating really organic.... Literally, I haven't worked out at all!"
Advertisement
This ad is displayed using third party content and we do not control its accessibility features.
We've written about it at length on mindbodygreen (and Gundry is a past podcast guest and will take the stage at this year's revitalize), but in general, the diet is based on quelling inflammation in the body by avoiding food sources of it, particularly lectins.
"The basic premise of the Plant Paradox program is that once you remove the inflammatory agents (aka lectins) from your diet, your body is able to stop throwing all its resources and energy into dealing with continual damage and go into restorative mode, where excess weight can be released and diseases can be healed," Gundry explains. His program excludes foods like peanuts, cashews, corn, quinoa, nightshades, conventionally raised meat, vegetable oils, legumes and beans, dairy, and squashes that "no human ate until about 10,000 years ago, (that we are) still woefully ill-equipped to digest."
Want to try out Dr. Gundry's diet? Here's exactly how to do it.
Want to turn your passion for wellbeing into a fulfilling career? Become a Certified Health Coach! Learn more here.
Advertisement
This ad is displayed using third party content and we do not control its accessibility features.
Reset Your Gut
Sign up for our FREE doctor-approved gut health guide featuring shopping lists, recipes, and tips