paid content
 for

Jump-Start Your Day With These Everything Bagel Superhero Muffins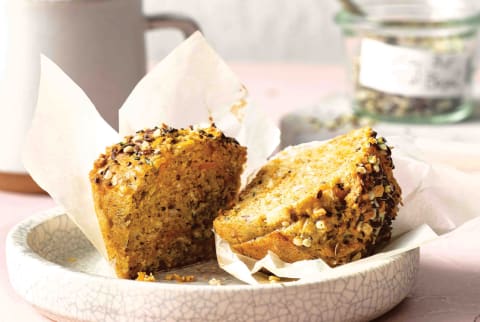 Image by Penguin Random House / Contributor
October 28, 2021
Historically we've always been told that breakfast is the most important meal of the day. And despite the rise of intermittent fasting in recent years, science still shows that what you eat at the start of the day affects everything: your mood, your work output, your cravings, your sleep, and even your long-term health.
Shalane Flanagan and Elyse Kopecky's new cookbook and training manual, Rise and Run, will help you elevate your morning routine with 100-plus nutrient-dense recipes to nourish your entire day. In addition to veggie-forward dishes that double as lunch or dinner, Shalane and Elyse also share expert advice from trainers and pros, effective morning rituals and running tips, and a 14-week marathon training program that will have you crushing your running goals.
For a sneak peek at the kinds of crave-worthy, balanced breakfasts you can expect in Rise and Run, check out the savory Superhero Muffins recipe below—and for even more inspo for your a.m. routine, purchase your copy of the book here.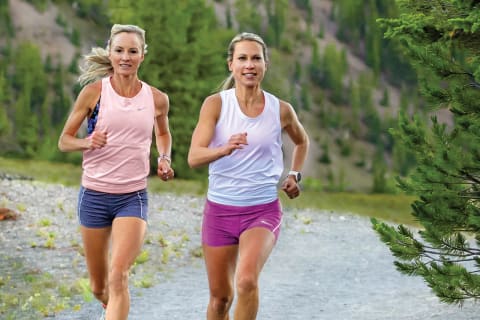 Image by Penguin Random House / Contributor
Everything Bagel Superhero Muffins
Ingredients - Makes 12 muffins
¼ cup plus 2 tablespoons extra-virgin olive oil
1 yellow onion, finely chopped (about 1½ cups)
Fine sea salt
1½ cups whole-wheat flour
1 cup rolled oats
¾ cup almond flour or almond meal
¼ cup Everything Bagel Seasoning Mix (recipe follows)
1 teaspoon baking powder
½ teaspoon baking soda
6 eggs
½ cup plain whole-milk yogurt
1½ cups grated peeled sweet potato or yam (about 1 large)
NUT ALLERGY? You can substitute an additional ½ cup whole-wheat flour for the almond flour and increase the olive oil to ⅓ cup. The muffins will be a little more dense but still delicious.
Method
Position a rack in the center of the oven. Preheat the oven to 350°F. Line a 12-cup nonstick muffin tin with paper liners.
Heat 2 tablespoons of the oil in a skillet over medium-high heat. Add the onion and a pinch of salt and sauté, stirring occasionally, until softened, about 5 minutes. Set aside to cool.
In a medium bowl, combine the whole-wheat flour, oats, almond flour, 2 tablespoons of the Everything Bagel Seasoning Mix, baking powder, baking soda, and ½ teaspoon salt.
In a separate large bowl, thoroughly whisk the eggs, yogurt, and remaining ¼ cup of olive oil. Stir in the sweet potato. Add the dry ingredients to the egg mixture and stir until combined. Stir in the cooked onions.
Spoon the batter into the muffin cups, filling to just above the brim. Sprinkle the remaining 2 tablespoons of Everything Bagel Seasoning Mix on top of the muffins and press it slightly into the batter. Bake until the muffins are light brown on top and a knife inserted into the center of a muffin comes out clean, 30 to 35 minutes.
Transfer the muffins to a cooling rack or cool in the muffin tin. Serve warm, or cool completely prior to storing. Store leftover muffins in an airtight container in the fridge for up to 5 days or in the freezer for up to 3 months. Reheat in the oven at 300°F for 10 minutes or microwave on low power for 30 seconds.
Everything Bagel Seasoning Mix
Ingredients - Makes ¾ cup
½ cup NOW Real Food Organic Triple Omega Seed Mix*
2 tablespoons dried onion flakes
2 teaspoons flaky or coarse sea salt (we like Jacobsen Salt Co. Pure Flake Sea Salt)
Method
In a small glass jar, combine the seeds, onion flakes, and salt. Cover with a lid and shake to combine. Store in the pantry for up to 1 month or in the fridge for up to 6 months.
*NOW Real Food's Organic Triple Omega Seed Mix can be found online at nowfoods.com or in natural foods stores. To make your own power seed mix, combine any of your favorite raw tiny seeds to equal ½ cup. Seed suggestions include black sesame seeds, white sesame seeds, whole flaxseeds, hemp seeds, chia seeds, and poppy seeds.

Ryan Brady
Ryan Brady is a Freelance Writer at mindbodygreen. She received her B.A. in Visual Arts from Yale University and her M.A. in Clinical Psychology with concentration in Spirituality and Mind-Body Practice, from Columbia University.
Ryan is passionate about holistic health, fitness, and spiritually-centered living. She loves using her knowledge and personal experience to help others improve their well-being. She brings this passion to her writing, as well as to her work at the wellness centers she owns in Atlanta, GA. When she's not working, Ryan can be found traveling, spoiling her dog, or experimenting with gluten free, dairy free baking.