What Does The Science Say About Yoga For Pain?
mbg Health Contributor
By Gretchen Lidicker, M.S.
mbg Health Contributor
Gretchen Lidicker earned her master's degree in physiology with a focus on alternative medicine from Georgetown University. She is the author of "CBD Oil Everyday Secrets" and "Magnesium Everyday Secrets."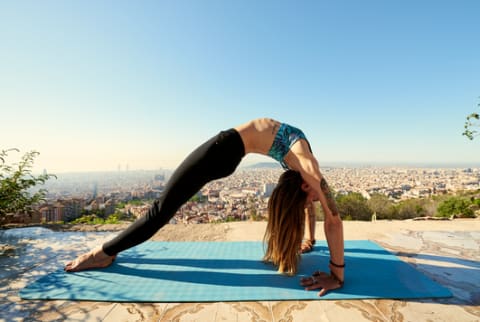 June 30, 2017
Ever feel like health news is too overwhelming, fast-paced, or hard to decipher? Us too. Here, we filter through the latest in integrative health, wellness trends, and nutrition advice, reporting on the most exciting and meaningful breakthroughs. We'll tell you exactly what you need to know—and how it might help you become a healthier and happier human.
Advertisement
This ad is displayed using third party content and we do not control its accessibility features.
Did you know that back pain is one of the most common reasons people go to the doctor? Even more surprising is that most Americans have had symptoms of low back pain at least once in the last three months—causing employees to miss work, lowering the productivity of companies, and costing our healthcare system a lot of money.
So where do you turn is low-back pain becomes a problem for you? Yoga, of course. According to a new study1, published in the Annals of Internal Medicine, yoga and physical therapy offered similar pain relief and functional benefits to people with chronic low-back pain.
Why yoga shows promise for pain.
Previous research has suggested that yoga is helpful for low-back pain, but the quality of the research wasn't particularly strong and there were questions about whether or not the improvements would hold true for racial and ethnic minorities and across diverse socioeconomic backgrounds. To gain some more clarity, this study followed a group of 320 racially diverse and mostly low-income adults for a full year.
The participants—ranging from 18 years old to 64 years old—were randomly put into one of three groups. Group one took a 75-minute yoga class each week and adopted a home practice. The second group received one-on-one physical therapy session each week combined with a home practice. The third group got an educational handbook of self-care for back pain and every three weeks they got a newsletter with important information to remember from each chapter. All of the participants' back pain was evaluated periodically throughout the year.
Advertisement
This ad is displayed using third party content and we do not control its accessibility features.
What to know before you jump on your mat.
The data showed that yoga and physical therapy produced similar results and these results were better then the newsletter and self-care education group. At 12 weeks the yoga and physical therapy groups were using less pain medication than the newsletter group and all the improvements were maintained at 52 weeks, which marked the end of the study period. Benefits were also correlated to the number of sessions attended by the participants. In other worlds: if you suffer from low-back pain, your yoga mat is a good place to start healing—assuming you can afford it and you enjoy it enough to stick to them program.
This study piggybacks on a report released in early 2017 by the American College of Physicians, that officially changed their guidelines for low-back pain. According to the new guidelines, the worst things patients can do is stay sedentary or take painkillers—since that often leads to addiction and a host of other problems—and the best thing to do is keep moving and give it time. So what's next? The same researchers plan to analyze the data for cost effectiveness, work productivity, and perceived depression and anxiety to answer more questions about using yoga for back pain.
Advertisement
This ad is displayed using third party content and we do not control its accessibility features.
1 Sources