Is It Safe To Go To The Doctor For Routine Checkups? Experts Weigh In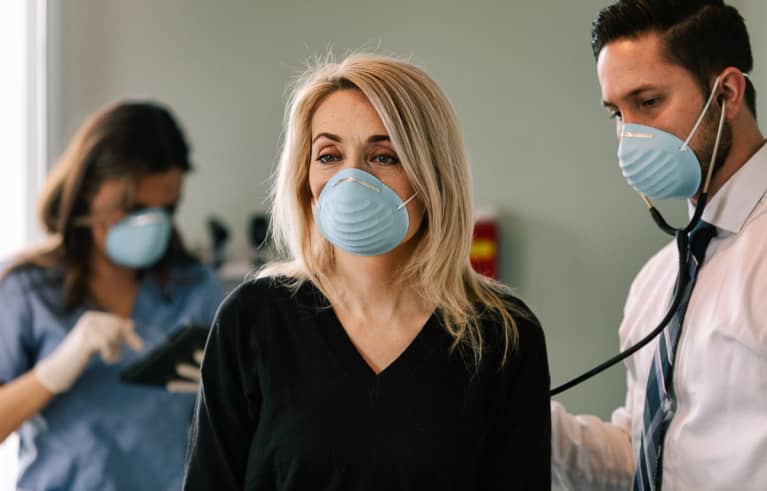 For the past few months, people were asked to cancel nonessential surgeries and doctor's visits, in an effort to reduce the spread of COVID-19. Though the pandemic is still ongoing, businesses and organizations are slowly starting to open—but is it safe to go back to the doctor?
While waiting rooms are generally filled with sick people, taking care of underlying health issues is still vital during the pandemic. To help assess the risks of making or forgoing a doctor's appointment, mbg consulted medical professionals.
Is it safe to go to the doctor now?
Depending on the circumstance, many interactions between patients and doctors can continue to take place virtually, through online portals, video chat, or phone call, emergency medicine physician Lemeneh Tefera, M.D., MSc, says.
However, "if the clinician recommends an office visit, the public should be confident that they can safely visit their doctor wearing a face mask," he says. "Of course, the medical office will have appropriate social distancing protocols and the office staff and clinician will be wearing personal protective equipment as necessary."
When should people go to the doctor?
Postponing one routine checkup might not be that dire, but emergency medicine and integrative doctor Eudene Harry, M.D., tells mbg some patients have canceled emergency visits, like chest pain and signs of stroke, out of fear of contracting the virus.
Going to the doctor to address life-threatening issues or maintaining a child's vaccine schedule is important, and it's possible to do so safely with proper precautions.
"While this is a challenging time for many of us, we have to remember that other illnesses such as heart disease, diabetes, and high blood pressure did not go away when COVID-19 showed up," she says. "Early detection and treatment are still important, getting vaccinated against other illnesses is still important, nagging persistent symptoms should still be evaluated," Harry adds.
What precautions should people take when going to the doctor?
Hospitals might be more crowded than a small doctor's office, but both are taking extensive measures to ensure the safety of their patients and staff. That includes enforcing social distancing protocols, frequent sanitization, and limited capacity in waiting rooms.
"People might be anxious about visiting the doctor's office but overlook that a trip to the grocery store likely carries more risk," Tefera says. "There are hundreds of people passing in and out of the grocery, while often less than a hundred in a busy doctor's office." This is where social distancing and wearing a face mask are most effective, he says.
Along with wearing a mask and maintaining a 6-foot distance from others, internal medicine doctor Charles Elder, M.D., MPH, FACP, recommends frequent hand-washing before and after a visit to the doctor. "If you do these three things, you enormously reduce your risk of exposure to the coronavirus," he says.
Those who worry about visiting the doctor should call first and discuss options, but if health concerns arise, Harry says don't delay.
"Minimizing our risk of contracting COVID is part of our health plan," Harry says, "it is not all of our health plan."