paid content
 for

I Get Asked These 3 Questions About CBD All. The. Time.
mbg Health Contributor
By Gretchen Lidicker, M.S.
mbg Health Contributor
Gretchen Lidicker earned her master's degree in physiology with a focus on alternative medicine from Georgetown University. She is the author of "CBD Oil Everyday Secrets" and "Magnesium Everyday Secrets."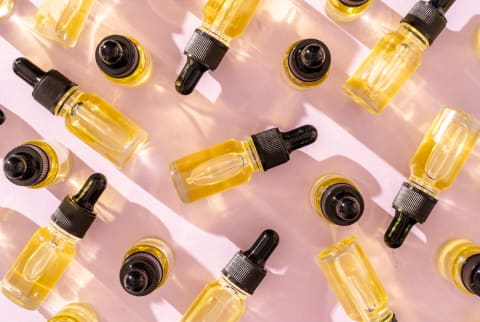 Image by Jeremy Pawlowski / Stocksy
July 11, 2019
We're smack in the middle of a CBD boom—have you noticed? This hemp-derived compound is gaining fame and recognition by the day, finding its way into our beauty routines, supplement cabinets, and even our coffees and desserts. You can buy it as a tincture, spray, capsule, soft gel, balm, lotion, or even infused in a deodorant. There's no denying the fact that CBD is everywhere.
And yet, there's still a lot of confusion about CBD, short for cannabidiol. In fact, the more ubiquitous CBD becomes, the more questions are raised—and facts can be hard to come by. As the author of the book CBD Oil Everyday Secrets: A Lifestyle Guide to Hemp-Derived Health and Wellness, I get a lot of questions about CBD. And there are a few questions I get asked all the time. And for good reason! Knowing the answers is essential to being a savvy CBD consumer.
Advertisement
This ad is displayed using third party content and we do not control its accessibility features.
1.
What's the (real) difference between CBD and THC?
CBD is currently center stage, but historically, THC had been the main cannabinoid of interest. So, what's the difference between the two? Many people will assume that CBD is simply THC without the high—but that's a common misconception. Despite the fact that CBD and THC are structurally similar1, they are completely different compounds and interact with our bodies in unique ways.
In fact, CBD actually works against THC in certain circumstances, most notably by blocking THC's ability to activate a receptor, called CB1, which is what causes intoxication. As a result, CBD has actually reduced side effects commonly caused by THC.
So, what about the practical health benefits? The two compounds have some overlapping benefits but delta-9-tetrahydrocannabinol, or THC, has been well-studied for its pain-relieving and anti-nausea properties, and CBD is famous mainly for its anti-seizure, anti-inflammatory, and neuroprotective properties. You can think of them like sisters: similar in many ways but very different in others.
There's still a lot to learn about CBD and the many ways it interacts with our body. So far, however, it appears to be extremely safe. In fact, studies have shown that it's well tolerated in humans at doses as high as 600 mg a day2. For context, most products contain about that much CBD in the entire bottle.
Although the CBD compound itself seems to be very safe, it's important to look for a high-quality product because the FDA does not currently approve supplements like CBD before they hit the shelves.
This can be problematic for a few reasons; first, hemp is a bioaccumulator, meaning it absorbs chemical waste and heavy metals from the ground. Buying from an established brand like Manitoba Harvest, that rigorously tests its products for quality, consistency, and safety, is the only way to ensure that these contaminants aren't ending up in your body.
Lab testing will also guarantee that the amount of CBD listed on the label is actually in the bottle. This might seem like a no-brainer, but the FDA has tested CBD products3 in the past and found that some either contained less CBD than was stated on the label or no CBD at all. Yikes.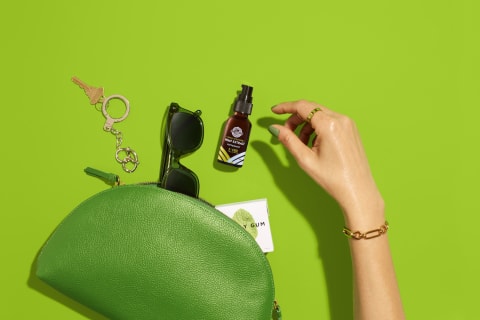 Image by Manitoba Harvest / Contributor
Advertisement
This ad is displayed using third party content and we do not control its accessibility features.
Figuring out how to dose CBD is no easy feat. Currently, there are no "official" dosage recommendations for CBD. This can be explained by the relative newness of the industry and the simple fact that we still have a lot to learn about the science of cannabinoids. What we do know is that a full- or broad-spectrum CBD oil, which contains an array of compounds—instead of a CBD isolate, which contains CBD alone—is much easier to dose and more effective at lower doses.
For now, finding the best dose of CBD for you is a personal journey. In the beginner's dosing guide in CBD Oil Everyday Secrets, I recommend starting low and slowly increasing until you get the desired effects (a common recommendation among CBD experts). This means starting with about 5 mg a day and gradually increasing by 5 or 10 mg each day until you feel a difference. The majority of CBD products will have about 5 to 30 mg of CBD in a single dose.
Starting with a 5 mg spray—like this Peppermint CBD Oil Spray from Manitoba Harvest—is a great, user-friendly way to begin your CBD dosing journey. At this point, it's more of an art than a science. Hopefully, more research will be done in the near future to help us bring our understanding of CBD dosing to a new level.
As CBD continues to dominate the wellness scene (and there's no doubt in my mind it will), it's important to know your facts. This will help you narrow down the thousands of products out there and find a brand you trust—one that's going above and beyond in terms of transparency, quality, and consumer education.
Advertisement
This ad is displayed using third party content and we do not control its accessibility features.