IKEA Now Makes Robotic Furniture To Help You Save Space
mbg Sustainability + Health Director
By Emma Loewe
mbg Sustainability + Health Director
Emma Loewe is the Senior Sustainability Editor at mindbodygreen and the author of "Return to Nature: The New Science of How Natural Landscapes Restore Us."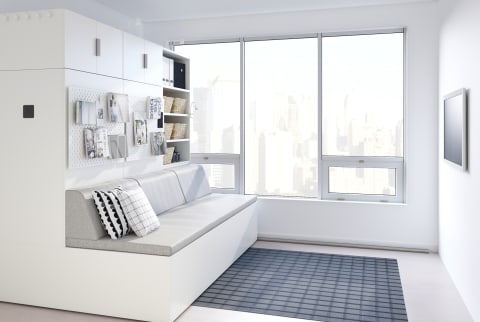 June 4, 2019
Once a year, the decidedly understated homewares company IKEA bumps up the fanfare for Democratic Design Days—a two-day conference where upcoming collections and initiatives are revealed. It's held in Älmhult, Sweden, the site of the world's first IKEA store that opened doors in 1958—and if furniture shoppers of that era heard one of this year's first announcements, their heads might explode.
This morning, IKEA declared plans to pilot a series of robotic furniture in collaboration with American startup Ori Living.
Advertisement
This ad is displayed using third party content and we do not control its accessibility features.
This high-tech collaboration speaks to the underlying idea that our physical spaces need to become more flexible to make room for experiences and human connection. Music to any minimalist's ears, IKEA's designers are predicting that as the population grows and space becomes harder to come by, people will need to become much more intentional with what they allow into their lives. From their perspective, the home of the future will contain less bulky furniture and more portable, customizable solutions that can easily move to make room for friends, family, and other visitors.
IKEA's new ROGNAN system is one very literal example: The portable wall divider stores multiple pieces of furniture and can unfold to become a bed, desk, or couch with the touch of a keypad.
"Urban homes are becoming smaller and smaller—there's no way to deny that. We can't keep using the same furniture that we were in homes that were twice the size," Hasier Larrea, Ori Living founder and CEO, tells the audience of international journalists. "We need to use spaces and furniture that adapt to us and our activities, not the other way around."
He estimates that the system, which will start rolling out in IKEA stores in Hong Kong and Japan in 2020, can open up an average of 8 square meters (86 square feet), theoretically making any space more suitable for entertaining.
In addition to space-saving gadgets, IKEA also announced a new commitment to city planning. Through a partnership with real estate company Ikano Bostad and research lab SPACE10, the Swedish retailer will experiment with new ways to design micro-neighborhoods that are sustainable, equitable, and centered on the sharing economy.
"We need to rethink design and the way cities are planned or they will be unsustainable, unaffordable, and unequal for the people living in them," Jamiee Williams, Architectural Lead at SPACE10, said of the inspiration for her team's urban village of the future. In order to promote a more equitable and sustainable way of being, SPACE10 and IKEA are proposing communities that have plenty of earth-friendly public facilities made for sharing, such as urban farms, communal dining areas, and compost drop-off stations.
Again, the idea is that as our homes get smaller, our opportunities to interact with our neighbors and loved ones will only grow. Now that's a future we can all get behind.
Advertisement
This ad is displayed using third party content and we do not control its accessibility features.