Close Banner
Advertisement
This ad is displayed using third party content and we do not control its accessibility features.
paid content
 for

I Tried This Clean Skin Care Line & Have Glowing Skin For The First Time
Image by Oak Essentials / Contributor
I'll start with a confession. For most of my 20s, I refused to use skin care products. I had no real reason against them, I just wanted to feel closer to nature, to how my skin was naturally intended to be. That worked for a while, but then my skin started changing. And insatiable dryness, breakouts, and irritation led me to realize I had a very incomplete picture of what my skin actually needed.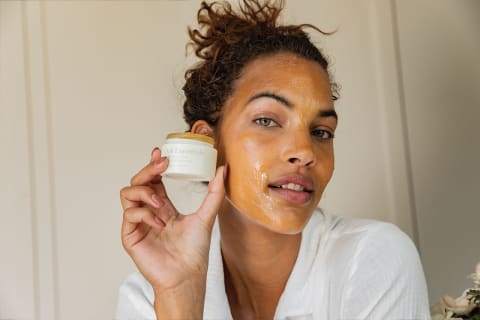 Image by Oak Essentials / Contributor
Replenish and sustain.
The intention of leaving my skin to its own devices was nice and all—but an atmosphere full of carbon monoxide isn't exactly natural. I realized if I really wanted my skin to reflect what nature intended, I'd need a stellar skin care routine. And after sampling my way through the world of skin care, I finally discovered Oak Essentials—a brand-new clean skin care line by the minimalism-inspired lifestyle brand Jenni Kayne.
No matter where you are, no matter what season, a look outside the window will show you that nature's always busy replenishing and sustaining. It's only natural that ingredients from the earth would do the same, and the Oak Essentials line proves that to be true. The five products of this skin care ritual use fatty-acid-heavy ingredients that mimic our skin's natural processes and functions (precisely up my alley). Like nature, they're designed to replenish the skin and sustain a healthy glow. And that glow was the first thing I noticed.
Four steps to glow.
Whether you're coming from a nonexistent skin care routine or one with 10 elaborate steps—the Oak Essentials ritual is refreshingly uncomplicated, starting with the Cleansing Balm. Velvety soft and antioxidant-rich, this cleanser goes onto dry skin to dissolve impurities and remove makeup. With its light notes of cedarwood and lavender, breathing in this balm has become noticeably grounding for me. Instead of stripping my skin, the Cleansing Balm leaves behind a dewy layer of hydration, which soaks in even better after the next step: the Balancing Mist. Each spritz of this blend of vitamins, antioxidants, rose water, and aloe is like pressing the reset button. And I'm a fan of resetting with this mist up to three times per day.
The Oak Essentials product line was just designed with the earth in mind, using ingredients that align with our planet and body. But beyond reading the ingredients to confirm the absence of synthetic fragrances, silicones, colorants, and the like, I can feel the intention of these products. With a few hydrating drops of the Ritual Oil, for example, I felt like the roots of my skin were being watered for the first time. This nutritive face oil (which comes after the Balancing Mist) is packed with antioxidants and hardworking ingredients like squalene and marula seed oil for all the fine lines and wrinkles. Sealed with the Moisture Rich Balm (the last step), there's an undeniable glow that this routine brings to the surface.
Closer to beauty.
For me, the Moisture Rich Balm redefined hydration with the quenching Borage Seed Oil and Cocoa Seed Butter. If I'm honest, this level of nourishment required a bit of an adjustment period. Whereas my "natural skin" was a bit dull and neglected, this routine had my skin shining. Glossy cheekbones, smooth skin, an all-over dewy glow... There was a different "me" staring back in the mirror. One that had never felt closer to beauty, as imperfectly perfect as nature intended. And to reiterate those benefits? The Restorative Mask, full of skin-nourishing ingredients like organic honey, avocado oil, and sea buckthorn oil, is now my favorite way to indulge in self-care a few times a week, or when my skin feels extra sensitive.
Got the glow.
Now that I know what happy skin looks and feels like—every step of my skin care routine has become nonnegotiable and a genuine highlight of my day. Thankfully, the Oak Essentials line embraces the kind of simplicity that my busy schedule requires. It's a minimalist routine with maximum effect on my everyday life. But even more important: I've found a skin care routine that connects me to what I care about most: staying natural. And now that I've got the glow, there's no going back.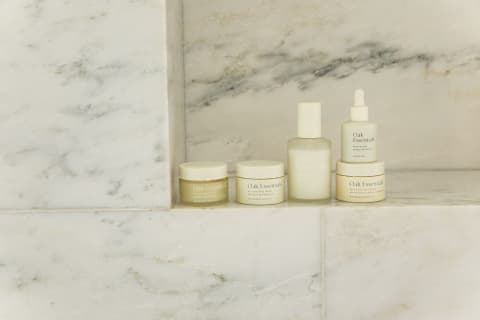 Image by Oak Essentials / Contributor
More On This Topic
more Lifestyle
Advertisement
This ad is displayed using third party content and we do not control its accessibility features.
Advertisement
This ad is displayed using third party content and we do not control its accessibility features.