I Tried A Cold Workout To Cool Down & Felt The Burn
mbg Contributor
By Krysten Peck
mbg Contributor
Krysten Peck is a freelance writer specializing in arts, wellness, brands, and visual storytelling. She received a bachelor's degree from Dickinson College.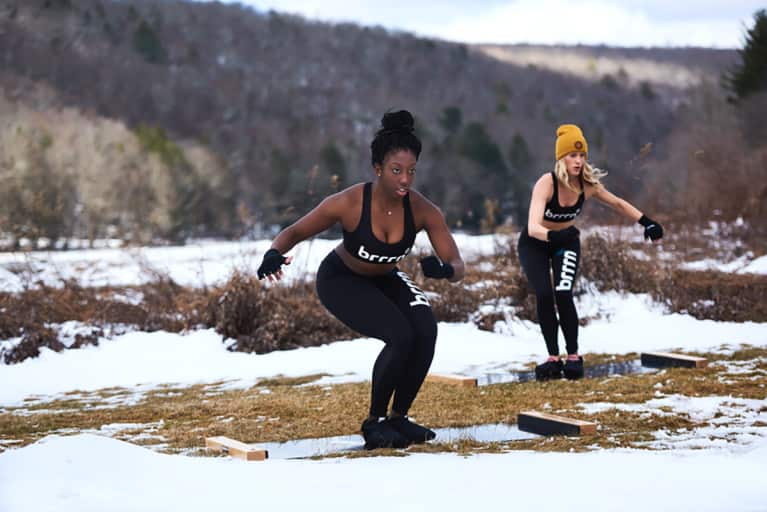 I'm in the minority when it comes to cold weather. Sure, I love a good island vacation moment, but when it comes to my daily life, I often prefer cool weather to the sweltering heat, even in the depths of a frigid winter.
When it comes to working out, I don't mind the sweat so much as the overheating sensation that takes over my body and triggers my immediate need to seek cooler shelter. So when I received an invite to check out the brand-new fitness concept BRRRN here in NYC, I took a plunge and signed up for a class. Plus, what's a wellness trend without a bit of skepticism coupled with a healthy dose of intrigue?
The benefits of a cold workout are real.
BRRRN is the first-ever fitness studio that specializes in cold workouts. Translation? All the workouts are conducted below 65℉. The duo behind BRRRN, Jimmy Martin and Johnny Adamic, conceptualized the idea after a meeting of the minds to research and delve deep into the science-backed benefits of working out in colder temperatures. You're probably thinking the whole world has gone mad. Stick with me!
Jimmy and Johnny ran the stats and found that of the 36,000 fitness concepts in the United States alone, zero operated below 68°F. Together, they developed and worked with former NASA scientist Ray Cronise and boutique fitness architect (think: Soul Cycle, Equinox, Exhale) Peter Bryant to construct a space conducive to their vision and backed by research. Studies that have outlined the merits of a cold workout, cite benefits like higher calorie burn and faster recovery time – when paired with a heat immersion.
"We wanted to present an offering that allows everyone to sit at our table. We have no-impact to low-impact to high-impact offerings," says Jimmy.
After all, the company's "coldture" prides itself on cultivating "a body-positive community focused on progress, not perfection; a sanctuary for both hard and soft bodies to become the heroes of their own stories." Inclusivity as a boutique gym offering? Consider that a vision worth backing.
The studio offers three 45-minute classes, with each one varying by degrees of intensity: the 1st° is a low-impact, yoga-inspired class that focuses on mobility and breath; the 2nd° is a circuit-based class that targets the full-body with cardio and core moves; and the 3rd° is a high-intensity HIIT exercise equipped with dumbbells and the trusty battle ropes. The real icing here is the infrared sauna treated as a reward or "dessert" for pushing yourself outside of your comfort zone during your workout.
The chilliness kept me fully in the moment.
I opted for the 2nd° class, coincidentally, on one of the city's recent warm spring days. Before the group entered the chamber of a workout room, our instructor Scott met us outside for a mini pep talk and loosely explained to us what to expect of the class—but really, expectations are little to none when you've agreed to work out in an icebox.
We started with run-of-mill warm-up moves like high knees, squats, and jumping jacks, which then transitioned into a full-on cardio session packed with three sets paired with many, many reps. I wore a tank top and leggings and felt well-heated within the first 10 minutes of the workout.
The exercise consisted of the same moves you'd find in your average boot-camp class, but I think the combination of cold temps, club lights, upbeat music (extra points for a fire playlist), and the instructor's infectious energy somehow cajoled me into moving through the exercise with a sense of playfulness. As I looked around to survey the rest of the class, everyone just seemed to be winging their own version of the various moves. The hesitation and slight confusion were palpable with each new move but entertaining as a participant nonetheless. I, on the other hand, couldn't stop laughing, even mid-plank. "Only in New York," I reasoned.
The highlight of the class was definitely the sliding board component. Wearing our slipper booties over our sneakers, we slid from slide to slide, picking up momentum with each glide between the sets. This was supposed to be a "recovery" exercise, but I was hooked on the motion. The smoothness was akin to flying down an ice rink, and the flightiness of it all was exhilarating.
It's worth mentioning that the circuslike play of the whole class also held my attention and kept me fully focused moment to moment. Jimmy and Johnny were spot-on: "Nothing puts you in the present like the power of cold."
I didn't feel out of my comfort zone, per BRRRN's philosophy of "stepping into discomfort." By the end of the class, the cold sensation felt fantastic, particularly for my impending soreness. I skipped out on the sauna; I wanted to preserve the coolness for as long as possible before stepping back onto the hot city concrete.
If there was ever a time to open up a cool fitness spot, it's on the heels of summer. As temperatures rise and summer sheds its skin, a cold-hot element to exercise might just be the solve to making the most of your workout.
Ever thought of trying naked yoga? Our beauty editor wrote a very candid piece about her liberating experience.