5 Things To Do With All The Gorgeous Spring Produce Flooding The Markets
Contributing Food Editor
By Liz Moody
Contributing Food Editor
Liz Moody is a food editor, recipe developer and green smoothie enthusiast. She received her creative writing and psychology degree from The University of California, Berkeley. Moody is the author of two cookbooks: Healthier Together and Glow Pops and the host of the Healthier Together podcast.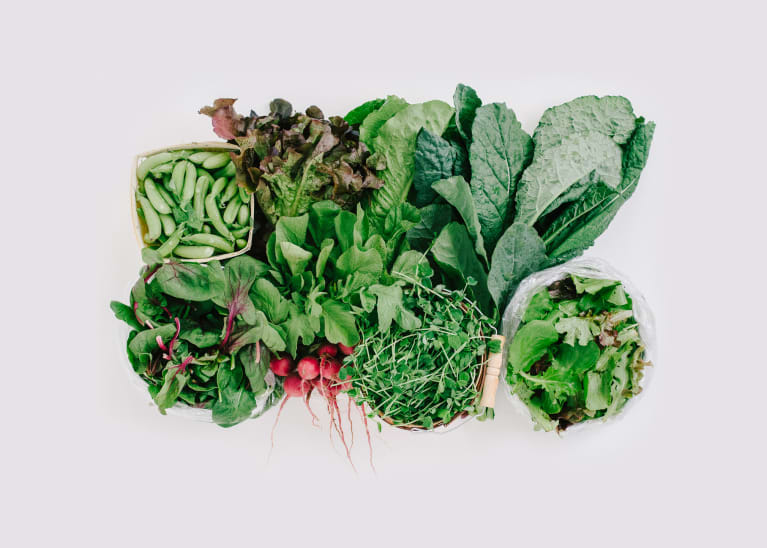 After a long winter of root vegetables and hearty greens, spring can feel like a breath of culinary fresh air, with vibrant, fragrant produce flooding farmers markets and grocery store shelves. The only hard thing is figuring out what to make with all that abundance—and that's where we have your back. Here are five ideas to make use of the season's bounty:
While all vegetables lend themselves to frittata or quiche, spring's asparagus, ramps, and peas make for a beautiful presentation and delicious result. I like to sauté woodier, heartier vegetables (thicker asparagus) before putting them in an egg mixture with a splash of milk (dairy-free, if desired), fine-grain sea salt, and fresh-ground pepper. Ramps and chives can go directly in the batter before you bake everything at 350 degrees until just set. Do as chefs do and top the finished frittata with a tangle of sweet pea shoots or any other delicate spring green, tossed with a bit of extra-virgin olive oil and a pinch of salt—it brightens and elevates a simple dish to something entirely dinner or weekend brunch-worthy.
Many of spring's vegetables are perfect for pickling—you simply want something with a hearty structure (think sliced fennel bulbs, not delicate ramps). Keeping fermented veggies on hand is a quick way to elevate any dish—you can throw them in a salad, use them to top tacos, or finish a grain bowl with them. They taste so good that their mega gut-healing benefits (they're packed with probiotics!) is merely an added bonus. Check out our easy guide to fermentation here, then get to it!
Yes, salad can be boring—but only if you're not doing it right. I love steering away from drab lettuce and carrot mixtures and leaning into bold, bright flavors. My favorite spring salad mixes thinly sliced fennel, halved strawberries, torn mint leaves, Meyer lemon zest and juice, some olive oil and white peppercorn for something sweet, fresh, and a little zingy. Play around with textures and flavors, and don't be afraid to think outside the box–sometimes the strangest combos end up being the best!
Basil is available in abundance during the spring, but if you want to branch out from the traditional, ramps make a decadent alternative. I also love to use roasted fennel in a pesto-like dish, pulsing it with garlic, olive oil, pine nuts, sea salt, and lemon juice—it has a faint anise note that's incredibly addictive. Store some in your fridge to dip veggies in, use as a sandwich spread, or toss with pasta or quinoa for a quick and easy lunch or dinner.
Risotto is a wonderful base to play around with a number of flavors—you can toss in ramps, leeks, or any of the other allium family members, mix in some chopped or shredded zucchini, or stud the rice with bursting sweet fresh peas. I always add lemon juice and zest to embolden and balance the flavors, and salt liberally throughout cooking to make sure the dish is well seasoned from the inside out. If you're lucky enough to stumble upon squash blossoms at your local market, I love pan-frying them in olive oil with some sea salt and using them as a showstopping topper for the finished dish.