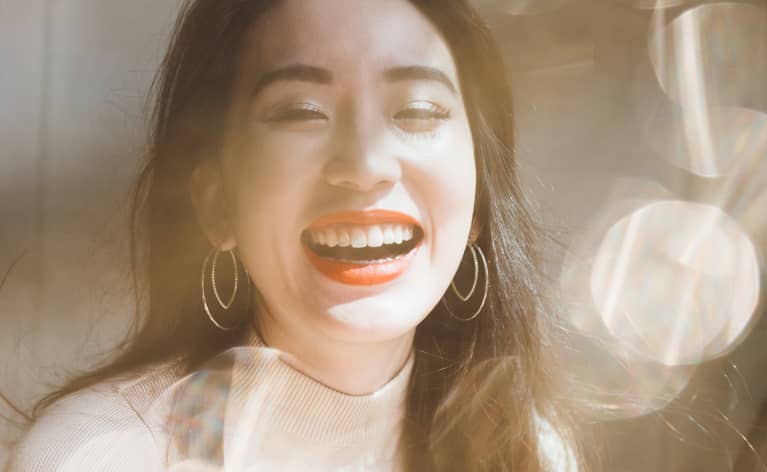 Masks, moisturizers, oils, waters—we'll admit that keeping up with all the different skin care products out there can get overwhelming, to say nothing about trending ingredients (looking at you, watermelon). One tried-and-true product that's seemed to stick around in derm-approved skin care regimens is the vitamin C serum.
But…what does a vitamin C serum actually do? How do we choose an effective one, and how do we know if we're even using it properly?
We'll get right to it, but first, a quick refresher: Our bodies require vitamin C—a micronutrient—to build things like muscle, cartilage, and collagen, the protein fibers responsible for skin firmness and resilience. Vitamin C also acts as a powerful antioxidant that neutralizes free radicals generated by our bodies when we're exposed to certain conditions, like pollution and UV rays. Thing is, our bodies can't make vitamin C, so we have to get it through diet or supplementation.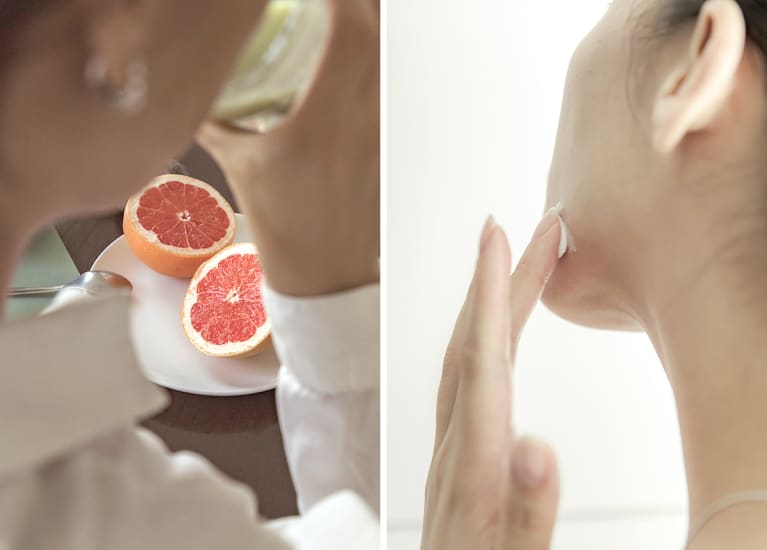 What can vitamin C do for your skin?
Studies have revealed the many health benefits of vitamin C (read up on all of them here), but—as you might have guessed—the nutrient is a pretty big deal in the skin care world for its collagen-boosting, complexion-brightening, and potent antioxidant properties.
Our skin contains a high concentration of vitamin C, and it turns out that lower levels of the vitamin in the skin have been linked to two things: signs of aging and sun damage. Decades of research on topical vitamin C have found it to be a helpful ally in protecting our skin against—and diminishing the appearance of—both of these things: Think wrinkles, hyperpigmentation, uneven skin tone, and loss of skin elasticity and moisture.
What does a vitamin C serum do for your skin?
Serums are potent, concentrated doses of active ingredients. They tend to have a thin gel-like consistency that absorbs quickly into the skin, making them one of the best delivery methods for getting vitamin C into your skin.
Vitamin C serums are quite acidic, sloughing off dead skin cells, which then triggers the skin to "heal" itself by accelerating new cell regeneration and the production of collagen. With continued use, vitamin C serums can smooth out the skin's surface, brighten dull skin, decrease dark spots, and minimize the look of fine lines.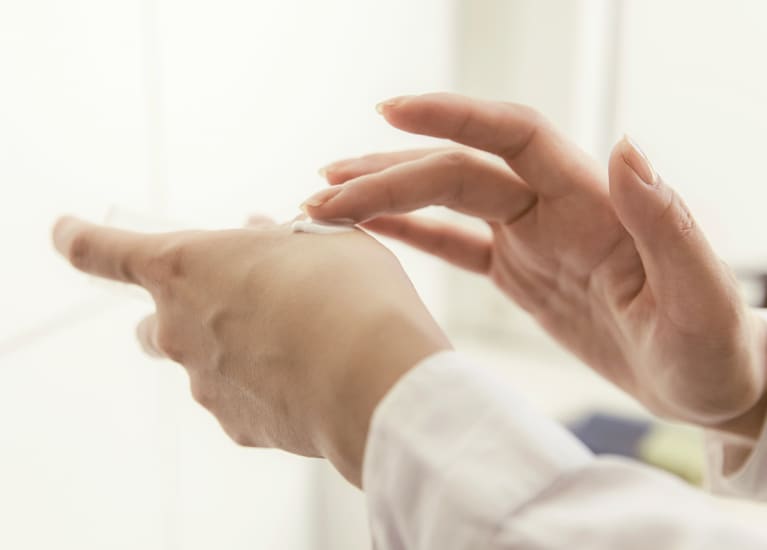 What should you look for in a vitamin C serum?
One of the most important things to know about vitamin C is that not all forms are stable. Many serums on the market contain vitamin C in the stable form of L-ascorbic acid, which has been shown to effectively penetrate skin. But some experts believe the ester form is even more effective in terms of stability and absorption rate.
The Vitamin C Concentrated Serum by eco-ethical skin care brand DERMA E maximizes its effectiveness with not one but two forms of vitamin C in its formula: C-Ester (ascorbyl palmitate), a lipid-soluble form with greater antioxidant activity than ascorbic acid; and Stay-C® 50 (sodium ascorbyl phosphate), a patented form that's gentler than ascorbic acid and won't degrade or oxidize as quickly before absorbing into your skin. Even more amazing is the 5% level of vitamin C in DERMA E's top-selling formula, making it one of the most efficacious products available in the market at an affordable price.
Additionally, look for formulas that include other antioxidant ingredients, like vitamin E, to help keep it stable and prevent oxidation. (Once a vitamin C serum has oxidized—it'll start looking a bit brown—it's time to get a new one.) DERMA E's Vitamin C Concentrated Serum has an all-star ingredients list that includes vitamin E along with aloe, hyaluronic acid, probiotics, and rooibos for deep, soothing hydration and bacteria-fighting benefits.
When and how often should you use it?
While some experts suggest using a vitamin C serum in the morning for added antioxidant protection against daily aggressors from the environment, stress, and sun exposure as free-radical damage accumulates through the day, using your serum in your nighttime routine for overnight skin repairing works, too. (And it goes without saying that although vitamin C's antioxidant power helps limit damage caused by the sun's rays, it does not act as a sunscreen!).
Either way, a once-daily application is usually all that's needed for a vitamin C serum—but you can apply a gentle formula like DERMA E's Vitamin C Concentrated Serum both in the morning and at night. When applying your skin care products, think thinnest to thickest: A serum is best applied after cleansing and toning or misting but before any spot treatments, moisturizer, face oil, and, of course, sunscreen.