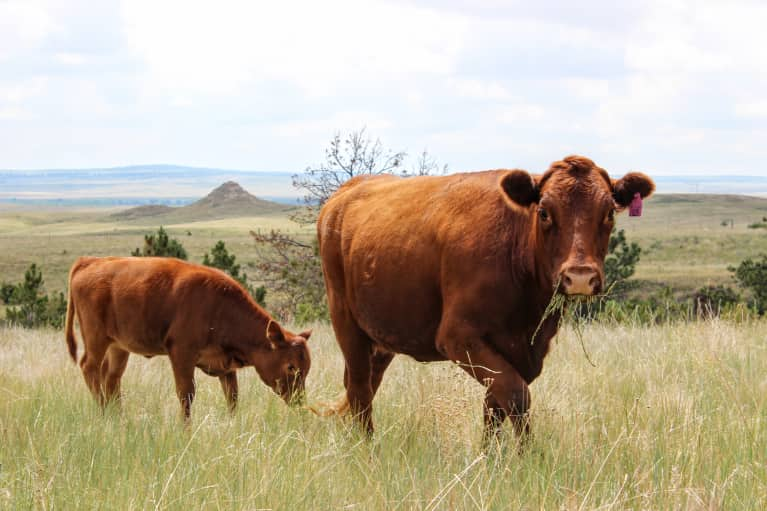 Let's start with some good news first: Three in four Americans now pay more attention to food labels regarding how animals are raised than they did five years ago. And according to estimates by the Natural Resources Defense Council (NRDC), more than half of the chicken industry—including the giants like Perdue and Tyson and major fast food companies like KFC, Chipotle, and Subway—recently made commitments to move away from inhumane antibiotics policies. Almost all major supermarkets and chain restaurants have also recently committed to only source eggs from chickens raised cage-free.
It's awesome proof that as consumers, we can actually influence major change, but there's still a lot of work to do. In the United States alone, almost 10 billion animals are raised for food each year, and the vast majority still spend their lives in cramped, unnatural conditions in factory farms, often suffering as a result of their welfare coming in second to a farm's profit or efficiency.
Perpetuating the situation is the fact that most consumers believe we have federal laws in place governing how farm animals are treated, but outside of laws around transport and slaughter, federal regulations don't exist for farm animal welfare. And many shoppers take humane-sounding food labels like "free-range," "natural," "cage-free," and "antibiotic-free" at face value when they may be a far cry from reality.
"There's a huge and dangerous gap between what consumers expect and the reality of farming practices and food labels," says Daisy Freund, the director of farm animal welfare for the American Society for the Prevention of Cruelty to Animals (ASPCA). "It's a fundamental misunderstanding—no one's checking on the treatment of the vast majority of farm animals."
There's a huge and dangerous gap between what consumers expect and the reality of farming practices and food labels.
And that's not just bad for the animals—inhumane farming practices affect our own health, too. These large facilities are major sources of pollution and food safety concerns. Plus, their reliance on antibiotics to keep animals alive and growing in stressful, unsanitary conditions ends up weakening the effectiveness of these drugs in treating infections in humans. "Over 70 percent of medically important antibiotics in the U.S. are actually sold for use on food animals, not people," says Lena Brook, director of food and agriculture at the NRDC. "Each year more than 2 million Americans suffer infections from bacteria that cannot be treated by one or more antibiotics—and at least 23,000 die."
Fortunately, some groups are fighting to improve this situation, and thanks to their work, we're slowly making progress. So back to some good news: Alternatives to inhumane factory-farmed products do exist, and even a few simple changes in the way we shop can make a big difference for billions of farm animals. Every food purchase we make is a vote for how animals should be raised. Here are three things we can do right now:
1. Do the Factory Farm Detox.
From September 24 to 30, the ASPCA is calling on people to cut out factory-farmed food for one week and replace it with more humane and sustainable alternatives by participating in the Factory Farm Detox. Here are the rules:
No meat, eggs, or dairy from animals raised on factory farms without oversight of animal welfare.
Eat only plant-based food and meat, eggs, and dairy from farms that verify animal welfare by Certified Humane, Global Animal Partnership, or Animal Welfare Approved.
The ASPCA will provide those who sign up with label guides, lists of welfare-certified and plant-based brands, and exclusive recipes from top chefs like Carla Hall and Mark Bittman to help them complete the detox (start with three of our favorites below!)—and help the planet and improve the lives of animals as a result.
Why a one-week detox? Freund put it like this: "If you're out protesting something or rallying for change, you see the fellow change makers alongside you. But when you're trying to change the world through something like purchasing food, it can feel like you're on your own. We know from polling that consumers across the country are horrified by factory farming, and they're adjusting how they're purchasing food as a way to voice their values. This detox is a way of bringing that community together."
2. Be skeptical, and know your labels.
Unfortunately, the laws around food labeling allow for half-truths and misleading claims, says Freund. For instance, there's no clear definition for "free-range," so the type and amount of outdoor access farms offer animals varies wildly and sometimes doesn't amount to much at all. "Cage-free" on chicken meat doesn't mean the bird was raised humanely—only chickens who lay eggs are raised in cages. Hormones are prohibited for use on chickens, turkeys, and pigs, so a "hormone-free" label doesn't mean much for these products. And anything labeled "natural" as defined by the USDA refers only to how meat is processed after slaughter and has nothing to do with how an animal was raised.
Third-party labels with meaningful and audited animal-welfare and antibiotic standards include Global Animal Partnership (GAP), Certified Humane, and Animal Welfare Approved. Each require audits on farms and 100 percent compliance with standards that are published publicly—and many address both animals' physical and emotional needs.
Buy local, in-season food when you can, and talk to farmers directly at the farmers market about their practices. If you're an omnivore, try adding more plant-based alternatives to your diet. Eating more plant-based foods helps reduce the number of animals in factory farms and cut greenhouse gas emissions.
"Livestock production causes as much climate pollution as all the tailpipe emissions from the world's vehicles combined," says Brook, "so even small reductions in red meat consumption—even picking a meal or day that you eat only plant-based foods—can make a big impact on GHG emissions."
When it comes down to it, 25 animals are raised each year per capita, says Freund. So at the very least, each of us has the power to affect about 25 animals every year through our purchases (if we eat meat, eggs, and dairy). "Our daily choices about what we buy may seem inconsequential, but they mean a lot to the many animals who lead much better lives as a result."
Get Started With These 3 Factory Farm Detox–Approved Recipes
Curried Cauliflower and Chickpeas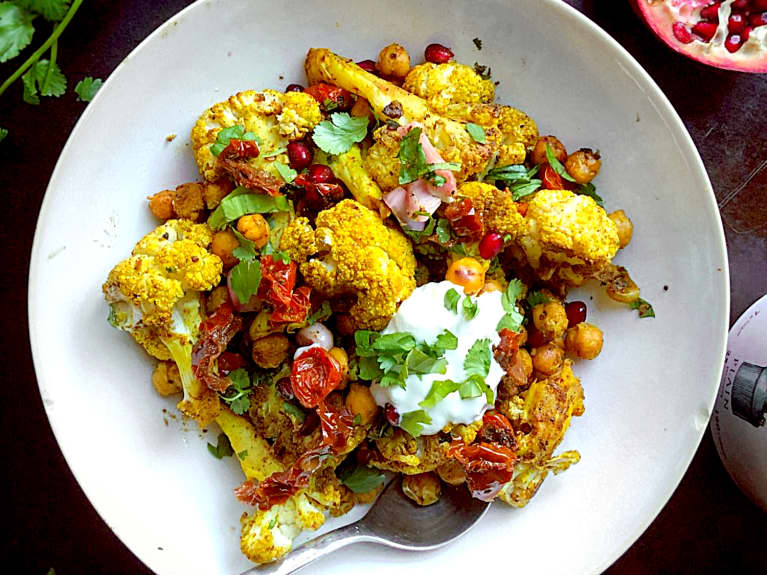 ½ cup quinoa
1 cup vegetable stock
1½ cups water
½ large head of cauliflower florets
1 cup chickpeas (I used canned, drained very well)
½ pint grape tomatoes
1 teaspoon of any spice blend (I use ½ teaspoon cumin)
½ teaspoon curry powder
1 teaspoon pink salt
1 tablespoon avocado oil (or whatever oil you have)
lemon juice from ½ lemon
2 tablespoons freshly grated Parmesan (omit if vegan)
pomegranate seeds, for garnish (can also use raisins)
cilantro for garnish
Add quinoa with water and vegetable stock and add ½ teaspoon salt and cook on medium heat for 10 to 12 minutes or until the water is fully absorbed. Then cover and let sit for 5 minutes and fluff it with a fork.
While the quinoa is cooking, preheat the oven to 425ºF. Place the cauliflower florets, chickpeas, tomatoes, curry powder, spice blend, ½ teaspoon of salt and oil in a bowl. Toss it to coat and put it on a baking sheet. Bake for 15 minutes, making sure the cauliflower doesn't overcook. Once it exits the oven, squeeze some lemon juice for a fresh taste.
In two bowls, divide the cooked quinoa. Top with curry roasted veggies. Add the pomegranate seeds, yogurt (dairy or nondairy), and cilantro, and serve immediately.
Vegan Pistachio Strawberry Crumb Cake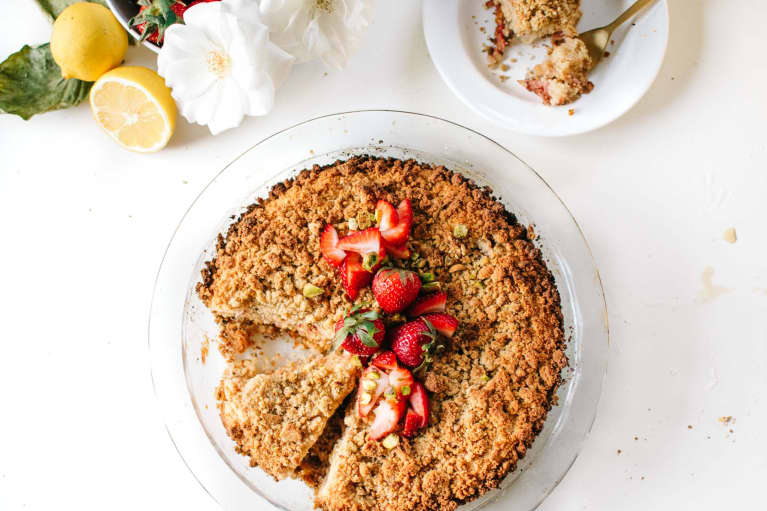 2¼ cups all-purpose flour
3 teaspoons baking powder
½ teaspoon sea salt
½ teaspoon cardamom
½ cup + 1 tablespoon vegetable oil of choice like grapeseed or safflower
¾ cup maple syrup agave, or liquid sweetener of choice
⅓ cup + 1 tablespoon almond milk or liquid of choice
3 tablespoons lemon juice
1 tablespoon lemon zest
1½ teaspoons vanilla extract
¾ teaspoon apple cider vinegar
1¼ cups quartered strawberries
¼ cup shelled roasted pistachios
¾ cup all-purpose flour
¼ teaspoon sea salt (omit if pistachios are salted)
2 tablespoons vegetable oil of choice like grapeseed or safflower
2 tablespoons maple syrup, agave, or liquid sweetener of choice
¾ teaspoon lemon zest
Preheat the oven to 350ºF. Oil and flour a 9-inch cake pan or pie dish. Set aside.
In a medium bowl, whisk together the flour, baking powder, salt, and cardamom. In a large bowl, whisk the oil, maple syrup, almond milk, lemon juice and zest, vanilla, and apple cider vinegar.
Sprinkle the dry ingredients over the wet, and fold them in using a silicone spatula. Fold in the quartered strawberries. Pour into prepared cake pan or pie dish.
In a high-speed blender or food processor, grind the pistachios into a fine meal. Empty them into a medium bowl, and whisk with flour and salt (only if nuts are not salted). Add oil, maple syrup, and lemon zest, and mix with a spatula until you've got a sandlike texture. Sprinkle evenly over the top of the batter.
Bake about 45 minutes, loosely covering the cake with foil after 25 minutes or when it's reached peak golden-brown status (so it doesn't burn). Bake until a toothpick or knife inserted in the middle comes out clean. Cool at least 20 minutes before serving.
Chicken and Veggie Frittata
Sauté the veggies in a medium-size skillet until soft.
Add the sausage and whisk eggs with some salt and pepper, sprinkle with goat cheese, and bake for about 15 minutes. at 350ºF.