How To Talk To Your Kids About COVID-19, From A Holistic Child Psychologist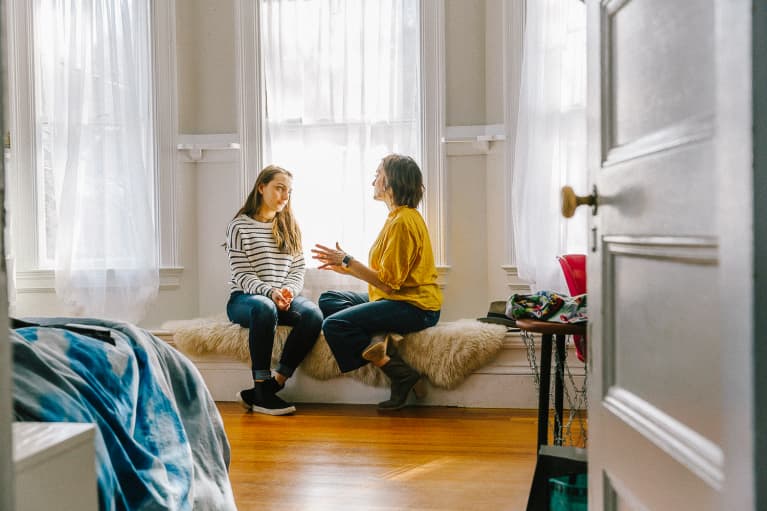 March 12, 2020 — 22:04 PM
As the coronavirus continues to spread, many schools, sports teams, and other community gatherings are taking precautionary measures, like social distancing. These changes, combined with misinformation, can be scary and confusing for children—so what's the best way for parents to talk to their children about COVID-19?
We consulted holistic child psychologist Nicole Beurkens, Ph.D., CNS to figure out the best ways to keep kids informed, without instilling fear.
How do I respond if my kids ask about COVID-19?
"If your child raises questions, that's a great starting point," Beurkens told us. Respond by answering the questions they're asking, but don't go overboard with information.
"The biggest way to avoid creating fear and anxiety in anyone, but especially young kids," she said, "is to stick with the facts." If you're looking for sources of trusted information, the Centers for Disease Control and Prevention (CDC) and the World Health Organization (WHO) can be useful.
What if my kids haven't asked? 
According to Beurkens, it's really important to be open and honest with kids about the coronavirus. "We don't want to hide anything that's going on," she said, "but we also want to be factual and not alarmist."
If they're not raising any questions, one way to bring it up is by saying "have you heard about this?" and assess what their knowledge is.
Always approach the topic from a developmentally appropriate standpoint, meaning the way you talk to your three-year-old should differ from the way you talk to your sixteen-year-old.
How do I help calm my kid's fears?
Anxiety and fear most commonly occur when we feel out of control. One of the best ways to mitigate those feelings is by focusing on what we can control. Some things you can help your kids take control of include:
Diligent hand washing
Drinking a lot of water and eating fruits and veggies to keep their bodies healthy
Staying home from school if they're feeling sick or staying away from friends who feel sick
Getting a good night's sleep
What can we do as parents?
One of the most important things parents can do is manage their own anxieties about COVID-19. "Be a model of not overreacting, stay rational and calm," Beurkens said, "because kids will gauge and mimic how stressed their parents are."
Not only is stress management important for our kids' mental health, but it can support our own physical health. In fact, "stress is the number one thing that suppresses our immune system and makes us more likely to get sick," she said. "That's the irony of this whole thing."
Along with stress management, sleep, nutrition, and maintaining a healthy microbiome can help strengthen our immune systems. If you're still feeling anxious, try this 90-second technique to feel more calm.