How To Stop Planning To Meditate & Start Practicing Mindfulness
Holistic Psychologist
By Ellie Cobb, Ph.D.
Holistic Psychologist
Ellie Cobb, Ph.D., based in the Greater NYC Area, is a speaker, teacher, writer, and advocate for empowering others to improve their own well-being. She has a Ph.D. in clinical psychology from Columbia University, a bachelor's in psychology from Princeton University.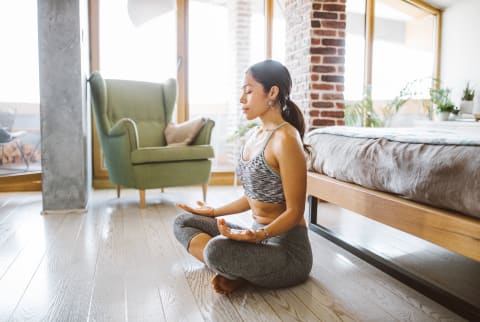 Image by svetikd / iStock
September 17, 2019
The start of a new school year or a new season often brings motivation to create new habits or practices. As both a buzzy hot topic and a well-researched self-care skill, meditation often makes the top of people's to-do lists. Over the years, I have heard many people share their intention or wish to "start meditating," which is often followed by reasons for why it has not happened yet.
As a holistic psychologist who practices mindfulness in my personal life and teaches it in my professional life, I want to address the top reasons that get in the way of meditation practice and offer some realistic and doable ways to actually adopt a mindfulness practice:
1.
"But I don't have time for meditation."
Opportunity to practice mindfulness: Infuse it into your day.
Not having time for meditation is a legitimate experience. I recommend either scaling back your expectations of the time you spend meditating (even just a few minutes makes a difference) or try infusing mindfulness into your day.
Meditation is an intentional practice, often done in a seated and quiet position. Regular meditation practice does require time, although there is no rule about how long you need to practice to make it worthwhile. So give yourself permission to only meditate for a few minutes between other parts of your day, and know that any amount of meditation is a beneficial amount of meditation.
Furthermore, meditation is not the only way to practice and extract the benefits of mindfulness. While meditation is a practice, mindfulness is simply a way of being. Mindfulness is paying attention with awareness in the present moment.
There are many ways to infuse mindfulness into our day that do not require a specified time set aside to sit quietly. We can practice mindfulness in any part of life, by intentionally being aware and present as we walk, eat, work, talk, drive, or work out. Try simply noticing what your food tastes like, what the ground feels like below your feet, or the smell of your surroundings, and know that you are bringing mindfulness into your life.
2.
"But I'm not good at meditation."
Opportunity to practice mindfulness: Take it off your to-do list.
When I hear people say, "I'm not good at meditation," they usually are referring to either the experience of not being able to quiet the mind or not actually trying it. My first suggestion is to take it off of your to-do list. Rather than thinking of meditation as a task to accomplish, allow it to become a practice you choose.
My second suggestion is to remind yourself that meditating effectively does not mean reaching a desired outcome or state. Instead of trying to achieve a quiet mind, simply notice what it's like to have a busy mind (which is the normal human experience). Noticing the mind is the act of being mindful. Instead of trying to master meditation in a way you think it should look or feel, open up to the present moment by accepting your true experience, even if it feels far from peaceful. Meditation is not about achieving peace or calm; it is about bringing awareness back to the present moment over and over, whatever that experience is.
When we take it off our to-do list, we allow meditation to become a practice that does not have a goal but is about tuning in to our present moment experience.
3.
"But I just don't have the dedication."
Opportunity to practice mindfulness: Be playful and flexible.
When the practice of meditation becomes a chore, it loses its appeal. The truth is we do not need to be so rigid with our idea of meditation. Science actually does not support that there is only one way to extract the benefits of meditation. What we really need for our practice is permission to be playful and flexible with it.
When we decide to stop working on our practice and start playing with our practice, it can transform from a commitment into an opportunity.
Try to be flexible and forgiving as your meditation practice changes based on your life and needs. It is not realistic to expect our practice to be the same each day, as that can set the stage for feeling disappointed. Instead, allow your practice to constantly adapt to your life. Acknowledge that the practice of noticing the present moment can be flexible and integrated in many ways, times, forms, and degrees and still positively affect your mental, emotional, and physical well-being.
Try mindfulness over meditation.
So, while the common hindrances I hear to having a regular meditation practice are "I don't have time," or "I'm not good at it," or "I can't stick with it," none of these are hindrances to integrating mindfulness into daily life. We can experience the joys and benefits of mindfulness by practicing intentional awareness without requiring daily meditation.
While daily meditation comes with many benefits of its own, aiming for a daily mindfulness practice allows for more flexibility and creativity.
Ellie Cobb, Ph.D.
Holistic Psychologist
Ellie Cobb, Ph.D., is a speaker, teacher, writer, and advocate for empowering others to improve their own well-being through scientifically-backed mental wellness and holistic health. With a Ph.D. in clinical psychology from Columbia University, a bachelor's in psychology from Princeton University, and certifications in mind-body approaches, she passionately bridges conventional mental health expertise with integrated and holistic wellness to enhance human connectivity and thriving. Cobb is a Holistic Psychologist, Wellness Expert, Mindfulness Teacher, and Human Sparkler. She is also the founder of Grounded & Gold and Director of Psychology for Thankful. She is based in the New York City area.