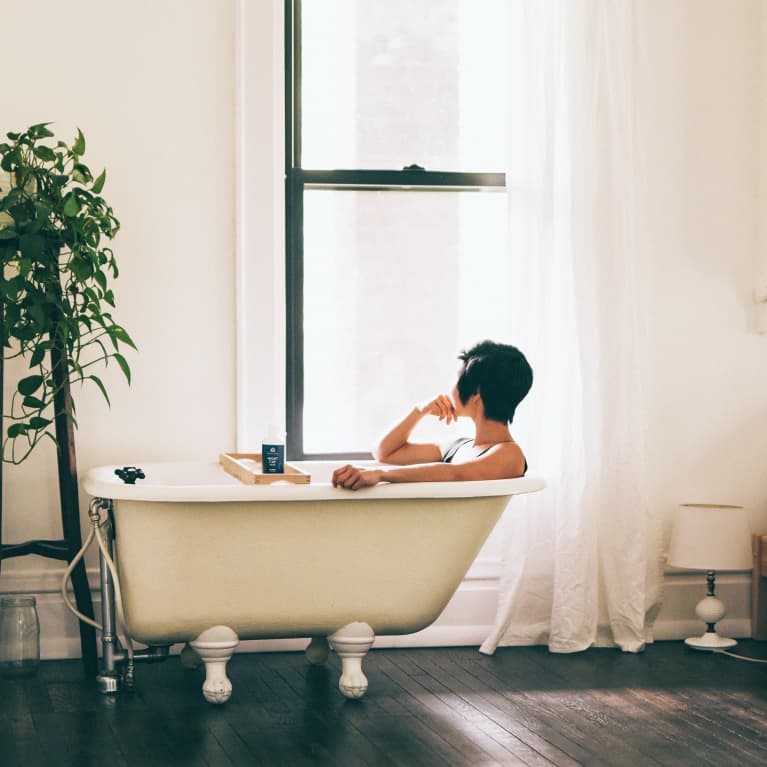 From hunching over a desk all day to holding in stress to pushing your limits during your HIIT class, there are a number of reasons you might be experiencing achy or tense muscles. Sore feet, a stiff jaw, or tight shoulders every once in a while are all just part of being human.
Enter: cannabidiol (or CBD), arguably the most talked-about natural ingredient for promoting relaxation and easing muscle tension. CBD can be taken internally—in a capsule, gummy, or oil, for instance—or used topically. If you have sore muscles, consider taking the most direct approach with a topical and apply CBD directly onto the affected area.
But what's the best way to massage your muscles with CBD? Are there any do's and don'ts? Read on to learn exactly how to use topical CBD for all your top concerns.
If you've got achy feet...
Try this feel-good massage after a long day (or night!) out, right before bed. "If you're flexible enough, sit down in a chair and put your foot on top of the opposite thigh so you can see the entire underpart of your foot," says Emily Camp, a licensed massage therapist based in Richmond, Virginia. This will give you the best angle to apply adequate pressure. Camp recommends applying a generous amount of topical CBD balm, like this Seventh Sense CBD Rest Easy Soothing Leg and Foot Cream, which has 200 mg of CBD combined with arnica and turmeric for easing soreness and inflammation.
Once you've applied the CBD, use your knuckles to apply pressure and stroke the foot from the callus underneath your toes down toward the arch. Then, move onto your arch, working the balm into your skin with your thumb. For the heel, Camp recommends using the fingers to make a pulling motion from the outside of the foot to the inside. While you massage, inhale through the nose and notice the light, soothing scent of the botanicals in the balm like chamomile, which is also known for its calming properties.
If your jaw feels tight...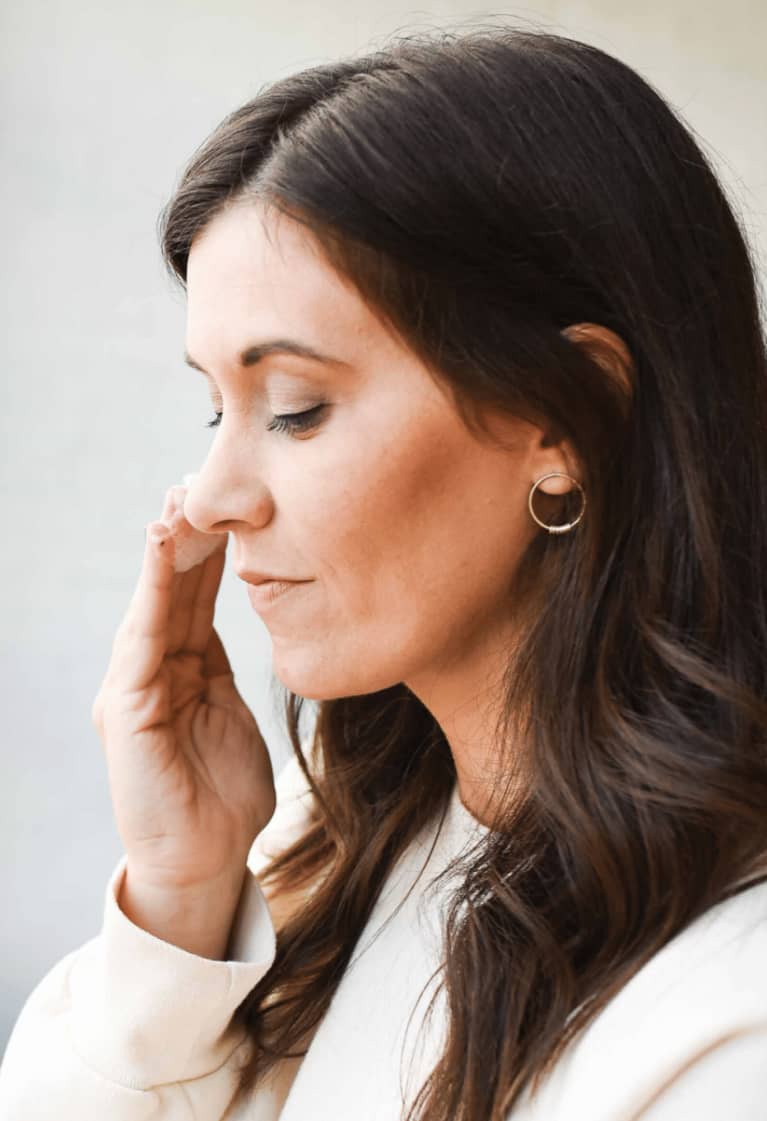 "This is a great thing to do at night and in the morning, especially if you talk on the phone a lot, chew gum, or experience tension headaches," according to Camp.
To massage the jaw, apply your CBD product and then with both thumbs, press into the sides of your face below the temple. Hold the pressure and slide slowly down the jawline to the front of your chin. "It may be tender," Camp explains. "That's OK!" You may even encounter a trigger point. In that case, "Really press into it to release it, making small circles with your thumbs," she continues.
By using a CBD-infused face oil formulated to moisturize your face while also delivering CBD's calming properties to your skin, you can easily make this mini-massage part of your nightly skin care routine.
If you have tense shoulders...
Chances are, you can relate to feeling like your shoulders are in a permanent "shrug" position. We tend to hold a lot of tension in this area, so it's time to break out the CBD Deep Relief Cream from Seventh Sense; it's a botanical formulation of menthol, arnica, and a high concentration of 100% hemp-derived CBD oil to get the job done.
Camp recommends applying the cream generously to your chest and decloté, neck, shoulders, and even the upper back. This might come as a surprise, but if you want to target your shoulders, Camp recommends starting with the chest. As she explains it, "Our shoulders are often overextended because our chest muscles are so tight."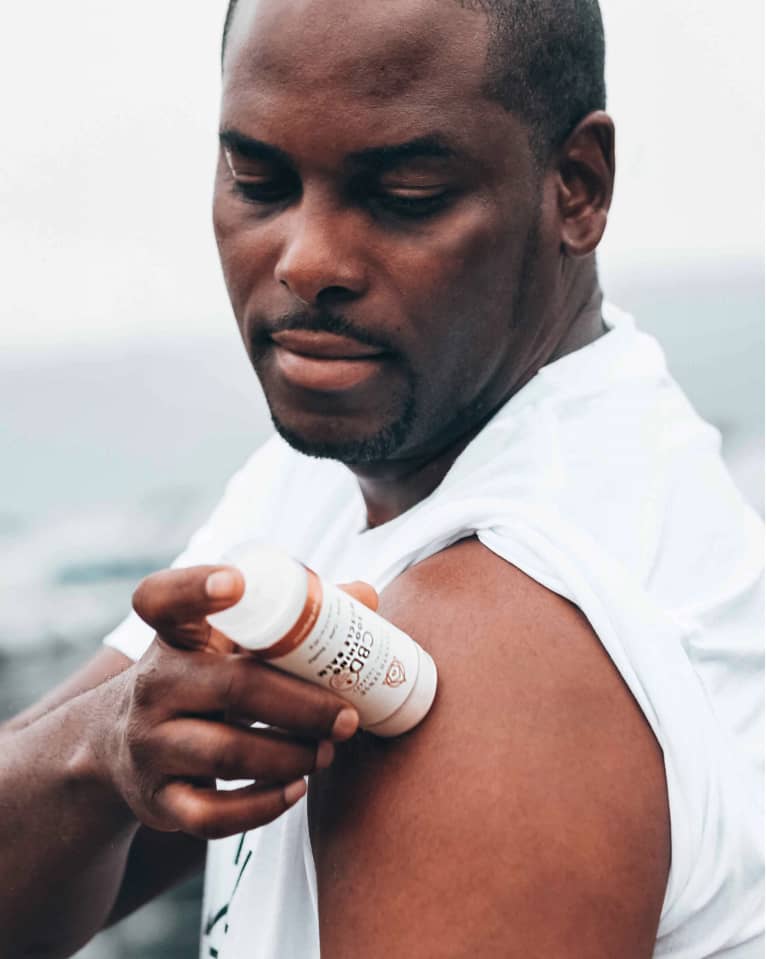 To target the chest, feel underneath your clavicle until you find the indent where your ribs are. You'll most likely feel some sensitivity here, so be gentle as you press down with your fingers, moving them from the middle of your chest out toward your shoulder.
Once you feel the tension in the chest subside, move to the shoulder. Using one hand, grab the opposite shoulder and squeeze slowly, moving up toward the side of the neck and back down. "It can be tender and painful in the center—there's usually a trigger point there," says Camp. "Apply a little extra CBD to that spot," she says. Keep massaging until the cream has been fully absorbed by your skin.
If you're sore from working out...
Studies, like this one published in Science Translational Medicine, have shown that just 10 minutes of massage after a workout reduced exercise-related inflammation and helped cells recover by supporting the production of new mitochondria. Camp recommends that if you're using CBD for post-workout soreness or muscle fatigue—or really, for any of the reasons above—apply it generously. (Don't hold back!) Try Seventh Sense's CBD Muscle Balm—which contains 200 mg of CBD infused with chamomile and peppermint oil—in combination with foam rolling.
By following the tips above, you can make sure you're getting the most from your topical CBD. So, when will you feel relief? Everyone experiences different levels of muscle soreness and tension, so you may feel the tension subside after only a few minutes, or you may need to make a CBD self-massage part of your everyday wellness routine. The good news is that now you have all the tools to do just that.