5 Quick Tips For Sustainable, Low-Impact Travel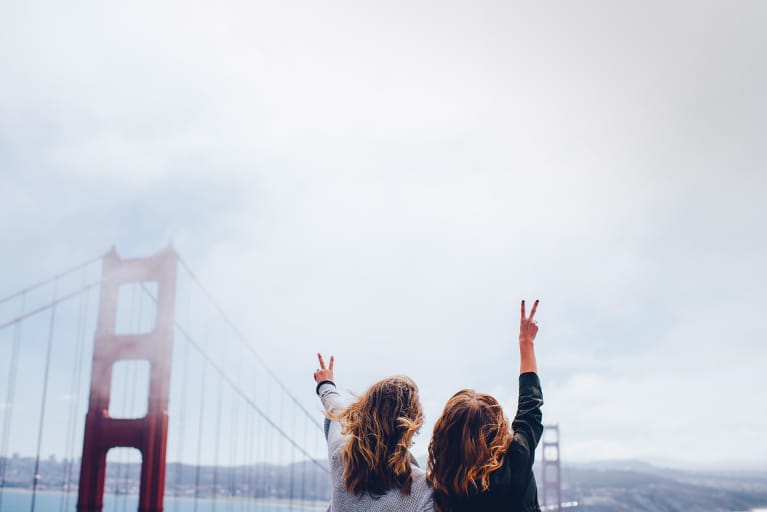 In addition to throwing off our clean eating routines and exercise schedules, travel can also force you to press pause on your sustainable habits. It all starts at the airport, where a deluge of plastic water bottles and snack packaging tempts us at every turn. Our footprint only multiplies once we reach our destination and indulge in cups of cold drinks on the beach or piping mugs of hot cocoa, often leaving more trash behind than we'd like to.
Vacation should be a time of indulgence and relaxation, but treating ourselves doesn't need to come at the expense of the planet. Here are a few simple packing and planning tips that will help you be a low-impact traveler, wherever in the world you're headed:
1. Get to the airport prepared.
Reducing trash when you're on the road starts as you're packing. Make a reusable water bottle the first thing you throw in your bag, and pack a few if you're traveling with family. Highly insulated bottles like S'well and Klean Kanteen make for great travel companions since they do double duty and can hold any cold or hot beverages you come across on your travels. A reusable utensil set and tote bag are other compact, useful items to pack that can save you a lot of unnecessary plastic waste when you're eating out in a new place.
2. Support brands that try to make the world a little cleaner.
3. Find a hotel that prioritizes sustainability.
When you're planning to jet off, look for a hotel that is LEED-certified or prioritizes sustainability in other ways. Westin is one great option for conscious travelers. The brand's wellness program serves up meals using fresh, local ingredients and encourages an appreciation for surrounding nature with 3- and 5-mile guided running routes in destinations throughout the world. Plus, select locations set up waste reduction systems that collect and recycle common items like soap and shampoo products discarded each day.
Wherever you end up staying, small tweaks like taking shorter showers, reusing your towels, and turning off the lights when you leave a room can add up to majorly reduce your impact.
4. Plan an eco-itinerary.
Do your research beforehand to craft an itinerary that supports the local community and wildlife. Visit a sustainable farm instead of taking that helicopter trip; opt for bus tours over solitary road trips; and support small, local shops instead of brand-name megastores.
5. Keep up with healthy green routines on the road.
Traveling to new places is a wonderful way to explore new cuisines. Bringing your tote, water bottle, and reusable cutlery to the local farmers market will help you create your own culinary adventure, taste the healthy local produce and fruit for cheap, and avoid unnecessary plastic packaging in the process.
Vacation isn't the time to cut corners on your natural, eco-friendly beauty routine either, especially when it comes to sunscreen. If you're going someplace tropical and plan to spend any time in the water, be sure to pack a nontoxic sunscreen made without oxybenzone. Traces of this hormone-disrupting chemical have been known to wash off of swimmers and damage fragile coral reefs.
Psst...mindbodygreen's co-founders have some genius tips for traveling healthily and sustainably. Check them out here.