Your Complete Guide To A Zero-Waste Holiday

mbg Sustainability + Health Director
By Emma Loewe
mbg Sustainability + Health Director
Emma Loewe is the Senior Sustainability Editor at mindbodygreen and the author of "Return to Nature: The New Science of How Natural Landscapes Restore Us."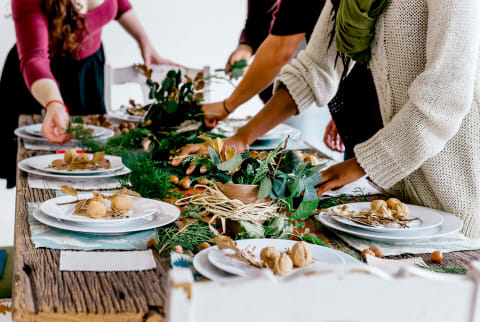 November 15, 2017
Nothing ruins post-Thanksgiving cranberry pie like a big ol' pile of trash sitting in the kitchen. While today's holiday often comes with its fair share of waste, here are a few tips to make every part of your meal a little easier on the Earth.
Advertisement
This ad is displayed using third party content and we do not control its accessibility features.
Leading up to your meal.
If you're hosting:
A low-waste Thanksgiving starts at the grocery store, so be sure to grab reusable shopping bags and a few smaller produce bags to hold your haul. Avoid foods packed in plastic whenever possible, looking instead for loose items or ones in glass jars that can be reused. Turn to bulk bins for your nuts and grains, and if there's a farmers market going on in your neighborhood, challenge yourself to shape a side dish out of the fresh produce you pick up there. If you don't have access to a farmers market, look into grocery delivery services that give food waste a second life. Imperfect Produce and Hungry Harvest deliver "ugly" produce that would have otherwise been tossed based on aesthetics alone.
Environmental activist Erin Schrode is all about letting the local produce shine in a turkey-free Thanksgiving. "It may sound sacrilegious to skip the turkey on Turkey Day, but the planet will thank you," she says, adding that going meatless will also likely mean less packaging, transportation, and energy use on production and manufacturing.
Once you decide on a menu and start cooking, throw any scraps you collect into a Mason jar and pop it in the freezer for your food waste leftover feast (more on that later). Got nonedible scraps like eggshells or pits? Compost 'em! Save any empty glass containers for leftovers or use them as fun displays for your kitchen supplies.
For table decorations, opt for a simple bouquet wrapped in recyclable butcher paper, or head out and pluck a few accents straight from nature. Challenge yourself not to go out and buy any new decorations or dishware for the big day, instead asking guests to lend anything you might be missing. Top off your table with a clean-burning candle or two to set a cozy mood.
Advertisement
This ad is displayed using third party content and we do not control its accessibility features.
If you're a guest:
Even if you're not cooking this year, you can spread the eco-mentality by being a mindful guest. "A great way to reduce waste during those Thanksgiving get-togethers is to come prepared with your own reusable container for leftovers," says Megean Weldon, the green lifestyle blogger behind Zero Waste Nerd. "Even though Grandma always seems to save those plastic butter containers for this kind of occasion, we can avoid the disposable plastic containers, foil, and plastic wrap altogether by being prepared."
After your meal.
Pack up the leftovers in reusable jars and send your guests home with anything you know you won't be able to eat. These jar separators can help you avoid a gravy-soaked soggy turkey disaster. During kitchen cleaning, swap sheets and sheets of paper towel for a microfiber cloth, and be sure to use eco-friendly cleaners.
Use any food scraps you collected during prep work for a warming veggie scrap stock or pesto. Combine it with this "everything but the kitchen sink" leftover bowl, and all of your Turkey Day leftovers will be gobbled up come Monday.
Keep the conscious consumption going by resisting the urge to shop through the rest of the holiday weekend. "Boycott Black Friday by avoiding mass retailers," advises eco-blogger Ashley Morgan. "The power of our dollar has the most profound and direct impact on demand—if we don't participate, retailers will see an immediate reflection in their numbers." Instead, go for a gift that doesn't come wrapped in plastic and consider ringing in the day by donating to charity instead.
Advertisement
This ad is displayed using third party content and we do not control its accessibility features.