paid content
 for

How To Greenify Your Beauty Routine
April 14, 2018
When it comes to helping reduce waste and trash on our Mother Earth, it's easy to think about how small a role each one of us plays in the grand planetary schema. But the reality is that every little bit counts, and there are many things we are empowered to do—creating capsule wardrobes, composting organic food waste, and learning to reduce trash in our personal care routines are all attainable ways to bring Earth Day into every day.
Below are five simple, super-effective ways to reduce waste in your beauty and personal care routine that you may not have considered before. Happy recycling!
1. Shop brands that have great sustainability practices.
In 2018, there's no excuse for personal care brands—or any brands, for that matter—who don't participate in giving back to the planet. AVEENO®, for example, does its part by designing packaging that uses less material and striving to incorporate recycled and recyclable materials.
2. Use as many gender-neutral products as possible.
Another way to declutter your beauty routine, especially if you live with another person (or people), is to share products. Finding products that appeal to all genders is an easy solution because they typically don't tend too masculine or feminine in their branding and, because they eliminate the need for each person to have their own set of products, they reduce clutter both in the bathroom and on the planet. AVEENO®'s Daily Moisturizing Lotion is fragrance free and an excellent moisturizing option for every body.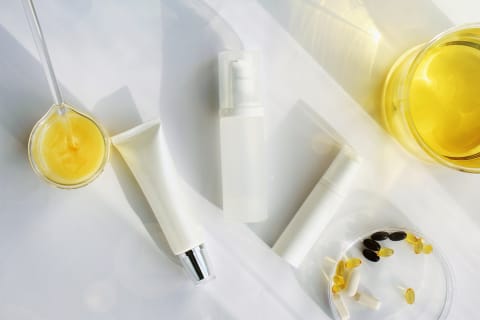 3. Pare down your beauty routine.
When it comes to natural beauty, less is always more. As it turns out, the same is true for keeping Mother Earth as happy as she can be. Adding products to your routine that minimize the need for other products can help reduce your product footprint overall, and fewer products means less waste.
4. Be mindful with your empties.
Whenever you're through with your beauty products, going the extra mile to recycle them helps the environment. Another idea? Upcycle containers from your old products by repurposing them. Strip off the labels, wash them thoroughly, and give each bottle a new beginning! Use the containers as vases, to hold makeup brushes, or cut off the tops and create little planters.
5. Replace your loofah with a biodegradable sea sponge—or just use your hands.
Having to purchase a new loofah every few months contributes to landfill waste too, especially because most of them are not recyclable or biodegradable. When in the shower, use a foaming, moisturizing wash like AVEENO®'s Daily Moisturizing Body Wash with a natural sea sponge, which you can purchase at most health food stores or online, or simply use your hands! Every little bit of waste saved adds up by designing packaging that uses less material and striving to incorporate recycled and recyclable materials.
Visit AVEENO®'s Care to Recycle page that gives you tips on how to upcycle and recycle your products when you're done using them!