Sentimental Items Are The Hardest To Declutter. Here's How To Decide What To Keep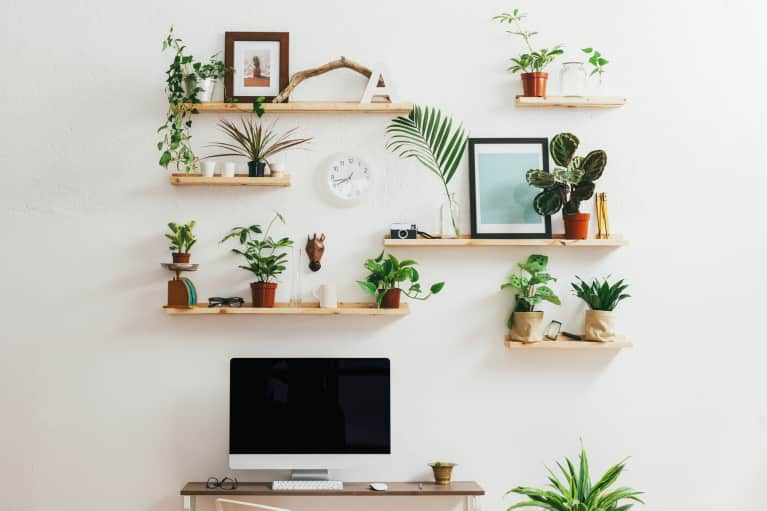 Clutter is the culmination of the things we collect over time. It doesn't happen all at once. It's the slow, quiet, duplicitous infiltration of things in our spaces. To illustrate the point, let's go back a ways and track the typical adult's journey alongside their stuff.
Think back to your 20s. Aside from the wild parties, your life back then was probably focused on being a student, doing a little travel, preparing for a career, or generally learning how to be an independent member of society.
But after a while, you probably took your first big leap as a young adult and moved into your own place. Eventually, you got a job, maybe you upgraded your computer, replaced old posters with actual pieces of art, tastefully hung in an actual frame. Then, you moved in with someone who brought all of their stuff with them—and overnight, you doubled the volume of things under your roof.
Clutter doesn't happen overnight.
Fast-forward. Romance led to babies. And with babies came even more stuff. Cribs, strollers, onesies, diaper bags, little plastic squeaky things, shoogy-wubbas and stuffies everywhere. The medical bills, the student loans, the mortgage statements, and the utilities piled up on the kitchen counter. Maybe along the way you inherited the possessions of your loved ones. The culmination of a lifetime of their things, their hopes and dreams—the physical expression of your love for them, suddenly manifest in piles and piles of stuff.
You watched your kids grow into young adults. When they moved out, you graciously saved their things they couldn't take with them, promising they could come back to collect their prized possessions someday. Empty-nesters, you redefined your identity by re-evaluating your schedule, your hobbies, your space—and a lifetime of accumulated things.
Clutter doesn't happen overnight. It's what transpires while we're going about our day-to-day, living through the mundane paces of life.
As a professional organizer, I help families simplify their stuff and organize their lives. The truth is, it's so much easier to manage less than organize everything. Getting into the habit of regularly purging the stuff we just don't need makes the accumulated excess a manageable matter of maintenance rather than an overwhelming chore.
Here are three no-fail strategies to minimize the buildup of clutter.
1. Go through your home each week.
Every week when we clean our home, my wife and I travel around the house with a laundry basket actively looking for things to get rid of. We separate items going to thrift stores from the ones going to local consignment shops. We look for things to gift to local churches, community agencies, friends, and neighbors. We bag things those up, load them in the car and deliver them wherever they need to go—every week.
2. Distinguish needs from wants.
Do you really need to "keep up with the Joneses"? Ask yourself if you're content without gadgets, fancy new cars, and a garage full of plastic toys. Why not spend your hard-earned money on good, organic food and epic adventures you'll remember forever? When you do need actual stuff, try to shop secondhand or from local consignment stores. If you can't find what you're looking for, spend a little more time and money to track down quality items designed to last a long, long time. Always look for makers that go out of their way to take care of people and the environment, too.
At least once every year, I recommend checking in with the stuff you've been hoarding for a rainy day. The sentimental items are never easy to deal with, but asking these questions can help you decide what to keep and what to get rid of:
Is this item the only (or favorite) thing I have to remember this [person, place, or event]?
Am I honoring the memory of this [person, place, or event] in the way that I'm storing it?
Dr. Melva Green, a psychiatrist and TV host, was onto something when she said, "Bless your clutter." She recommends we use our things as a benchmark to help prioritize what matters most to us right now.
Give your stuff a glance every once in a while, updating your inventory as you evolve through your life. If you're paying attention, you'll find your things reflect what matters most: who you love, what you do, how and why you live…because everything else is just stuff.
Psst...did you know decluttering can make you less stressed out?