Close Banner
Advertisement
This ad is displayed using third party content and we do not control its accessibility features.
paid content
 for

How To Craft A Winter Wind-Down Ritual For Better Sleep & Happier Holiday Feels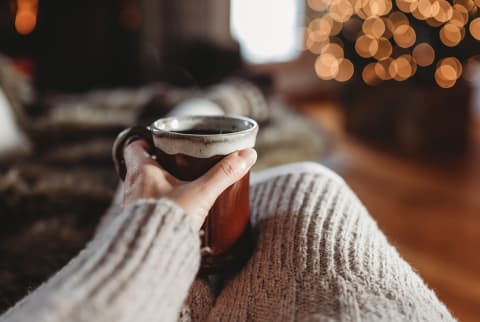 Image by Melanie DeFazio / Stocksy
Holiday bliss and holiday stress—sometimes there's a fine line between the two. As much joy as the holidays can bring, they can also come with a side of chaos. With family in town, festivities, and to-do lists galore, wellness routines are often pushed aside in favor of gift exchanges and parties. But considering how much there is to enjoy this time of year, stress management should really be No. 1, which is why it's time to lock down your winter wind-down routine.
Why we need a winter wind-down ritual.
Collectively, we don't acknowledge how extensive holiday stress really is. A 2019 survey illuminated that nearly 40% of Americans would skip the holidays due to the stress that comes with them. (And suddenly The Grinch doesn't feel so fictional!) In another survey, which found that 88% of American adults feel stressed about the holidays, shopping for presents, spending money, and cooking were among the top stressors. But isn't this season supposed to be merry and bright?
With a winter wind-down routine, it very well can be. We may already have go-to relaxation practices, but for the holidays we'll likely need something festive and extra-strength, like a mug of beam's White Chocolate Peppermint Dream Powder, formulated with nano CBD from the hemp plant to support sleep.* This healthy hot cocoa is the secret ingredient to a delicious wind-down ritual that sticks, but it's not the only way we're slowing down this season... Read on for five more ways:
Make sleep your top priority.
There's nothing like a batch of unfrosted sugar cookies to keep you up past your bedtime, but sacrificing your sleep is asking for stress. Staying well-rested is key to navigating all of the potential holiday hiccups. Whether it's a controversial conversation at the dinner table or interminable lines at the shopping mall—those eight hours of sleep will help you keep your attention on what really matters. And that starts with a cup of beam's limited-edition White Chocolate Peppermint Dream Powder before bedtime.*
This decadent drink is a winter wind-down ritual in itself. Not only is it formulated with sleep-supporting ingredients like nano CBD and melatonin, but it also has a lineup of other ingredients that promote stress management and calm, like reishi, magnesium, and L-theanine.* There's nothing like this guilt-free peppermint white chocolate treat, sweetened with monk fruit, to trigger a little holiday nostalgia. When it's mixed with warm milk or hot water, you'll be happy to make sleep your top priority.*
Slow down with seasonal essential oils.
A wind-down ritual is all about giving yourself time to step out of the busyness and into the present moment. One of the most effective ways to do that is by tapping into your senses. And nothing awakens the senses quite like essential oils—especially when they smell like this special time of year. For a more comforting mood, use a diffuser to spread the warm aroma of this NOW Essential Oils Pumpkin Spice Blend throughout your home. Or for a burst of festive energy before your holiday shopping, dab this NOW Essential Oils Candy Cane Oil Blend on your wrists and the back of your neck.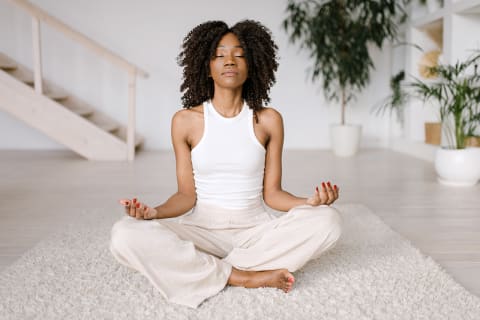 Image by Julia Volk / Stocksy
Use a guided meditation to get in the attitude of gratitude.
This time of year, gratitude is top of mind as we appreciate all we have in our lives. You can design your winter wind-down ritual to inspire even more of that (or access it, if it feels difficult!). Insight Timer is a free app with thousands of guided meditations to meet every need. There's an entire category of Gratitude Meditations that you can explore, or get more specific to the time of year with a meditation for managing holiday stress. Followed by warm swirls of white chocolate peppermint in your nightly cup of beam's holiday Dream Powder, your seasonal stress doesn't stand a chance.*
Use holiday magic to create a more relaxed mood.
Sometimes all it takes is a relaxing atmosphere to step out of the stress cycle and into what the moment has to offer, and holiday aesthetics provide plenty of inspiration there. Create a calm environment by getting that fireplace crackling a few hours earlier than usual; feel free to grab a book, kick back, and enjoy. If you don't have a fireplace, load up on wood-wick candles to create a similar vibe. To create even more magic, decorate your space with twinkling lights and your favorite festive details that draw your attention to the little things.
Keep your spirits up!
The holidays are busy; there's no doubt about that. But with planning and intention, a festive wind-down ritual that we return to often can interrupt that feeling of go-go-go. Plus, the more we calm our nervous system through extra sleep and relaxation, the more available we are to enjoy what the holidays are all about. Sometimes it just takes a cup of beam's White Chocolate Peppermint Dream Powder and an early bedtime to keep the stress from snowballing.* There's a lot to juggle this time of year, but one thing is simple: The more we wind down, the easier we can keep our spirits up.
For a limited time only, save 40% on your first 3 months of a subscription to beam's Dream Powder. Pause or cancel anytime. Click here to purchase.
*These statements have not been evaluated by the Food and Drug Administration. This product is not intended to diagnose, treat, cure, or prevent any disease.
More On This Topic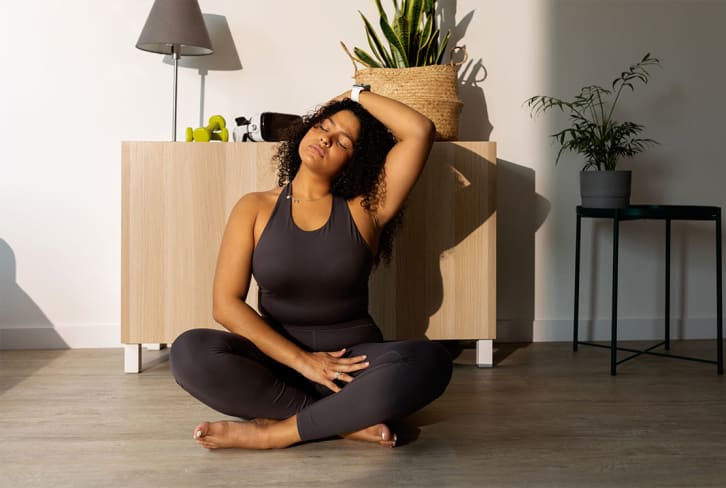 more Movement
Advertisement
This ad is displayed using third party content and we do not control its accessibility features.
Advertisement
This ad is displayed using third party content and we do not control its accessibility features.