The Powerful Latin American Blood-Sugar Balancer That You Should Be Eating (But Aren't)

Contributing Food Editor
By Liz Moody
Contributing Food Editor
Liz Moody is a food editor, recipe developer and green smoothie enthusiast. She received her creative writing and psychology degree from The University of California, Berkeley. Moody is the author of two cookbooks: Healthier Together and Glow Pops and the host of the Healthier Together podcast.

Expert review by
Abby Cannon, J.D., R.D., CDN
Registered Dietitian
Abby K. Cannon, JD, RD is an attorney turned dietitian who lives a very low waste lifestyle. She graduated from the University of Pennsylvania with a degree in psychology and received her law degree from Brooklyn Law School cum laude. She graduated from Queens College and became a registered dietitian in 2016.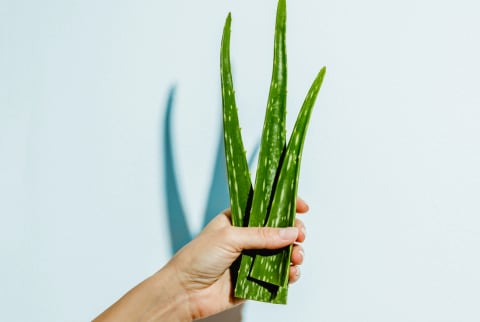 Photo by Tatjana Zlatkovic
October 3, 2019
While many of us are familiar with the aloe vera plant's topical healing properties (the clear gel is often smoothed on sunburned skin), consuming aloe vera is common in Latin American culture—and Laura McLively, a registered dietitian and author of the newly published The Berkeley Bowl Cookbook, says that more people should open their eyes (and mouths!) to this wonder plant. "Aloe vera gel is typically blended or mixed into drinks or medicinal tonics throughout Latin America," she told mbg. "Emoliente is a traditional drink using aloe vera gel from the Andes region. The gel is rich in antioxidants called polyphenols, which are good for overall health, preventing cancer and cardiovascular disease and inhibiting the growth of harmful bacteria. Early evidence1 also suggests that aloe vera gel may help lower blood glucose in people with diabetes, and studies2 also show it supports oral health."
According to McLively, the gel has a clean, refreshing taste that's light enough to be played around with in the kitchen. "It can be combined with your favorite foods in a salad, salsa, or smoothie without overpowering them," she explained. "It's easy to grow and can easily be found in well-stocked groceries and Latin American markets, so get your hands on some, and start pushing those boundaries of familiarity."
The one caveat? When preparing aloe vera, it's important to separate the gel from the latex, or slippery yellow sap. "The latex is a powerful laxative, so make sure no latex remains on the gel by rinsing it thoroughly," said McLively. Here, she plays off aloe vera's "succulent but firm" texture to make a Mango Ceviche, the perfect light, fresh dish to begin eating this spring and summer.
Aloe Vera Mango Ceviche
1 large aloe vera leaf (choose firm, plump leaves with smooth, green skin free of blemishes
3 tablespoons freshly squeezed lemon juice
¾ teaspoon salt
3 scallions, white and green parts finely sliced
1 small mango, diced
½ cup red bell pepper, minced
1 serrano chili, seeded and minced
1 firm avocado, diced
3 tablespoons minced fresh mint leaves
2 tablespoons freshly squeezed lime juice
Corn tortilla chips for serving
Lime wedge, for garnish
To extract the aloe vera gel, lay the leaf flat on a cutting board. Slice off the bottom inch of the leaf base as well as the top third of the leaf, which is too narrow to extract any gel. Pressing the leaf down so it flattens against the cutting board, insert a large knife into the base between the gel and the green rind on the cutting board side. Carefully move the knife along to separate the gel from the rind. Flip the leaf over and repeat with the other side, leaving a long fillet of clear gel. Slice the gel fillet into ½-inch cubes and place in a colander. Run under cold water to rinse away any yellow latex (sap). Place the rinsed aloe vera cubes in a bowl and combine with the lemon juice and half of the salt. Cover and refrigerate for at least 3 hours or overnight.
To serve, place the aloe vera in a colander and rinse under cold water until the aloe is no longer slippery. Drain well and combine with the remaining salt and the scallions, mango, bell pepper, serrano chili, avocado, mint, and lime juice. Taste and adjust seasoning as desired. Serve immediately with crispy tortilla chips and garnished with a lime wedge. Refrigerate for up to 1 week.
And do you want to turn your passion for wellbeing into a fulfilling career? Become a Certified Health Coach! Learn more here.