How To Make Your Own Summer Wreath: 5 Creative DIYs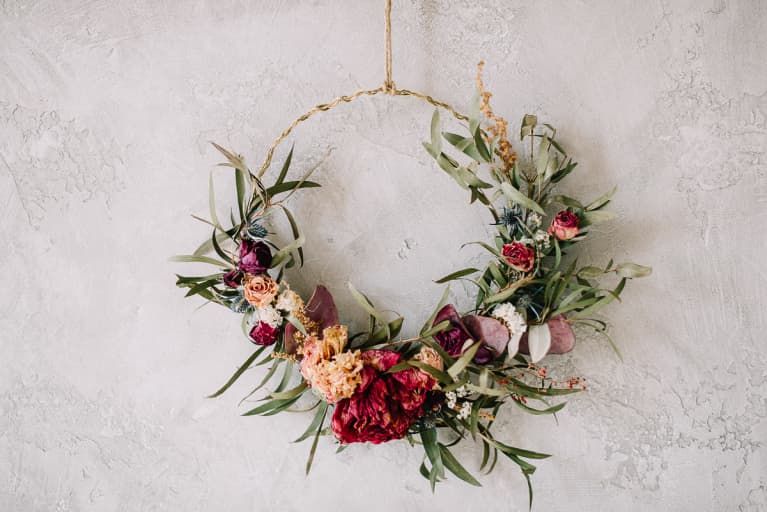 Our editors have independently chosen the products listed on this page. If you purchase something mentioned in this article, we may
earn a small commission
.
Last updated on June 11, 2021
Summertime wreaths can instantly add a pop of color and life to any space—and they're easier to make than you think. These DIY wreath ideas will help you bring the scents and textures of the season to your home.
How to make a DIY wreath:
a wire or foam wreath form
twine or ribbons
glue
floral shears
a wire cutter
straight pins
greenery, flowers, fabric or other supplies that will be your main wreath material
First, gather all of your materials together. Now is the time to decide whether you want to use a foam or wire form for your wreath and what you want to decorate it with (more ideas on that below). If you want to hang your wreath, you'll also need to get some picture-hanging hardware such as nails, hooks, or Velcro hanging strips.
If you are using a wire form:
Lay your greenery, flowers, or other decorations on the form. (Your design can follow a pattern or be more free-form.)
Once you have everything in place, take your floral wire and wrap it several times tightly around the stems or base of your items and secure them tightly to your form.
Continue laying bundles in a counterclockwise direction until the wire form is completely covered. Make sure each bunch overlaps with the previous one so there are no gaps.
Tuck the end of the write underneath the form and tie with a knot when you're finished. Cut the rest of the wire with wire cutters.
Trim off any excess stems or foliage with the shears.
Use ribbon or twine to weave between open spaces to bring the aesthetic together.
If you are using a foam form:
After 20 years in the floral design business, Robina White knows the most accessible materials for creating wreaths—and she says foam is one of them: "Honestly, placing flowers into foam is easier because you're not wiring anything. It's like putting together puzzle pieces," says White, owner of New York's Hibiscus Flowershop.
If you choose a foam form, paint or cover the form with fabric first.
Then pin your fabric, artificial flowers, buttons or other decorations into the form using your straight pins. Place the pieces as close together as possible to create depth. (If you are using more solid materials like shells or crystals, glue the pieces so that they cover the form completely.)
To hang your wreath, loop a piece of wire or strong ribbon and secure it to the back of the wreath. Measure the length of the write or ribbon so that the wreath will hang at the desired height. Use an adjustable wreath hanger over a door or a hook, nail, or adhesive strips for walls.
Creative ideas for decorating your wreath:
While flower wreaths are the popular standard, nothing beats a wreath made from herbs and green plants for lasting beauty.
"I like to take different types of eucalyptus: Baby eucalyptus, seeded eucalyptus, and regular flat eucalyptus give it a great aesthetic," says White. "I add dried sage and lavender for a layered, beautiful scent."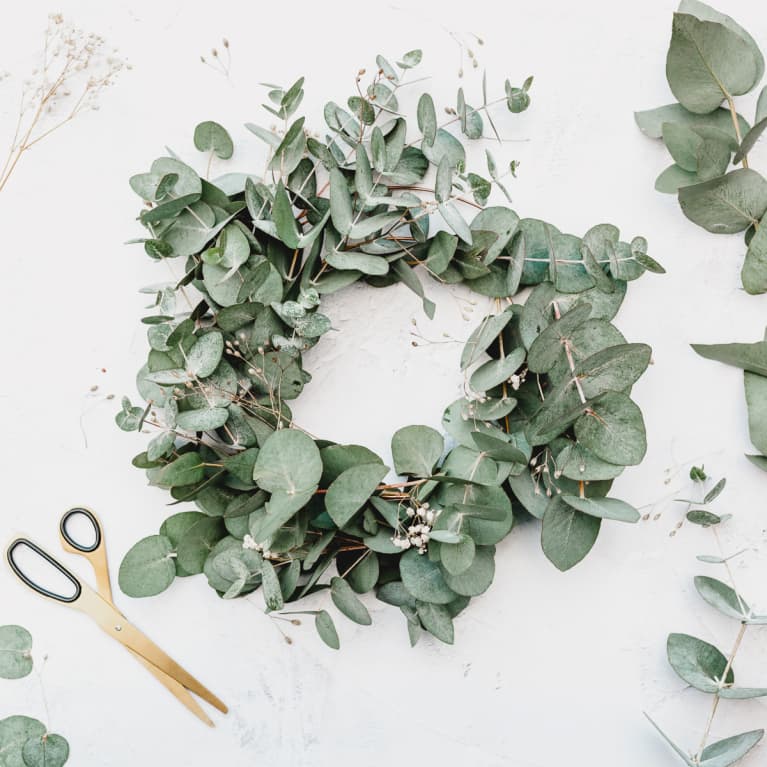 Who says wreaths need to be created from soft, pretty materials? You can get crafty and make yours out of old soup or beverage cans, too.
"You can paint them, attach fabric, or beat them for a different texture. Punch a hole in each end and string them in a circle with twine or ribbon," says White.
Nothing says summer like seashells making a splash on your wall. Use a foam wreath form and wrap the wreath in a wide piece of pale ribbon, gluing the edges as you go. Glue pearly shells all over the form until all spaces are covered. Finish with a shimmering bow.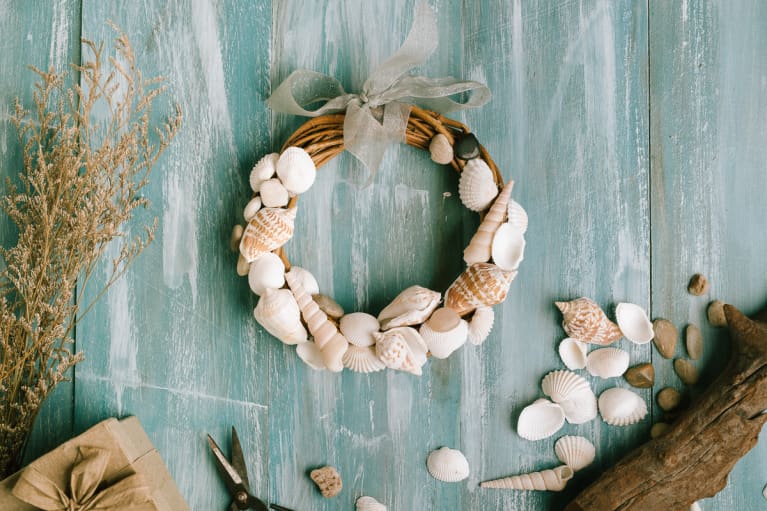 Crafting a fabric wreath is so easy when you use cloth that you already own. Find three old T-shirts in colors that represent a fun, summer vibe. Cut them into 2-inch strips about 7 inches long and tie them around a wire wreath form for a festive, casual look.
Even if you don't have a wreath form, you can still make a T-shirt wreath: "If you want a round wreath, take some old tees and tie them together in a circle. Wrap twine around them for a rustic take," explains White.
Who said wreaths have to be round? Try hanging fabrics or flowers in a streamlined swag shape or opt for a readymade structure like a watering can.
Choose a lightweight, elegantly shaped can, filled with flowers or herbs, and loop wire through the handle and hang.
Tips to make your wreath look great:
While there are very few "rules" for wreaths (that's what makes them so fun!), here are some helpful things to keep in mind as you're constructing your summer creation:
It's easier to work with flowers and greenery with thick stems. If you have some with thin, delicate stems like lavender, spray with a floral protectant to keep them from ripping and dried flowers from shattering.
When working with live plants, it's best to choose fresh ones that hold their shape. Let them dry out rather than starting with already dried and more delicate varieties.
If you top off your wreath with a bow, pick a crisp, sturdy, wired ribbon like grosgrain, taffeta, or satin for the perkiest long-lasting finish.
You might want to make sure you have a focal point and color palette so your wreath doesn't come out looking chaotic. Pick one or two colors and one intentionally placed focal point like a bow or large flower.
And remember, these creations aren't about being perfect or polished but about using your own talents to accent your space.
Still not sold on the idea of making your own wreath? Here are some sustainably crafted wreaths available for purchase this year:
Summer wreaths for 2021:
Preserved Spring Meadow Wreath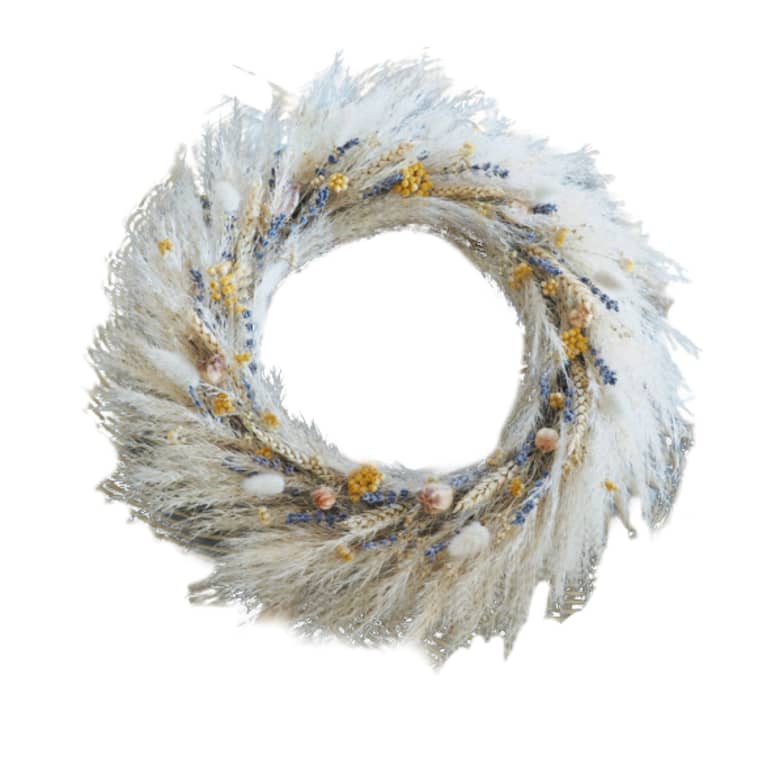 Spring Dried Flower Wreath