Close Banner
Advertisement
This ad is displayed using third party content and we do not control its accessibility features.
paid content
 for

How To Approach A Home Aesthetic With Sustainability In Mind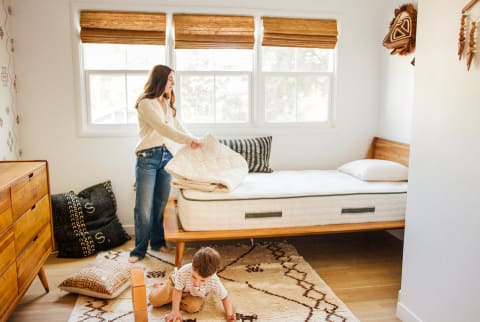 Image by Alicia Lund / Contributor
We remodeled our 1940s-era home about five years ago, and I have thoroughly enjoyed the design process. We are finished with our remodel, but I'm still constantly rearranging furniture, swapping art, and making subtle changes here and there. It's started to feel like a never-ending story that will keep evolving with us as a family over the years.
This year especially has taught me the importance of creating an aesthetically pleasing and comfortable space you're truly content in from morning to night. I notice such a difference in my mood when our home is organized and everything has its place. Well, as picked up as things can be with two toddlers under 4! I'm also tuned in to the mood boost that a seasonal refresh can bring, whether it's pops of new color or a fresh arrangement of flowers in the kitchen.
When it comes to an overall aesthetic, our home is mainly a palette of white and black with wood. It's a great blank canvas for seasonal changes and pops of color...but also a minimal palette that I've always been drawn to and never tire of. I love incorporating natural elements (dried grasses and florals, rocks, and reclaimed wood) and always a mix of old with new–vintage textiles, unique finds from travels, and family heirlooms can be found throughout our home. I fall somewhere in-between a minimalist and a maximalist but like everything to serve a purpose or bring functionality to the room. I also keep my toddlers in mind when making any design decisions, as I don't want any areas of our house to be off-limits with anything too precious.
Shop Avocado Green Mattress Products: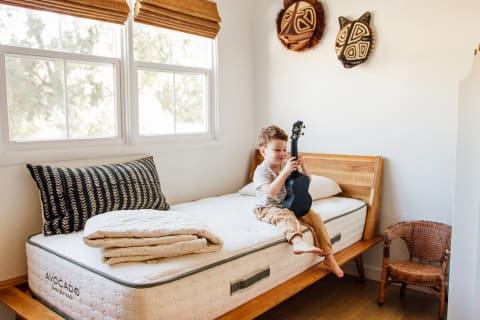 Image by Alicia Lund / Contributor
One area I'm conscious of and try to always consider when it comes to design is sustainability and making eco-friendly swaps whenever possible. Going slowly room by room is a great and easy way to start. I started in our kitchen a couple of years ago swapping our plastic for glass containers and being more conscious of our waste. Slowly I've been working my way through our house and, most recently, gave Rex's room a bit of an upgrade. We swapped out Rex's mattress and got him a new Avocado Green Mattress, pillow, and new bedding. Avocado Green Mattresses are made with nontoxic natural wool and organic cotton, they're eco-conscious (and both recyclable and biodegradable, so they're good for the planet), and they're handmade in California, which I love. Avocado Green Pillows are also nontoxic and made with natural and organic materials. They sleep cool and provide contouring support for all sleeping positions. They're also machine washable, a feature I can't live without when it comes to my kids. As a mom, I just want to feel like I'm doing everything I can to make my child's environment the best it can be, and that means creating an environment that reflects our green-minded values.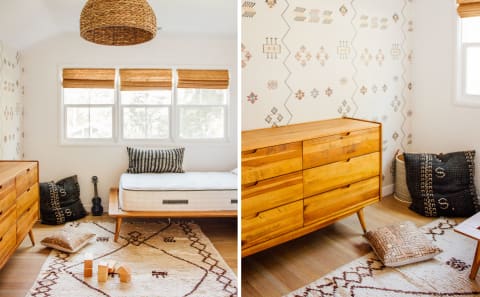 Image by Alicia Lund / Contributor
Rex's room is one of my favorites in the house. I usually shy away from wallpaper but wanted to create an accent wall in his room. I chose one that was inspired by vintage Cactus Silk textiles. The wallpaper and the handmade masks above his bed (which he got to choose) really set the vibe. He has a wooden bed frame and matching dresser, bookshelves for all of his books, and some baskets that hold his blocks and toys. If you know me, I have baskets throughout our home as catchalls and toy bins. They're a great sustainable option; I love the look, and it gives my toddlers an easy place to go looking for their things.
Making sustainable and eco-friendly design swaps doesn't have to be overwhelming or mean sacrificing style. There are so many areas in a home that can be easily reconsidered—from bedding and mattress purchases to natural material selection and incorporating vintage. Start with small changes or with one room, and slowly work your way through your home.
Shop Alicia's Picks:

Alicia Lund
Alicia Lund shares her eye for style, home decor, effortless California entertaining and motherhood at @AliciaMLund and on her lifestyle site, Cheetah is the New Black. Alicia has taken her experience as a women's fashion buyer, Elle magazine fashion and accessories editor, and editorial stylist and has consulted and partnered with a number of select brands over the years. Born and raised in Chico with a few years in San Francisco and New York, Alicia now lives in Sacramento with her husband and two kids (Rex, 3 and Willow. 1).