How Climate Action Needs To Shift Post-Pandemic, From A Lifelong Activist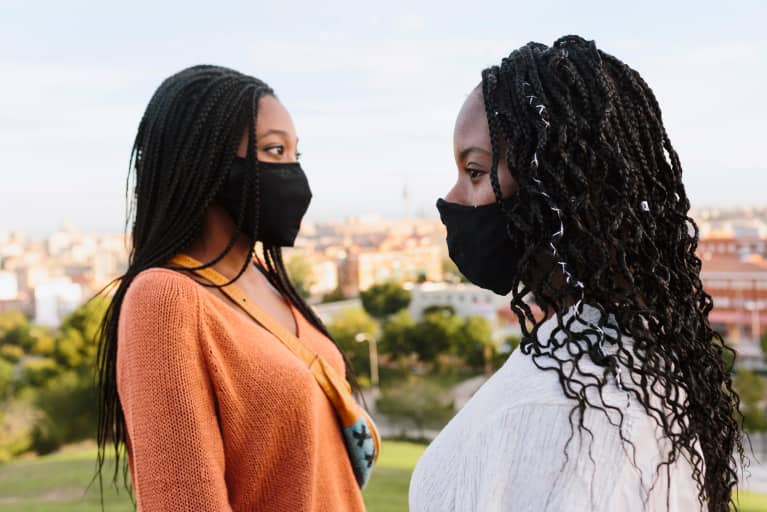 Our editors have independently chosen the products listed on this page. If you purchase something mentioned in this article, we may
earn a small commission
.
In early March 2020, just a handful of months after the worst fire season in decades ravaged the Amazon and Australia's forests, a highly contagious novel virus started attacking the lungs and hearts of humans across the globe. The parallels were hard to miss.
The past months of living through this pandemic have given us a pause, a time to reflect on our present moment, a time to imagine a different future. There can be no going back to the "old normal" of a life-blind and predatory economic system that has pushed the Earth's life support systems to the brink.
From my living room, on constant Zoom calls with activists and thinkers from around the globe, I have been going deep in exploring the meaning and implications of this time. We are in a liminal space. Though the future may be hazy, there are glimpses of it on the horizon.
This pandemic may be the most significant opportunity in our lifetime for advancing societal shifts toward a more just and harmonious human presence on Earth—that is, if we seize this moment. Central to this moment is working as allies and visionaries alongside Indigenous peoples to protect the Amazon rain forest for our planet's health and our common future.
The pandemic and the possible.
A big lesson of the pandemic has been that we are capable of making swift and radical shifts in the face of crisis. Simply look at how unprecedented grassroots mutual-aid networks have begun to self-organize in communities in order to care for and support each other. When we are faced with an existential threat, we can choose life over money, and we can cooperate in creative ways.
We must bring this same compassionate creativity to the climate and biosphere emergencies that existed before the pandemic.
As a climate and forest activist, I follow the constant stream of data about the myriad ecological crises we face. Global warming, rain forest destruction, mass extinction, soil depletion, ocean acidification, and desertification are all signs of the impending collapse of our biosphere's life support systems. The implications of our planetary crises will be even more catastrophic for humanity than the coronavirus. And let's not forget that the proliferation of novel viruses is often linked to ecological destruction.
The same mindsets, cultures, and economic systems that perpetuate oppression, domination, racism, and colonization also perpetuate violence and destruction of our Earth.
This pandemic is offering us a momentary portal to reframe the dominant paradigm and thus to catalyze a corresponding shift in our cultural beliefs, our values, and our priorities. For one important example, consider how, just as political leaders started planning a return to normal, individuals and social movements around the world rose up in unprecedented ways to stand with Black Lives Matter. Millions took to the streets in the middle of a pandemic to demand justice and real change, risking their own health and safety to challenge systemic injustice and institutional racism.
The same mindsets, cultures, and economic systems that perpetuate oppression, domination, racism, and colonization also perpetuate violence and destruction of our Earth. We can and must challenge the paradigm that sees the planet and its life-giving rain forests as a storehouse of "resources" to be exploited in the quest for progress, "development," and wealth creation in what they view as a hostile competitive world.
We can demonstrate scientifically that we are coexisting in a complex web of life, on a living planet that is more like an organism than a floating rock in space, a planet on which communities of life self-organize and create conditions conducive to more life.
Yet we have very little time.
Let me repeat that: We have very little time. The U.N. says we have at best 12 years to address the crises of climate and mass extinction. Incremental changes can't match the scale of the ecological crises we must now address. We need bold and systemic transformational processes that go to the root of our relationship to our planet.
Rebuilding the world post-COVID means focusing on changing economic and financial systems, transitioning from short-term unbridled economic and monetary growth to the flourishing of all life for present and future generations. The focus on gross domestic product (GDP) must give way to indicators of true wealth, indicators that factor in ecological wealth and well-being.
New Zealand, Costa Rica, and Bhutan are already adopting frameworks for measuring human well-being and happiness. It has been incredible to see that ideas such as regenerative economies, bioregional self-reliance, economic localization, mutual aid, universal basic income, and debt jubilee—ideas that were considered too radical just a year ago—are becoming mainstream.
The health and well-being of people, communities, and the biosphere are interlinked. Our bodies exemplify the patterns of healthy living systems; for example, our cells self-organize in myriad networks to keep us alive and thriving. Nested in an interconnected and interdependent web of life, humans are, similarly, cells in the body of a living Earth and thus need to be in service to life.
We can fuse ancient Indigenous wisdom with science-based knowledge to learn how to be good ancestors to future generations of all species.
Instead, our species has organized and patterned itself in human communities that are at war with the web of life! If this condition existed in our own bodies, it would be akin to an autoimmune disorder—cells at war with the host organism. Infinite economic growth on a finite living planet is akin to the logic of cancer in a body: cells growing out of control until they kill the host. From the cells in our bodies to the biosphere, aligning with a living Earth worldview is fundamental to our long-term survival as a species.
Nowhere is this logic of life clearer than in the processes that are at play in the Amazon rain forest, which is a vital organ of our living, breathing Earth. How ironic that a pandemic causing so much sorrow, pain, and death offers, at the same time, an opportunity to embrace the living Earth worldview and to align our economic and governance systems in service of life. We can fuse ancient Indigenous wisdom with science-based knowledge to learn how to be good ancestors to future generations of all species; we can see ourselves as relatives to all life forms, a strand in the complex and sacred web of life.
There is hope and possibility and a great deal we cannot know yet. But if we seize this moment, we will learn, we will evolve, and we will flourish.
Excerpted from The New Possible: Visions of Our World Beyond Crisis (Cascade Books) with permission from the publisher.