What To Look For In The Beginning Of A Relationship To Know If It'll Last
Assistant Managing Editor
By Abby Moore
Assistant Managing Editor
Abby Moore is an assistant managing editor at mindbodygreen. She earned a B.A. in Journalism from The University of Texas at Austin and has previously written for Tribeza magazine.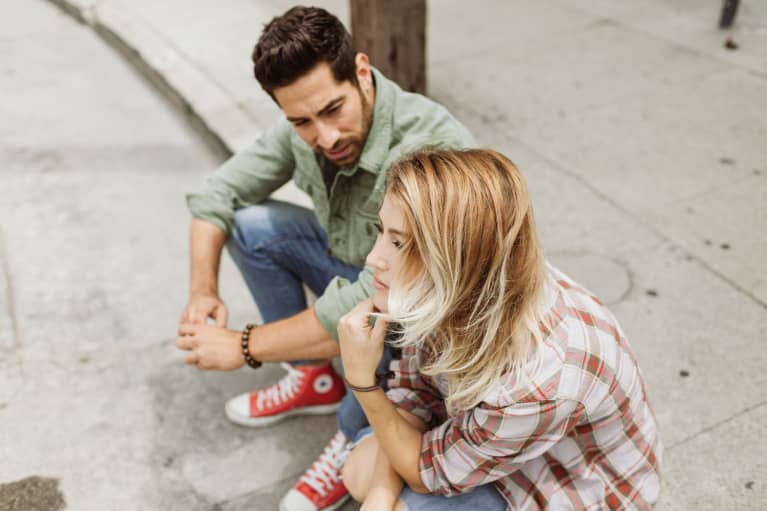 The beginning of a relationship is often full of passion and excitement, but sometimes those emotions are overshadowed by more rational thoughts. It's not uncommon to worry about how compatible you might be with your new partner, or wonder how long the relationship will last. New research, though, can help answer those questions.
A study published in the journal Developmental Psychology found a way to determine how likely a relationship is to last, based on individual levels of happiness from the start.
Psychologist and author of the study Christine Finn, Ph.D., evaluated more than 2,000 couples over the course of seven years. Based on her conversations with them, Finn was able to predict which couples would make up the 16% who broke up.
"Right at the outset of a relationship, one can find... certain prediction variables," she said, "that provide information on whether or not the relationship will be long-lasting."
How to predict a lasting relationship.
After interviewing the couples, researchers from Friedrich Schiller University and the University of Alberta looked at two long-standing psychological models. The models—until now—have attempted to explain unsuccessful relationships:
All couples start out equally happy, but problems that arise over time ultimately lead the couple to separate.
Couples have different happiness levels in the beginning, but the more negative those feelings are, the less likely they are to last.
What makes the difference between a long-lasting and a short-lived relationship, though, is the rate of unhappiness, "meaning that a person who starts off unhappy becomes increasingly unhappy," much more quickly.
Additionally, couples who felt each of their needs were being met, as well as those with similar needs, seemed to stay together the longest.
Despite her findings, Finn said, "No relationship is doomed to fail from the outset." In fact, recognizing weaknesses at the start of a relationship might motivate people to intervene earlier rather than letting unhappiness build.
If there is visible unhappiness, couples could consciously "work on their mutual interests and on cultivating closeness, as well as independence," she said. If the relationship doesn't work out, though, Finn said there is still value in that.
"It is not our intention to... reinforce the general trend for optimization and only to have a relationship that is result-oriented," she said. Even if your relationship ends, there's a solid chance it may "have a positive influence on the next relationship."