paid content
 for

5 Totally Unexpected Ways That I Take Care Of My Skin
By Rachel Mansfield
mbg Contributor
Rachel Mansfield lives in the heart of Manhattan with her husband, Jordan, and has her bachelor's in business administration and media communications from Muhlenberg College.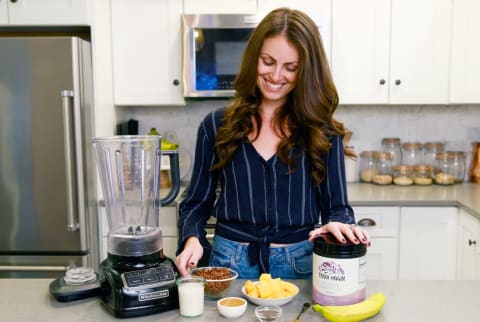 December 7, 2017
When someone tells you that you're glowing or that your skin looks great, it's truly one of the best compliments. It's almost like you have a permanent Instagram filter on your face, or you're wearing the Snapchat flower crown 24 hours of the day—feeling like a goddess of sorts.
And luckily, figuring out what we have to do to get our skin to look and feel its best isn't a super complicated science. In fact, I have learned that less is more, skin care is about so much more than that overpriced lotion you add to your face at night or washing your face obsessively after a workout. Skin care starts from the inside and what we put into our bodies REALLY matters in terms of how we look and feel on the outside.
It is the combination of both taking care of ourselves in all aspects that is key.
As someone who is pretty obsessive about their skin and also has extremely sensitive skin (I am allergic to many products!), I wanted to share my tips on how I try to maintain that fresh "glow". Because while I am a big fan of Instagram filters, when I am walking on the street in the city, there's nothing but my own gorgeous skin to be showing off.
Here are a few of my tips on how I give my skin a little extra TLC:
1. Eating a diet rich in protein has made such a difference for my skin.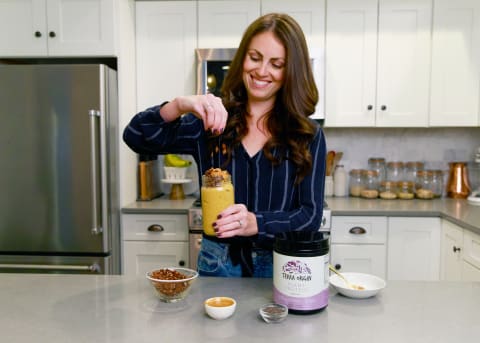 I'm all about a diet that is plant-based and I also appreciate good quality animal protein sources. I am constantly trying to switch things up to make sure my body is getting nutrients from a variety ways. Lately, I have been using the delicious Vanilla Chai Plant Protein from Terra Origin and I am obsessed with it! I add it to my morning smoothie, oatmeal, and anything else I can think of! It adds an extra protein boost and tastes so good—especially in that squash pie smoothie I shared recently. Try blending it yourself! All you need is ½ cup of steamed frozen butternut squash, one frozen banana, 2 scoops of Terra Origin Vanilla Chai Plant Protein, 2 tablespoons of almond butter, ½ teaspoon of cinnamon and ⅓ of a cup of almond milk. Blend that baby up and add your favorite granola on top. I can't have a smoothie without a little crunch!
2. Getting greens into our system is also key for getting that extra glow.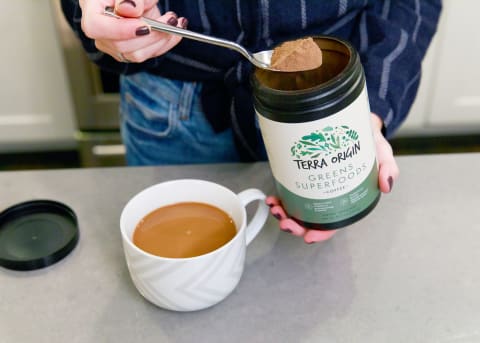 Greens are full of vitamins and nutrients that are essential for our skin! And luckily, it's so easy to sneak Terra Origin Greens Superfoods into all your favorite recipes like in my chocolate cups, I just add a scoop for a minty twist and it's just perfect! You can also use their coffee flavor and add it to almond milk for an extra boost of nutrition first thing in the morning.
3. Shaving my face. (Yes, really.)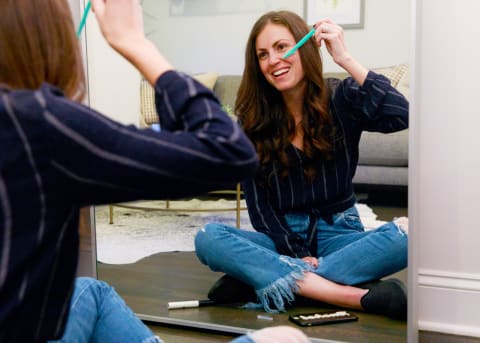 I saw something about it online and tried it out. I use special razors from Amazon (not the same your brother or husband use!) and it helps my face stay smooth and exfoliates it at the same time. I only shave one or two times per week but I notice my skin feeling so much fresher and brighter, and it doesn't grow back thicker either! My face and wax don't get along well so this has been a game changer for me. Just make sure to oil up afterward because you are shaving off dead skin and that can be drying.
4. Going makeup-less as much as I can.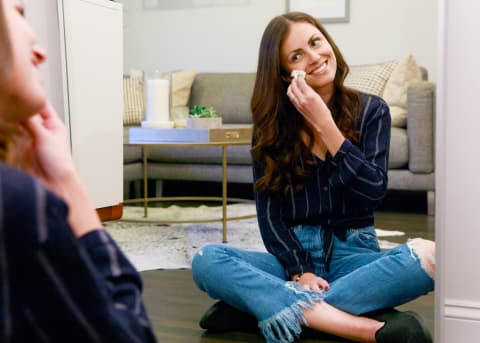 This is another tip for keeping my skin brighter and glowing. I can't stand having layers of gunk on my face and with my sensitive skin, I don't like to clog it up with random products every day. I recently switched to nontoxic makeup too, which has been so great. It doesn't feel so heavy on my face and my skin doesn't break out.
5. Preventing wrinkles with targeted ingredients.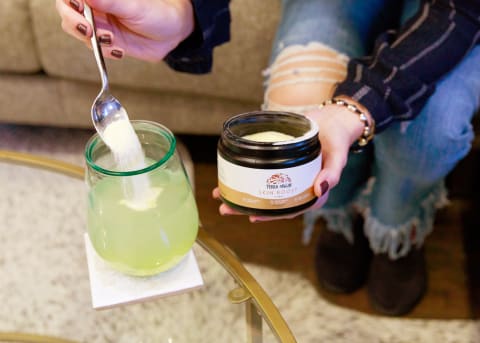 We're all familiar with the dreaded lines that appear on our face and body as we get older. And while I know we all get them eventually, I plan to do what I can to prevent them from occurring any time soon. I've been adding Terra Origin Skin Boost Citrus to my water—or in some almond milk for a refreshing drink—it contains bioactive collagen peptides and vitamin C to help with your complexion. If you follow me on Instagram, you know I am all about those collagen peptides. Plus, they also have done wonders for my hair.

Rachel Mansfield
Rachel Mansfield lives in the heart of Manhattan with her husband, Jordan. She has her bachelor's in business administration and media communications from Muhlenberg College, and in early 2015 created her eponymous Instagram account followed by her blog a few months later. Since then she's worked with top brands in the health, fitness, food, and wellness spaces and has formed an amazing community surrounding her passion for deliciously clean eats. Mansfield's goal and passion is to share food that not only tastes amazing but makes you feel amazing.