How I Finally Made Peace With Being Weird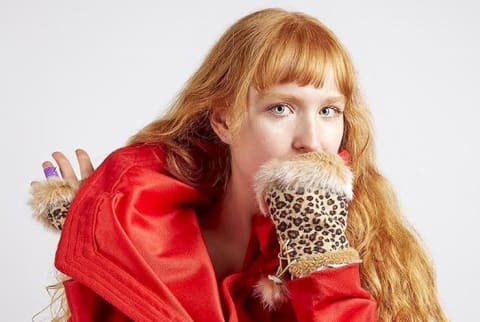 Photo by Keith Barraclough
July 8, 2015
Last Friday night I had a tough time. I was at a breathwork circle and we were asked where we wanted to release shame in our lives, and what we wanted to reclaim. I said I wanted to release the shame of being too much, too imposing, too big (physically and energetically) too sensitive and emotional. I wanted to reclaim my right to take up space, my worthiness to be loved.
As the night went on, I realized that what I really wanted to reclaim was my ability to love as much as I am inclined to do naturally. Over the years, there are places where I have closed my heart to protect myself, because I thought it wasn't safe for me to care about others, and extend love outward, as much as I am capable of.
But that night, I began to give permission to my heart to love the world fully and passionately no holds bar. And let me tell you, it did not feel good. It felt scary. It felt shameful. I spent the rest of the night feeling what I have always feared: that I was too much, too big, too noisy, too weak, too attention-seeking.
As the night closed, I looked around at the other guests, thinking that I had overstepped my bounds, that no one would ever want to work with me as a Reiki practitioner because I was too raw, too open, too much, too out of control. That they must all be thinking "Oh man, she wants to heal me?! Look at her issues!"
Many of the guests spoke of their desire to reclaim "weirdness." I'll admit that the idea of "weirdness" didn't resonate with me until I gave a Reiki session the next day, and I realized the ways in which I was holding myself back, how I was squelching instincts because I was afraid my client would think I was being "weird."
For example, I felt a nudging instinct to touch each of my client's limbs in a circle as if she were a starfish (hand, head, hand, foot, foot). I trusted this instinct, but my inner critic immediately intervened: "But this is so weird. She's going to think you're so strange." And thus began an inner dialogue between my instincts and my inner critic. "I know you have to do this," my instinct responded, "This will allow your work to go deeper. And you need — and want — to reclaim your 'weird.'"
So I did what my instincts instructed me to do, and it was beautiful. I felt myself sealing my client's energy in a circle, reminding her where her body ended and began. It was a subtle gesture, but I felt it open something up for both of us. When I felt the gifts of trusting my instincts in this way, I heard a chant sounding in my head: "Today, I reclaim my too much. I reclaim my infinity. I reclaim my bigness. I reclaim my expansion. I reclaim my infinity. I reclaim my big. I reclaim my expansion."
As the session closed, I felt another instinctual urge — this time to ask the client what she needed to reclaim. While I thought she would judge me, and that the question could be construed as inappropriate, I asked anyway, and explained to my client that I was reclaiming my too-muchness. She didn't judge the question, and instead spoke beautiful words about reclamation. She answered with sweet tears in her eyes, and explained that she felt a surge of confidence to take up space in the world. And my eyes filled with tears because that was exactly what I had asked for the night before.
It was then that I made an "official" agreement with myself to reclaim my weird too, in my work and everywhere else. People don't come to me for Reiki because they want a buttoned-up experience. They are coming to me because I follow my instincts and my intuition, and I'm going to let myself be as out there as I can — or rather, as I am.
Thank you to those who were at the breathwork workshop on Friday. Thank you to the women there who opened up conversations about shame and bodies and reclamation. And thank you to the nation for waking up and raising a big rainbow banner against shame and hate and intolerance.
Although, the logical part of my brain wished I had had a gentler, easier, neater, more composed evening last Friday night, every other part of me knows that this is what I f*cking needed. I have a healer who says "You're never going to be normal and it's like you're sad you're not normal."
So let's get weird, let's get big, let's love without boundaries, let's defy the odds and be vulnerable. Let's take up our space. We deserve it. We're worth it.

Elyssa Jakim
Reiki Master
Elyssa Jakim works in the healing arts as a Reiki master, meditation leader, wellness writer, and child educator. She is a co-founder of Fairy School at the Maha Rose Center for Healing (Greenpoint, Brooklyn), an afterschool program devoted to nurturing the magic that
children already possess. Her adventures in healing began when she was studying acting and trained in Fitzmaurice Voicework, Lucid Body, and the Alexander Technique.
Elyssa got her BA from Harvard University in Visual and Environmental Studies. Always a bit of an eccentric and passionate about the mysteries of human nature, she wrote her thesis on the inner spaces of boudoirs and dressing rooms under the tutelage of Marjorie Garber. She has just completed (and begun) a warriorship mastery program with Sandra Van Olmen. Visit her at her website.