This Macramé Artist's European Studio Is Downright Dreamy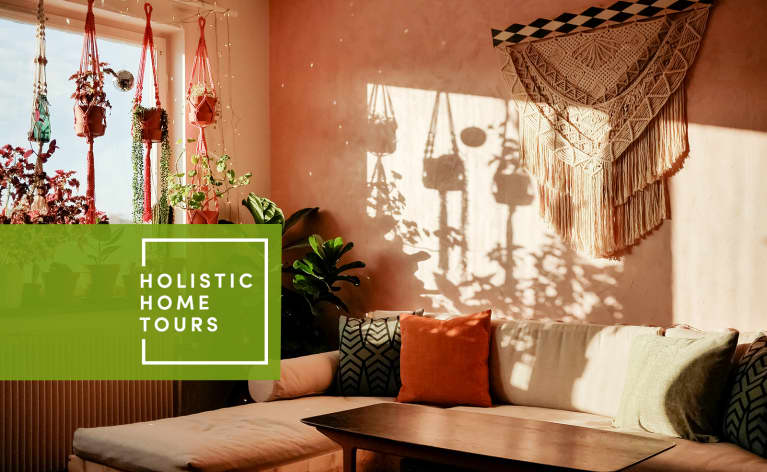 When mbg first featured Fanny Zedenius, the macramé artist behind Createaholic, in a piece on the rise of handmade home goods, we were immediately struck by her beautiful design sense. So we reached out to the serial creator to tell us how she made her own little sanctuary in Stockholm—a cozy studio complete with a dreamy library, stunning art collection, and the coolest craft wall we've ever seen. Here's a peek inside:
How long have you lived in your home?
My boyfriend Simon and I have only lived here for five months and we're actually moving again in a couple of weeks! We always knew this space would be temporary for us, but I still thought it was important to make it as homey as possible.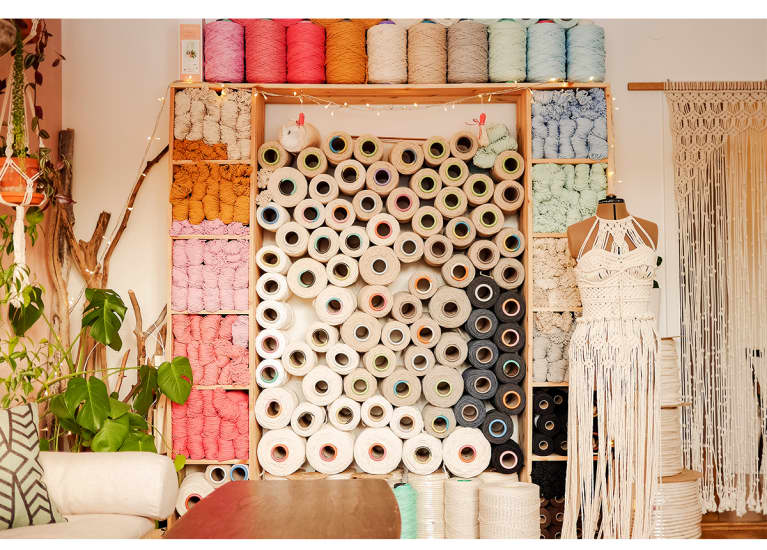 I love all the macramé in your home! Did you make most of it?
Yes, I made all the macramé in our home! I've made so many pieces that I can't have them all up on the walls at the same time, so I change them up from time to time to keep thing interesting.
Favorite place to buy furniture? Accessories?
I'm actually a big DIY-er and prefer to make my own furniture when I can. I made our bookshelf, the big shelf where I keep all my macramé ropes, and most recently I made our sofa! I'm looking forward to making new projects for our new home too, and I have my eyes set on a bed frame and a kitchen bar table. When I do buy furniture, I usually go to secondhand shops because I prefer things that are one-of-a-kind.
What's the oldest thing in your home? Newest?
We have an old kitchen tabletop, a family heirloom, that's more than 400 years old. It looks really amazing with all the marks and patterns on it. The newest is a little rubber plant that I recently added to our plant family.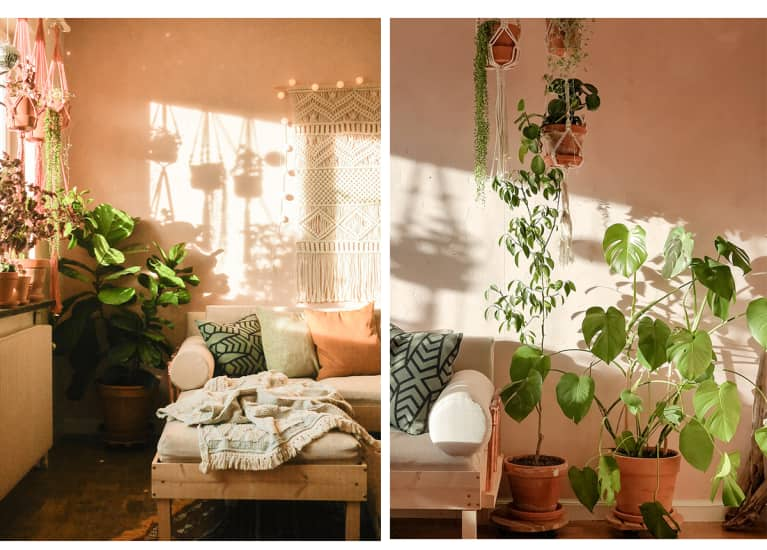 Coziest spot in your home?
I love sitting on the sofa, close to the window. When it's sunny outside and the light shines just right through the window, it hits our disco ball and fills the room with dancing little light spots!
What noises can be heard in your home? What smells?
We live in a quiet little area, and I love playing old records to fill the silence. Our home either smells of the Asian food that my boyfriend loves to cook so much or of the macramé cotton fibers in the living room. Cotton has quite a distinct smell, and I have come to really love it.
What's the most sentimental thing hanging on your walls and what's the story behind it?
I was recently gifted an original painting by Swedish artist Filippa Edghill for my 30th birthday. I have been swooning over her work for a long time, and I was so happy to actually hang some of it in my home!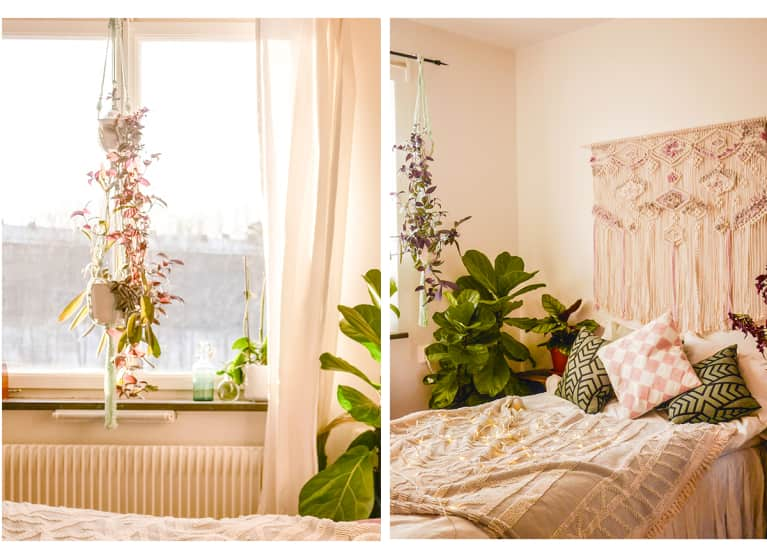 How does your home relax you? How does it motivate you?
I am instantly relaxed as soon as I walk in the door. I think it's a combination of the bright light that comes in through the windows from sunrise to sunset and the plants. Since Sweden is way up north, we have very few hours of sunlight this time of year, so the windows and plants actually make a big difference in my mood.
Our home also always motivates me, since it's my workspace too. Now that I have invested in a huge supply of rope and string in different beautiful colors, I only have to step in front of my supply wall to get super motivated and inspired to create.
What's the best compliment you've ever received on your space?
That it inspires them to do something with their own homes. Some are called to start making fiber art, others to build furniture, and others to emulate the urban jungle vibe we have going on.
Want to work some of these dreamy designs into your own space? Here are some tips.