A Bright Yellow Stove & 8 Dutch Ovens Make This Chef's Kitchen One Of A Kind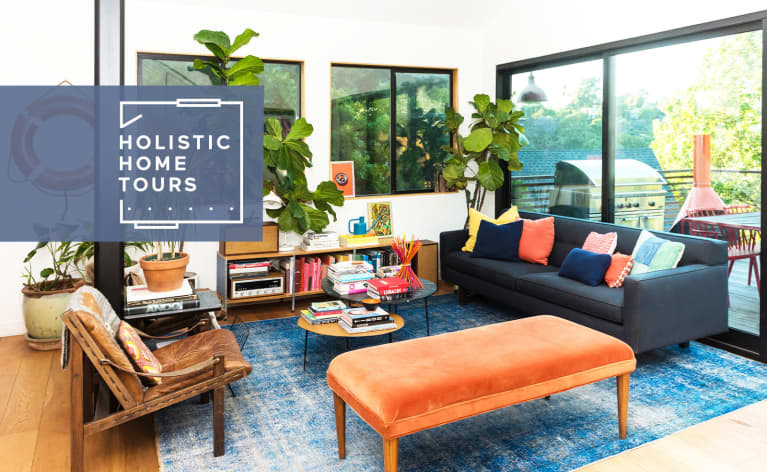 Our editors have independently chosen the products listed on this page. If you purchase something mentioned in this article, we may
earn a small commission
.
Ellen Marie Bennett, line cook turned founder of cult kitchenware label Hedley & Bennett, is known for her colorful approach to cooking and living. The Echo Park, California, home she shares with her husband, six chickens, and 200-pound pet pig Oliver, shows off her love of all things whimsy. To ring in Bennett's new book, Dream First, Details Later, we got her top tips for how to design a vibrant home that supports your wild dreams.
Your home (unsurprisingly) has such a fun palette! What are your top tips for working color into a space in a cohesive way?
My husband Casey loves neutrals and is very calm and collected while I love color. For me, functionality always comes first...and then you can make things better with color!
I'd recommend starting with colors that make you happy. We started with a bright yellow Bertazzoni range in the kitchen, and the rest is history.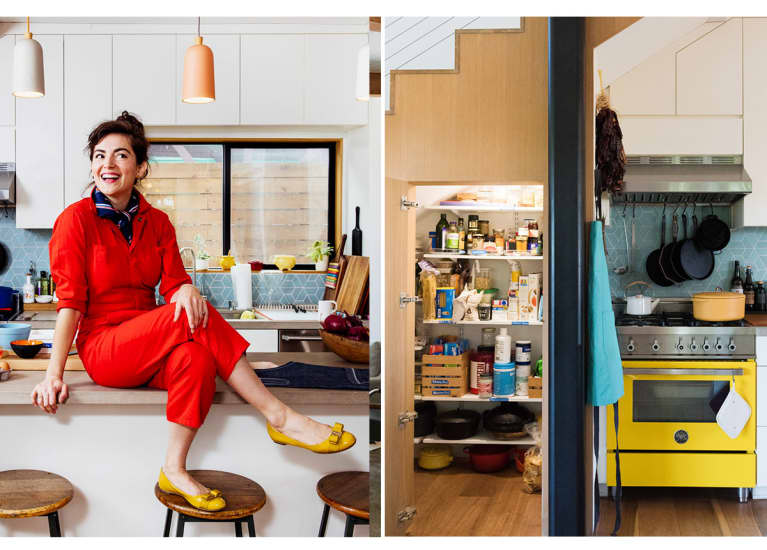 Does your home shift with the seasons? Are there any changes you're making as we head into spring and summer?
I definitely love to rearrange our living room every six months. You are just living in that space a ton, and sometimes it starts to accumulate things you don't really like anymore. So you need to rearrange some furniture, shake out the plants a little, and give it a new vibe while keeping the same foundation.
Let's talk kitchen! What's one thing someone might be surprised to find in your cook space?
They will find an aggressive amount of Dutch ovens. I think I have seven or eight of them, which may seem kind of crazy, but I love them, and each one has a different sentimental value.
I can also use different ones for different things. If I am making a large stock, I use the large Le Creuset, or if I am making something smaller, I can use the colorful Great Jones one.
I know your new book is all about dreaming big. How can people craft a home that supports their dreams?
I think a home is a reflection of yourself. You really want to figure out what your vibe is. I like color, and I really wanted to embrace that in our home. There is color everywhere, from our blue couch, yellow oven, and orange doors. That is a layering act where you just see a layering of certain colors. That is what makes me feel happy.
I think it's nice to also have plants in your house because it's bringing nature into your home. It is bringing liveliness to your space.
As you are crafting your home that supports your dreams, you want to create a specific space for doing. The kitchen for me is that, so I can work and create freely. Whatever it is that you do, make a station for yourself so you can create.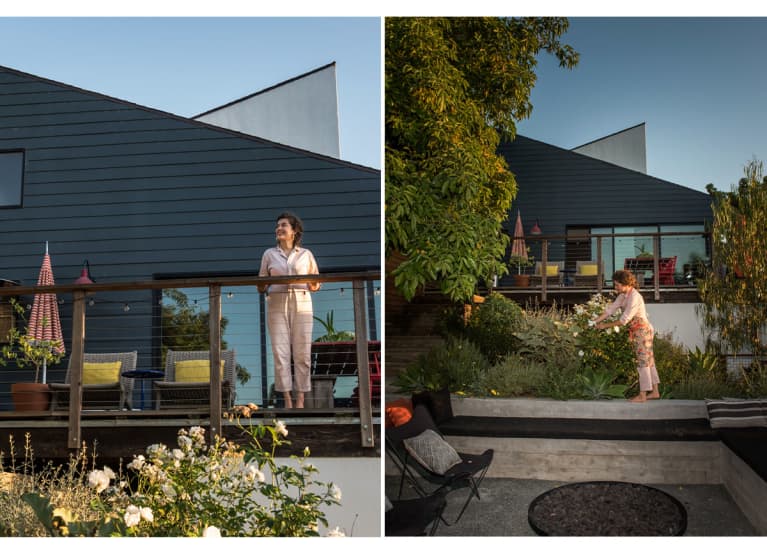 What's the oldest thing in your home? Newest?
These brown chairs that my husband, Casey's grandmother bought for him when he first moved into this house. The house actually had a big fire several years ago and we had to tear it down and rebuild, but the chairs survived the fire so they are very special to our home. The newest thing in the house is the pillows I just got!
What noises can be heard in your home? What smells are there?
Oliver pig snorts, squawking from the chickens outside, and pots and pans and clanking around. For smells, it is usually something delicious cooking!
What's the most sentimental thing hanging on your walls, and what's the story behind it?
Our fridge is covered in pictures from our wedding, and one shows a shower of rose petals. When I am in the kitchen, I get to relive that movement every time.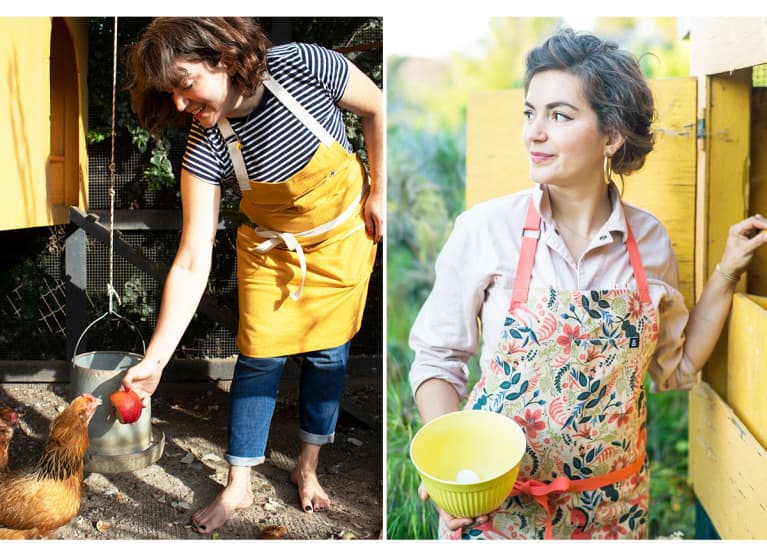 What does the word home mean to you?
Home to me is a space and place where you get to let your guard down and breathe.
It's anywhere my husband Casey is. When I'm with him and he's with me, it's not like we are each other's halves, but it's more like 1+1=5.
We have gone all over and had so many adventures together, and everywhere we go together is home. Yes, our home in LA is wonderful, but truthfully, we could be in a closet in the middle of nowhere and be happy because we have each other.