This Colorful Australian Home Will Make You Want To Grab A Paintbrush ASAP
Alex McCabe's home in St. Kilda, Melbourne, is a veritable explosion of color and pattern, but it still somehow feels super elegant and put-together. The maximalist at heart and co-founder of bright, vibrant textile brand Kip & Co shares her space with her boyfriend and young daughter. Check out her top tips for layering textures, working with color, and styling your home like an Aussie.
What are three words that describe your design philosophy at home?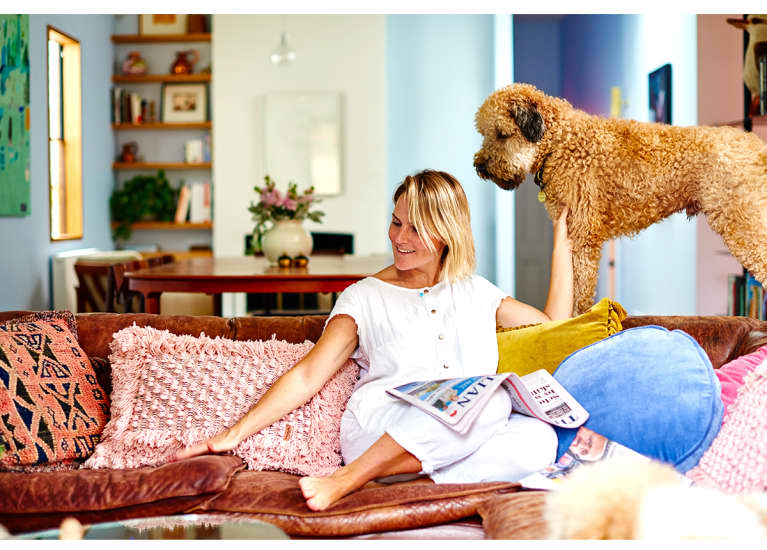 What's one trend in Aussie design right now that you have going on in your home?
Aussies really embrace bright color in interiors—it's probably the biggest trend in interiors in Australia right now.
What is your top tip for working with pattern and color?
Too much is never enough! Let yourself just embrace the personality that color and pattern bring to your home.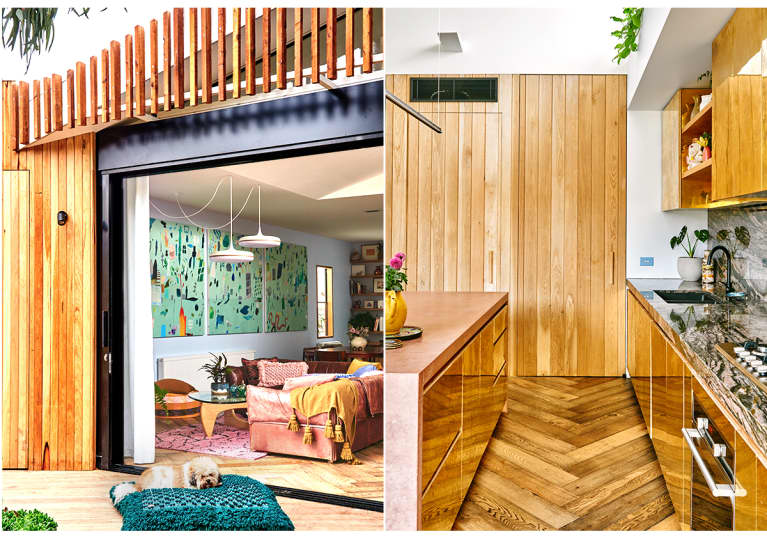 What's the oldest thing in your home? Newest?
Oldest would be a plaster bust figurine that came from the pub owned by my grandfather in country Australia. Newest would be a Burkelman candle I got on a recent trip to NYC. I was set up at a table across from the brand at a trade show and loved getting to know them!
What noises can typically be heard in your home? What smells?
Right now, it's pouring rain and there are some crazy winds whipping around the house. I love days like these—perfect for staying indoors with the family. Inside we have a record on, and my baby is making her typical "playing on the ground" sounds. And me, tapping away on the laptop as always! I've got some incense burning from ABC Carpet and Home.
How does your home promote self-care?
It's a really calm space because we've worked hard to bring the outside in with big windows and an indoor garden. It helps remind me to stay in the moment and enjoy the quiet of the home as a bit of a sanctuary. I also really believe that color is good for the soul, so our home has lots of beautiful, bright colors to lift our spirits.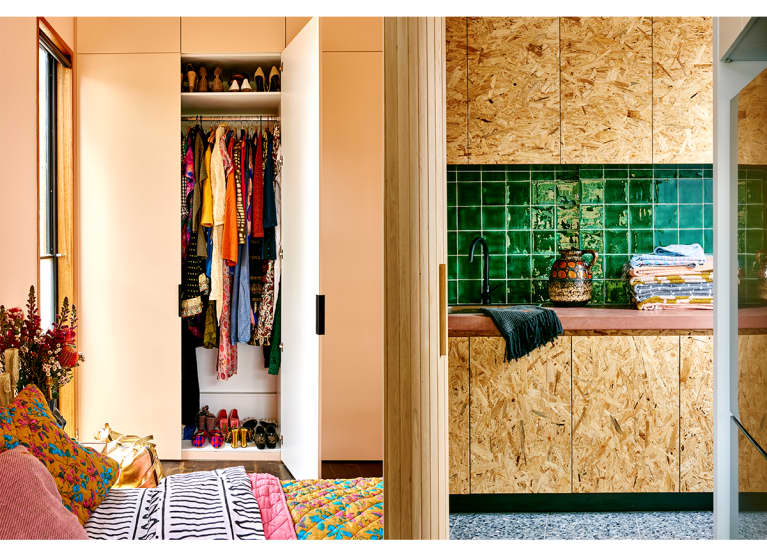 How does your home support your health/wellness?
I think having a kitchen that you really love to cook in makes such a difference. We recently renovated, and before that I NEVER wanted to be at home. The house was freezing in winter and boiling in summer, and the kitchen was tiny. I ended up eating out all the time. Now we stay in and cook good healthy meals with produce from the market because we just enjoy the space so much more.
What's the most sentimental thing hanging on your walls, and what's the story behind it?
How does your home change with the seasons?
In winter I really love to sleep in velvet bedding, layering up textures, and embracing deep jewel colors that create that warming feeling. In summer months, I strip off the layers and go for cotton or linen in softer, paler tones with pops of something bright.
How does your home reflect your personality?
I love to collect mementos from my travels, so my home is packed with a tapestry of colorful memories. At Kip & Co we design and create pieces we love ourselves, so my home is also chock-full of the same bright, bold aesthetic.
Ready to add some of these vibes to your space? Here are a few easy ways to get started.
Next up: Check out this desert-inspired home, and snag some of the owner's tips for finding the right vintage furniture for your space.