This Holistic Derm's 4-Step Routine Aces Simple Skin Care: How To Mirror It On Your Own
mbg Editorial Assistant
By Jamie Schneider
mbg Editorial Assistant
Jamie Schneider is the Editorial Assistant at mindbodygreen with a B.A. in Organizational Studies and English from the University of Michigan. She's previously written for Coveteur, The Chill Times, and Wyld Skincare.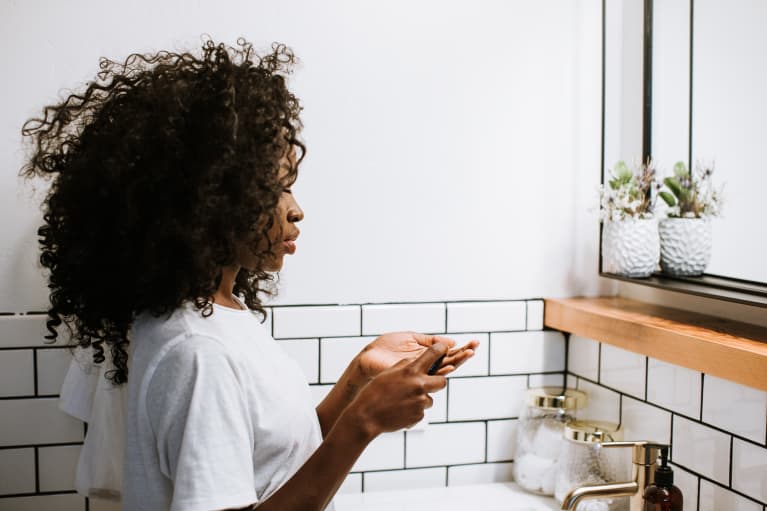 Everyone's skin is different, which means skin care routines are entirely personal (read: Not everyone's regimen will have the same exact structure—and that's OK), but there are certain aspects skin care experts would recommend over others.
For board-certified dermatologist Keira Barr, M.D.? "It has to be really simple," she says on the mindbodygreen podcast. In fact, she clocks her own routine at just four easy steps. If you're battling with building your very own skin care lineup, here's a derm's personal repertoire to mirror:
First up, Barr uses a gentle cleanser in the morning. Now, the morning cleanse is certainly contested (some find it way too drying), so if your skin feels especially parched, feel free to just use water. "The important time to wash your face is actually in the evening, as you've been exposed to air pollution and other things that can gunk up hair follicles," Barr notes. You'll still want to have some rinse, though, to help any treatments and moisturizers effectively penetrate those pores.
Next, the serum: "I use an antioxidant serum with vitamin C, E, and ferulic acid," notes Barr. All those antioxidants are great on their own (managing photodamage, promoting collagen production—you know, all good things), but combining them increases their chemical power. One study even found that vitamin E and ferulic acid increase vitamin C's effectiveness eightfold.
Finally, she seals it all in with moisturizer. She's partial to products that double as sunscreen (hers has SPF 30), just to keep the routine super simple. Of course, if you'd rather apply sunscreen after massaging in a moisturizer, by all means. Some sort of sun protection is nonnegotiable, though: "In the morning if I had to choose one product, it would be SPF," says Barr.
Barr's nighttime routine.
Essentially, Barr's routine follows the same steps—cleanser, antioxidant serum, and moisturizer. Only, she adds another treatment step into the mix: She uses a topical retinoid to promote cell turnover. But she blends the topical with hydrating hyaluronic acid. "Retinoids can be drying and irritating, so I add moisture to help balance it," she says.
You can either recreate Barr's blend, or others like to layer a retinoid over moisturizer to create a barrier that dilutes the potent active. Ball's in your court, here.
If there's one piece of advice to take from this dermatologist's skin care lineup, it's that simplicity truly is key. Although, just because Barr's routine looks a certain way doesn't mean you have to follow in her footsteps. But if you're looking to create a skin care routine and don't know exactly where to start, begin with Barr's simple cleanse-treat-moisturize regimen. "It's never too late!" she notes.