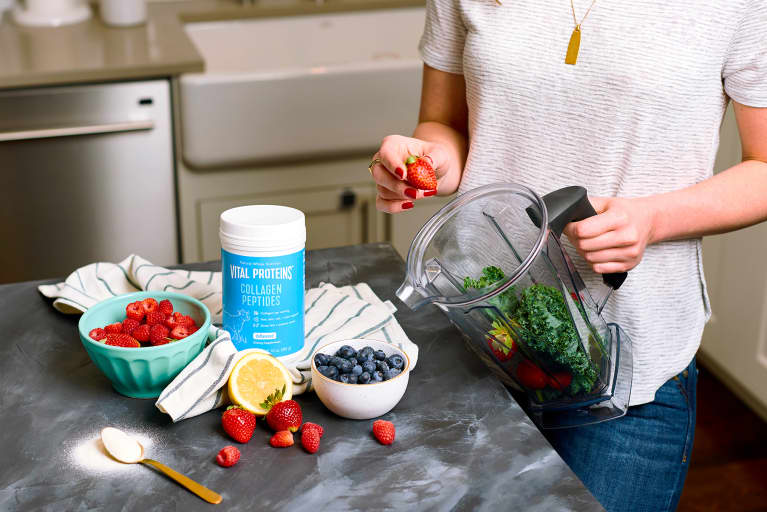 Collagen is quickly becoming the superfood of choice in the wellness world, and for good reason. The powder is a staple among those looking to heal their gut, get glowing skin, and have strong nails and hair. "Collagen is one of the most common proteins in the body. In fact, it makes up about a third of the body's protein content. It's one of the building blocks of the human body and can help to improve your health, both below and above the surface," Kellyann Petrucci, M.S., N.D., and best-selling author, explains. "It also plays an important role in maintaining skin elasticity, connective tissue flexibility, and even bone strength. Collagen contains glycine, an amino acid with proven anti-inflammatory and immunomodulatory effects."
The part most people don't know? How to actually incorporate the stuff into their diet. While it's great in smoothies, collagen is actually incredibly versatile—it's easy to use throughout your day. Here are four easy recipes to incorporate the protein-rich powder from day to night.
A quick note: Always look for very high-quality collagen peptides to derive the most benefits. Look for a brand that's 100 percent grass-fed and quality-tested (we love Vital Proteins).
Rose Matcha Collagen Latte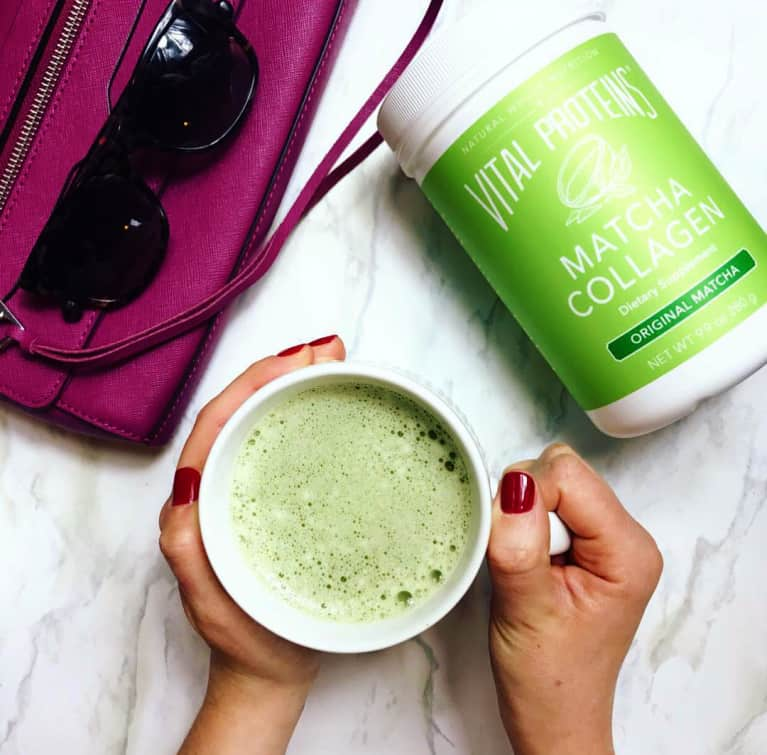 By using the matcha collagen powder and the collagen creamer, you can easily make a dairy-free matcha latte with just hot water—so good for traveling! We love matcha as a great source of sustained natural energy, and it's packed with antioxidants and l-theanine, an amino acid that promotes a feeling of well-being and calm. Here, we elevated the flavors even more with a dash of calming rose water and a pinch of cinnamon.
Ingredients
Method
Blend or aggressively whisk all ingredients together until smooth. Drink immediately.
Pistachio Cardamom Grain-Free Collagen Brownies
These super-fudgy brownies are so good, you'll never believe they're dairy-, grain- and refined-sugar-free! The dark-chocolate collagen adds a decadent, rich flavor, and the fact that they're rich in protein means these brownies can be an everyday healthy snack rather than a once-in-a-while treat!
Ingredients
¾ cup blanched almond flour
⅔ cup maple syrup
¼ teaspoon sea salt
¼ teaspoon ground cardamom
2 tablespoons unsweetened cocoa powder
2 eggs
¼ cup avocado oil
2 teaspoons vanilla extract
½ cup raw, shelled pistachios, roughly chopped
Preheat oven to 325°F.
Line an 8-inch square brownie pan with parchment paper.
Mix together all ingredients except pistachios in a bowl until blended.
Pour into pan and sprinkle pistachios over the top.
Bake for 30 to 40 minutes or until a toothpick inserted in the center comes out clean. Let cool for 10 minutes before slicing and serving.
Spring Green Cauliflower, Garlic, and Basil Soup
The best thing about unflavored collagen is that it can be stirred into most foods without changing the flavor or texture. Here, it adds extra protein and healing powers to a light and fresh spring vegetable soup.
Ingredients
2 tablespoons avocado oil
1 head of cauliflower, chopped into florets
1 small skin-on zucchini, chopped
1 yellow onion, chopped
6 cloves of garlic, roughly chopped
2 cups stock or broth of choice
2 cups unsweetened almond milk
1 handful fresh basil leaves
Juice of 1 lemon
Sea salt
In a large pot with a lid, heat avocado oil over medium heat until shimmering.
Add cauliflower, zucchini, onion, and a generous pinch of sea salt, and cook until golden brown. Add garlic, stock, milk, and another pinch of sea salt and cover.
Cook until fork-tender, about 10 minutes.
Transfer to blender. Add basil leaves, lemon, and collagen and blend until smooth. Add additional almond milk if needed for desired texture.
Add additional salt to taste, and serve, topped with additional basil leaves for garnish if desired.
We love the Vital Proteins Beauty Collagen as the base for this refreshing drink—it contains extra hyaluronic acid to add moisture to your skin, perfect for increasingly hot (and drying!) temperatures.
Ingredients
3 fresh strawberries, hulled and roughly chopped
½ Persian cucumber, roughly chopped
lemon, seeded and sliced
Honey or maple syrup, to taste
2 cups water
Muddle together strawberries, cucumbers, and lemon in two Mason jars or glasses.
Add water and Beauty Collagen and stir to combine.
Add maple syrup or honey to taste.