Close Banner
Advertisement
This ad is displayed using third party content and we do not control its accessibility features.
paid content
 for

Here's How To Flip Your Mindset & Get Energized For Your Next Run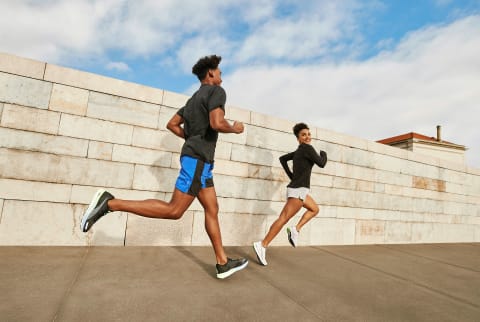 Image by PUMA / Contributor
Nothing feels better than the homestretch of a run. Heart pumping, sweat dripping, finish line in sight—those last few strides feel like pure victory. But as much as we love running after the fact, lacing up and getting started is a whole other conversation.
How do we make every run more effortless?
Running may be a physical activity, but it's a mental game too. So on days when the motivation is low and you need a pulse of excitement… Use these tips to flip your mindset, and get ready to run.
5 motivating ideas to tap into your running mojo:
1. Invest in running shoes that make you want to run.
Whether you've cut down your mile time or knocked out a marathon, the most memorable runs have one thing in common: an elite pair of running shoes. Every runner needs something supportive, but what about running shoes that inspire? Let's just say the Deviate NITRO 2 Running Shoes won't stay in the box for long—not with PUMA's innovative Nitrogen-infused foam technology. PUMA's NITRO foam provides superior responsiveness and durability but in an extremely lightweight package.
They're the shoes that go above and beyond. Between their top-notch cushioning and innovative platform design (for greater energy transfer with each step), the Deviate NITRO 2 are motivation in and of themselves. You may have to take them out for a spin to believe it, but that's kind of the point.
2. Add a new album or podcast to your queue.
A run without a soundtrack is like a meal without seasoning, or an outfit without accessories. Any runner will tell you that what's pumping through their headphones is make or break. When one of your favorite artists has a new release, save it for your next run. Or, if you have a podcast you love, only listen to it when you're running. The more elements of excitement you can layer on top of your run, the easier it is to get hyped.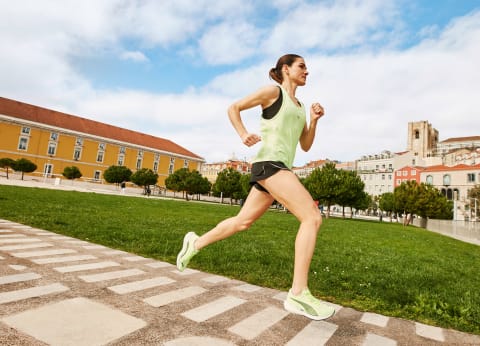 Image by PUMA / Contributor
3. Prepare your running outfit ahead of time.
Take out the obstacles between you and your next run. If you have intentions of an early morning jog, set out your running clothes in advance. If you have plans to run in the afternoon, dress in your workout clothes if possible. And because nothing motivates like new gear, dress for success in PUMA's Run ULTRAWEAVE Women's Running Jacket or the Cloudspun Men's Running Singlet. Made with special performance technology that wicks moisture and keeps you dry, these lightweight pieces will put you in the mood to move.
4. Get excited about your pre- or post-run fuel.
A banana and peanut butter
Almond butter on sliced bread
Yogurt (if you're not dairy sensitive)
Chicken or turkey slices with applesauce
Sweet potato (with or without a hard-boiled egg)
But if you're more of the delayed-gratification type, look forward to a super-nourishing snack after your run—like this Cherry-Almond Recovery Smoothie. With this treat waiting, don't be surprised if you run faster.
5. Switch up your running routine.
If you're always running the same trail, the same loop, the same treadmill—it's easy to get in a rut, so try something new! If you typically run on roads, hit the trails. If you usually run alone, grab a friend. If you're used to training for marathons, try to run a quicker 5K. And wherever your run takes you, prioritize stability and comfort with PUMA's ForeverRUN NITRO Running Shoes. With a full NITRO foam midsole for cushioning, and plenty of firm support and durability, these shoes are up for anything.
More On This Topic
more Movement
Advertisement
This ad is displayed using third party content and we do not control its accessibility features.
Advertisement
This ad is displayed using third party content and we do not control its accessibility features.