The 6 Best Air Purifiers Of 2023 To Help You Tackle Germs, Dust, Smoke, Mold & Pet Dander
Writer
By Jennifer Wirth
Writer
Jennifer Wirth is a freelance content strategist and writer with expertise in parenting, beauty, and health and well-being.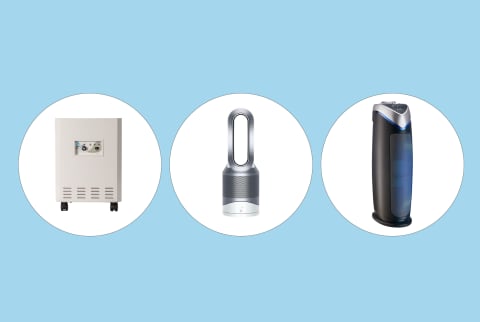 April 28, 2023
We carefully vet all products and services featured on mindbodygreen using our
commerce guidelines.
Our selections are never influenced by the commissions earned from our links.
People spend approximately 90% of their time indoors1, making it more important than ever to create a healthy living space. Unfortunately, organic pollutants are two to five times more likely to occur inside homes than outside of them, per the U.S. Environmental Protection Agency (EPA). One way to ensure your living space is up to snuff is by adding one of the best HEPA air purifiers to your home.
Considered the gold standard of air purification, a HEPA filter must remove at least 99.7% of microns at least 0.3 micrometer and larger, as defined by the United States Department of Energy. While these HEPA filters are often paired with additional layers, such as activated carbon or ionized filters, they're considered the most important element of any air purifier—whether you're searching for a design for someone with allergies or a space with mold.
Not only does the right air purifier tackle allergens, dust mites, and pet dander—but it can even tackle bacteria. Some devices also opt for ionizers that can kill viruses; however, these devices output ozone (an environmental pollutant that can harm the lungs at high concentrations).
With so many purifiers on the market, it can be difficult to determine which is the best. Read on to learn more about choosing the right HEPA air purifier for your specific needs, as well as our top picks of 2022.
The best HEPA air purifiers of 2023:
The best HEPA air purifiers of 2023:
The benefits of a HEPA air purifier.
Not just any air purification can bear the HEPA label—and the regulated design is fairly effective, per Shyam Joshi, M.D., an allergist and head of medical for Nectar, a customized and convenient way to treat common allergies from home with sublingual immunotherapy treatment.
"HEPA filters, or high-efficiency particulate air filters, are meant to remove 99.97% of particles that are 0.3 micron in diameter or larger, which is 100 times thinner than a human hair. These particles, which include dust, smoke, pollen, and mold spores, can cause irritation or allergic reactions in susceptible people that can lead to nasal congestion, runny nose, cough, or shortness of breath," explains Joshi.
Unlike regular air purifier filters, the HEPA rating does ensure a higher level of purification based on the size of particle, which is needed to remove common allergens and irritants from the air, he adds.
But while HEPA filters do offer a range of benefits for users, they can be more costly than traditional air purifiers on the market. The replacement filters, which generally need to be replaced every six to 12 months, also tend to cost more than traditional air filters. Fortunately, there are quality options for all budgets and needs, so you can enjoy cleaner and healthier air in your home or office for years to come.
What to look for in an air purifier.
When choosing a HEPA air filter for your home, it's important to know what to look for. Experts advise paying attention to a few key factors.
HEPA filters are effective at removing particles sized 0.3 micron and larger from the air, but it's not the only way to tackle contaminants. Choose an air purifier with a multistage air filtration system to ensure that it traps and removes as many particles as possible.
For example, carbon filtration can help remove odors and chemicals from the air. Some purifiers may also include a UV light to inactivate and destroy microorganisms, like mold and viruses.
"Each purifier is designed for a specific room size and comes with a maximum square footage rating. Smaller devices generally are efficient for smaller rooms but may not be effective for larger rooms. Choose one that is appropriate for the size of your room," explains Joshi.
Proper sizing will help ensure your device can operate efficiently, which will allow you to run the air purifier on a lower setting—which is generally quieter too.
Cost and accessibility of replacement filters
Replacement filters are often a hidden cost associated with air purifiers—and some filters can be pricey. Be sure to factor this cost into your decision and choose a purifier with filters that are both affordable and easy to replace.
Some replacement filters may be available locally, while others may require you to purchase them through the company's website. If you are someone who would rather pick up a filter locally and not order online, keep that in mind when shopping for an air purifier.
Comparing the best HEPA air purifiers
Our picks for the best air purifiers of 2023:
Advertisement
This ad is displayed using third party content and we do not control its accessibility features.
Advertisement
This ad is displayed using third party content and we do not control its accessibility features.
Advertisement
This ad is displayed using third party content and we do not control its accessibility features.
How we picked:
Filters
As the name suggests, every pick on our list boasts a HEPA certification. We also sought out designs that took air through multiple levels of filtration—but skipped designs with ionizers due to their negative environmental impact and potential health risks.
Size variety
Air purifiers are designed for a variety of room sizes, and it's important to choose one to fit your specific space. We included products that are suited for both large and small spaces.
Customer reviews
Shopper satisfaction is an important factor with any product. We analyzed customer reviews from a variety of online sources to make sure our picks are based on real user experiences.
Price
Air purifiers can be pricey, so we made sure to include options for every price range. We looked for products that were effective and offer good value for the money so you can feel confident in your purchase—no matter your budget.
FAQ
Where is the best place to put an air purifier?

An air purifier can offer benefits in any room where a person spends a significant amount of time. "This is particularly important to those individuals who are more susceptible, such as those with environmental allergies or asthma," per our medical expert Joshi.
What's the difference between HEPA and HEPA 13?

HEPA filters come in different grades ranging from H10 through H14, with the higher grade corresponding to a higher performance. H10 through H12 filters are sometimes referred to as "True HEPA filters," while H13 through H14 are considered medical grade because they are able to remove even more particulates from the air.
The takeaway.
Whether you suffer from seasonal allergies or simply want to create a cleaner atmosphere in your home, investing in a HEPA air purifier is an excellent way to keep your indoor air clean and contaminant-free. With the right knowledge and research, you can find the model that best suits your particular needs—and maybe even add a few air-purifying plants for an added breath of fresh air (and pop of greenery).
Meet The Experts
Jennifer Wirth
is a freelance content strategist and writer with expertise in parenting, beauty, and health and well-being.