mbg Sustainability + Health Director
By Emma Loewe
mbg Sustainability + Health Director
Emma Loewe is the Senior Sustainability Editor at mindbodygreen and the author of "Return to Nature: The New Science of How Natural Landscapes Restore Us."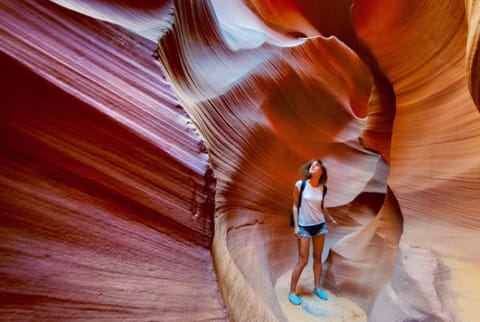 September 26, 2017
The internet: The world's arena for catching up on news, binge-watching TV, and replaying adorable videos of goat yoga (OK, maybe that last one's only in mbg's office). And with a little know-how, you can also use it as a tool for quick, meaningful environmental action.
These days, switching over to solar power and ditching plastic are just a few clicks away, and you can majorly cut down on your footprint without even leaving your desk. Here are five ways to help out the environment from the comfort of your home. Altogether, they'll take less than an hour and leave you feeling majorly accomplished.
1. Calculate your carbon footprint.
Carbon calculators like the ones from The Nature Conservancy and Conservation International make it easy to quantify your environmental impact in a matter of minutes. Answer a few questions about your transportation habits, energy use, and consumption patterns to get a better idea of where you're acting in an eco-friendly way and where you could use a little improvement. Then, let these insights inform your habits moving forward.
2. Offset your next plane trip.
While reducing your emissions should always be your first priority, offsetting is basically a way to press tare on your environmental impact. You can donate money to initiatives that take carbon out of the environment—like tree plantings and renewable energy projects—to balance out the carbon you're putting into it with your daily routine. Offsetting your flights is a good place to start, since plane travel is a major emitter but one that most of us can't realistically give up altogether.
JetBlue's director of sustainability, Sophia Mendelsohn, said it best when she told mbg: "You can say you're never going to fly just like you can say you're never going to eat a sweet or a carb in your entire life. But the reality is we're all human. Offsetting emissions is like going to the gym. We are all going to treat ourselves from time to time, and that's totally fine, as long as we balance it out. For just a couple of dollars, you can effectively undo a lot of the impact from your flight."
Consider buying offsets for any trips you have planned on Native Energy or Cool Effect, and next time you book, do it with an airline that offers carbon credits with each ticket. Major flyers like Jet Blue, American Airlines, and Delta do!
3. Pledge to give up straws.
The Lonely Whale Foundation, a nonprofit that uses clever campaigns to clean our oceans, recently launched the #StopSucking challenge. By accepting, you're committing to saying no to single-use plastic straws when drinking on the go. If everyone in the United States signed on to this seemingly small action, we would save 500 million plastic straws each day, which can end up in the ocean polluting water and harming sea life. Take the pledge, share on social, and challenge other individuals and companies in your area to do the same, all in under five minutes.
4. Tell your representative what you care about.
If hopping on the phone to call your representative isn't your thing, environmental groups have made it super easy to write to your congressional representative online using a pre-populated form. Just sign your name to The Sierra Club form to voice your support for public lands and to the Environmental Defense Fund one to ask your rep to commit to signing on to clean energy initiatives. Add a quick personal message at the end and you're good to go.
5. Check to see if you can switch over to renewable energy.
You don't need to deck out your roof with solar panels or move closer to a wind farm to switch over to renewable energy in your home. In certain parts of the United States, Green Mountain Energy lets you switch over to renewables on the spot without changing energy providers. Just input your ZIP code and see if it's a possibility for you.