Make These Swaps For A Nutritious Take On Pasta With Plant-Based Alfredo Sauce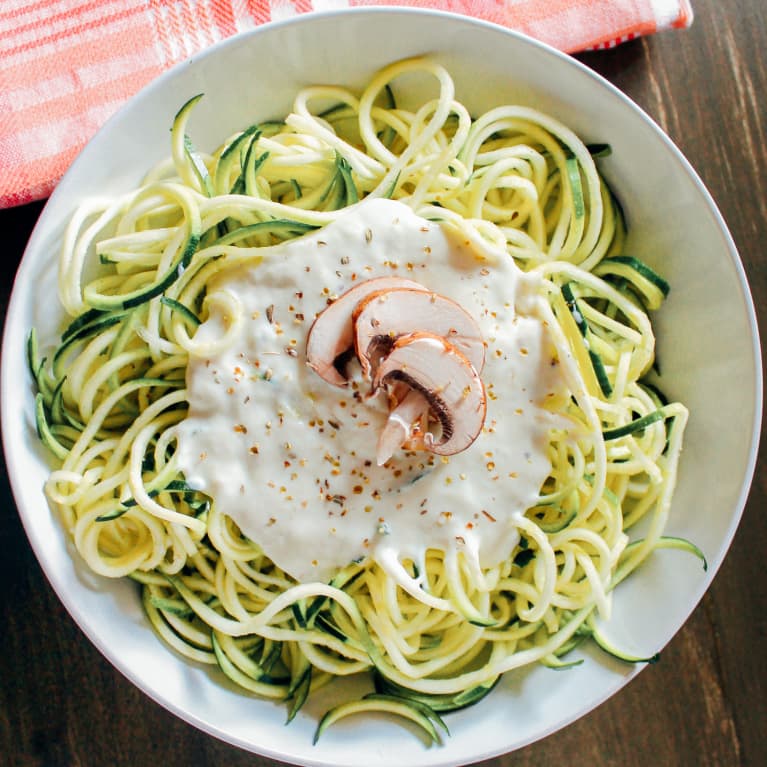 Our editors have independently chosen the products listed on this page. If you purchase something mentioned in this article, we may
earn a small commission
.
When it comes to updating dishes to make them a little healthier, a great place to start is with smart swaps—and this recipe is a great example of doing just that. Where traditional fettuccine Alfredo includes butter and Parmesan, this recipe uses an entirely plant-based mix of ingredients to create the creamy sauce. Plus, it uses nutrient-rich zucchini noodles in place of processed pasta.
In the sauce, there's one ingredient swap that will certainly be familiar to plant-based cooks: nutritional yeast for the Parmesan cheese. With its salty umami flavor, the vegan superfood is a good source of vitamin B12, as well as some other B vitamins while serving as that "cheesy" flavor Alfredo needs.
The other essential component of Alfredo is its creamy texture, which comes together in this recipe thanks to full-fat coconut milk and arrowroot powder—a great tool for thickening sauces.
While making this version of the sauce does require a few more ingredients, that doesn't mean the process is any more complex. See for yourself, and enjoy this healthier take on the classic, creamy dish.
Zucchini Spaghetti With Creamy Alfredo Sauce
1 cup full-fat coconut milk, canned
¼ teaspoon oregano
¼ teaspoon salt
½ teaspoon nutritional yeast
1 teaspoon arrowroot
3 whole zucchinis
1 tablespoon butter or ghee
To make the sauce, place all the ingredients except arrowroot into a pot. Heat the pot on medium-high heat while stirring.
Cook for about 5 minutes to allow the sauce to thicken a little bit with evaporation. To thicken further, place 1 teaspoon of arrowroot in a separate small bowl and add 1 tablespoon at a time of the coconut milk mixture to the small bowl until you have the arrowroot fully incorporated as a liquid (this helps prevent clumps of arrowroot in the sauce). Then, add the arrowroot mixture to the pot and stir continuously as the sauce thickens. Turn off the heat and set aside.
To make the zucchini spaghetti, you'll need a spiralizer tool. Wash the zucchini and chop the ends off. Place each zucchini on the spiralizer and twist to make noodles.
In a large pan, heat the oil on medium-high heat and place the zucchini noodles in the pan. Cook the zucchini while stirring occasionally until the zucchini is cooked and softened, about 7 to 10 minutes. Reheat the Alfredo sauce if necessary. Place the zucchini noodles in a dish and top with the sauce.