Meal Prep Sunday: Thyroid-Boosting Asparagus Bowl Edition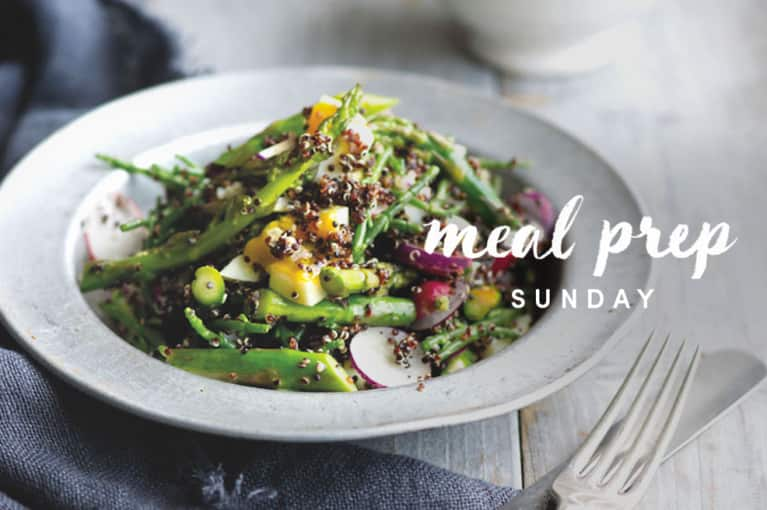 Our editors have independently chosen the products listed on this page. If you purchase something mentioned in this article, we may
earn a small commission
.
Welcome to Meal Prep Sunday, where you'll make a single, healthy recipe with serious bodily benefits, whether it makes your skin glow, helps soothe your gut, boosts your immunity, or more! Because it gets boring to eat the same thing every day, you'll do the bulk of the prep on the first day—and every day after that, there will be one small, five-minute-or-less tweak that will transform the leftovers into a new, amazing meal. This recipe, from the book Nourish Bowls, calls for spring asparagus and samphire, a sea vegetable with some serious nutritional cred. If you can't find samphire, though, no worries, everything will work just fine without it. Asparagus and samphire, along with egg yolks make this a thyroid-supportive meal due to a high amount of iodine (from the samphire and eggs), selenium (from asparagus, samphire, and egg), and zinc (from asparagus) in the dish.
Nourish Bowls is all about building nutritious bowls that you'll want to eat all week long, and this one is no exception. We recommend making all the bowl ingredients separately and combining them together in all the different dishes when you're ready to eat.
Shopping List for the Week
1 bunch asparagus
2 big handfuls samphire (optional)
4 to 6 eggs
Fresh ricotta cheese
1 bunch radishes
1 lime
1 lemon
Fresh herbs (parsley, mint, basil, or a mix)
Hummus (store-bought or homemade)
Frozen shelled edamame
Sourdough or sprouted bread
Pantry Staples (purchase if you don't have)
Olive oil
Black quinoa (but any color will do)
1 can coconut milk
1 cup vegetable broth
Pistachios
2 garlic cloves
1-inch knob of ginger
Asparagus + Black Quinoa Bowl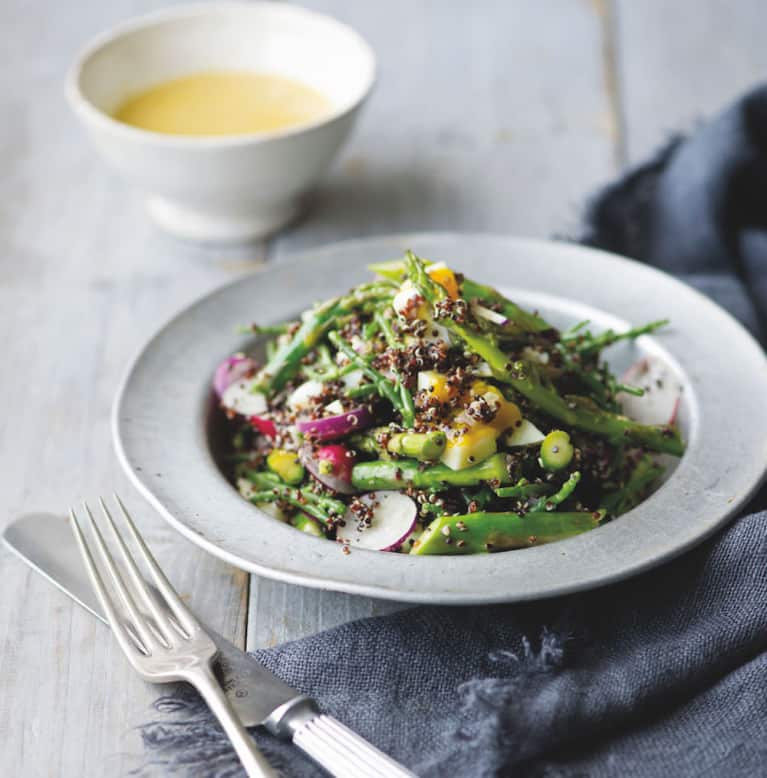 1 cup black quinoa
1 bunch asparagus
2 handfuls samphire (optional)
Grass-fed butter or olive oil
2 to 4 eggs (depending on how many you're serving)
1 (5-ounce) bag baby spinach
1 bunch radishes
1 teaspoon Dijon mustard
2 tablespoons lime juice or balsamic vinegar
6 tablespoons extra-virgin olive oil
Salt and pepper
Method
1. FOR THE QUINOA Cook black quinoa in plenty of water for 20 minutes, then drain and return to the pan. Cover with a tea towel and the lid and leave to sit for 10 minutes. Add 1 serving to a mixing bowl and reserve the rest.
2. FOR THE ASPARAGUS & SAMPHIRE Snap off the woody ends off asparagus spears, chop into 2-inch lengths, and cut any that are thick in half lengthwise. Rinse samphire. Blanch the asparagus for 30 seconds in a pan of boiling water, then drain. Heat a pan or wok and add a little butter or olive oil. Once hot, add the drained asparagus and cook for a couple of minutes before adding the samphire. Cook for a couple of minutes more and add a portion to your bowl, reserving the rest.
3. FOR THE CHOPPED EGG & SPINACH Add 1 egg per bowl you'll be serving in its shell to a pan of boiling water and simmer for 9 minutes. Cool under running water, then peel. Chop one egg for each bowl you're making and mix it with a handful of baby spinach to the mixing.
4. FOR THE RADISHES Finely slice a handful of mixed radishes and add to the mixing bowl.
5. FOR THE MUSTARD OLIVE OIL DRESSING Mix together Dijon mustard, lime juice or balsamic vinegar, extra-virgin olive oil, and plenty of seasoning. Add a couple of spoonfuls to the ingredients in the mixing bowl and mix through, adding more if needed.
6. TO ASSEMBLE YOUR BOWL Toss all ingredients together and transfer to a serving bowl.
Whisk up 2 to 3 large eggs in a bowl. In a small skillet heat a small knob of butter or drizzle of oil over a medium heat. Add some asparagus and samphire, a little baby spinach, and a big spoonful of quinoa. Pour eggs into the skillet. Spoon some fresh ricotta on top (optional), and season with salt and pepper. Cover skillet with a lid and cook until eggs are just set. Slide out of the skillet and serve with fresh herbs (parsley and basil are great).
DAY 3: Herb + Hummus Bowls
Roughly chop a combination of fresh leafy herbs of your choice (we love parsley, mint, and basil for maximum freshness)—a big handful per person. Combine herbs with quinoa, asparagus/samphire, and a big squeeze of lemon and drizzle of olive oil, if you have a leftover boiled egg, you can chop that and throw it in. Top with a big spoonful or two of hummus and chopped pistachios.
DAY 4: Coconut Ginger Broth
Combine a drizzle of oil, a clove of chopped garlic, and a 1-inch knob of ginger (peeled and grated or finely chopped) in a medium saucepan and heat over a medium heat until sizzling and fragrant. Add 1 cup coconut milk and 1 cup vegetable broth or water and season with salt. Simmer for 5 minutes, then let stand for another 5 to let the flavors mingle. In a bowl, assemble quinoa, asparagus/samphire, and baby spinach and pour hot coconut milk mixture over for a cozy, brothy soup.
Toast bread, cut a garlic clove in half, and rub toasted bread with the open clove. Top with ricotta, thawed and warmed shelled edamame beans, asparagus, and sliced radishes, along with any fresh herbs you'd like and a squeeze of lemon. Season with salt and pepper.