The Metabolism-Boosting Gingerbread Latte You Need To Try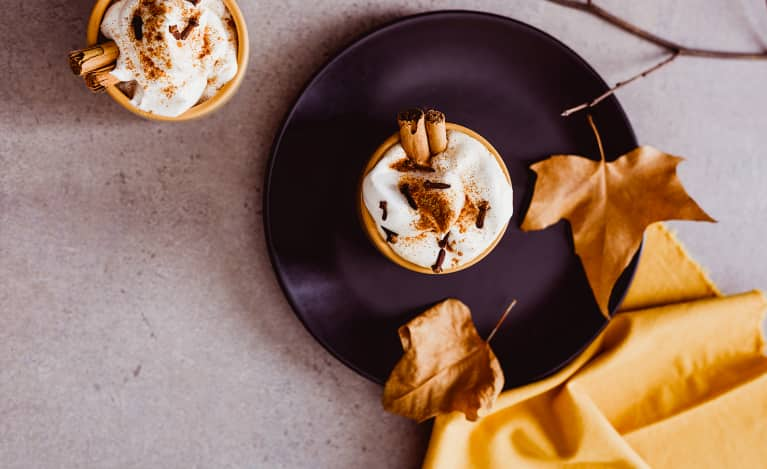 Festive lattes are a fundamental part of the season, with spicy, warming scents and flavors evocative of the best of childhood. The problem? Many of the drinks you can buy pack in more sugar than a plate of holiday cookies, and many have artificial flavors as well. This Gingerbread Latte, excerpted from Danielle Walker's genius Against All Grain Celebrations cookbook, eschews the traditional syrups for a perfectly gingerbready spice blend. Cinnamon acts as a metabolism-booster, while the ginger soothes your gut (because, let's face it, we're all indulging throughout the month). High-quality coffee adds to the longevity benefits. Make this recipe and throw it in a stainless-steel thermos to take small sips of holiday cheer all day long.
Serve this smooth and creamy coffee beverage with the flavors of gingerbread blended inside for a festive morning treat. Grind up some gingersnaps to rim the mug, if desired.
Ingredients
2 cups full-fat coconut milk
2 cups almond milk (unsweetened original flavor; look for brands with the fewest ingredients and no carrageenan or gums)
½ cup coconut sugar
¼ cup pure maple syrup
1½ teaspoons ground ginger
1 teaspoon ground cinnamon
½ teaspoon ground nutmeg
½ teaspoon ground cloves
10 cups strongly brewed coffee or espresso
Method
Combine the coconut milk, almond milk, coconut sugar, maple syrup, ginger, cinnamon, nutmeg, and cloves in a saucepan and whisk over medium-high heat for 5 minutes. Stir in the coffee and, working in batches, add the mixture to a blender (or use an immersion blender) and blend until frothy, about 15 seconds. Serve immediately.
Make It Ahead
To turn this into a coffee creamer, combine everything except the coffee. Stir the creamer into a hot cup of coffee or store it in the refrigerator in an airtight container for up to 1 week. To use the creamer in a single serving of latte, combine one part creamer to two parts coffee in a blender and blend until frothy.
Tidbits
For a truly classic gingerbread flavor, substitute unsulfured molasses for the maple syrup.
Based on excerpts from Against All Grain Celebrations by Danielle Walker, with the permission of Ten Speed, a division of Penguin Random House. Copyright © 2016.