This Spiced Fish Dish With Healthier Fries Is The Perfect Summer Dinner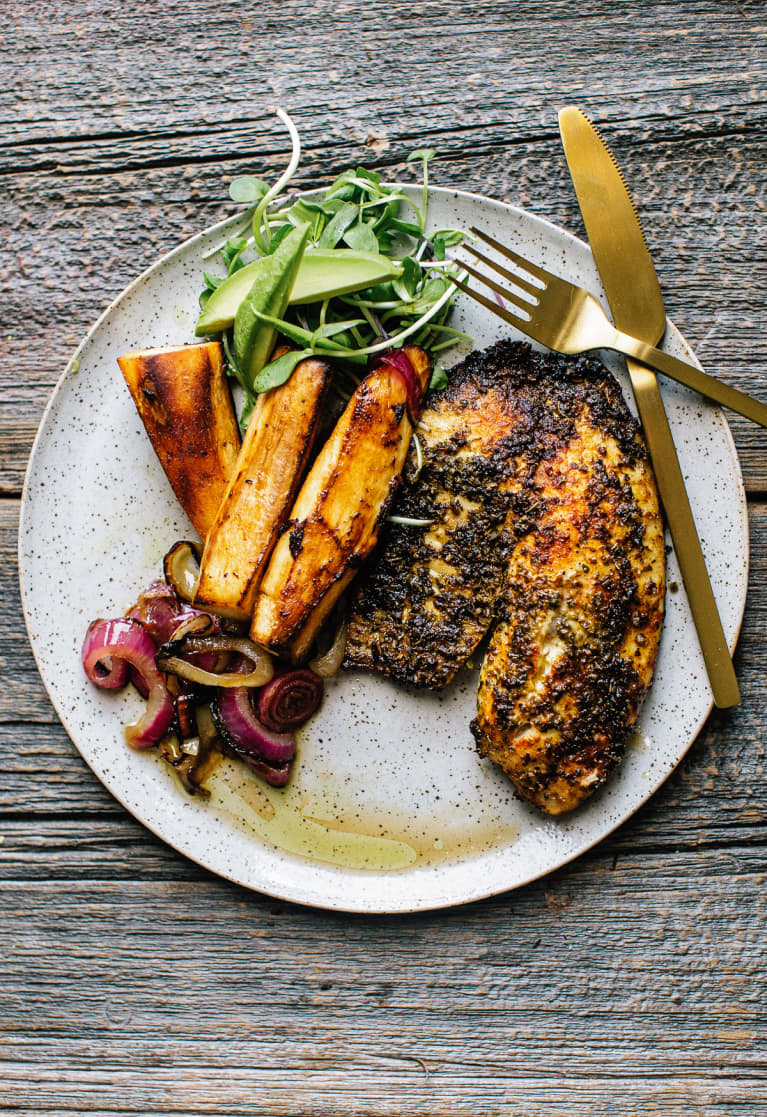 Our editors have independently chosen the products listed on this page. If you purchase something mentioned in this article, we may
earn a small commission
.
Diala Canelo is the recipe creator and writer of
Diala's Kitchen
, a food and travel blog where she shares recipes inspired by her trips around the world. This recipe comes from her new cookbook, also titled
Diala's Kitchen
, and draws on memories from her childhood in the Dominican Republic.
Growing up in the Dominican Republic meant that on the weekends my family would go to the beach. Usually, lunch would be blackened fish with yuca fries. Garlicky, crispy, and so tasty!
Since then, this simple yet utterly delicious meal always brings back memories of those carefree days spent on the beach with my family. Today, that same crispy blackened fish, seasoned with garlic and oregano, is a staple at our home in Canada.
Yuca is the root of the cassava plant. It has a rough barklike skin that must be peeled before cooking. Once cooked, its texture is similar to that of potatoes, and it has a mildly sweet flavor. It's also delicious when mashed. You can find it in the produce section of most grocery stores.
The marinade infuses the fish with a zesty flavor, and once the fish is served with fried onions and crispy yuca fries, then you are in for a true taste of a Dominican classic.
Blackened Fish Over Yuca Fries
2 skinless tilapia fillets (6 oz. each)
6 tbsp. extra-virgin olive oil, divided
Juice of 1 lime
½ tsp. dried oregano
1 tsp. sweet paprika
1 tsp. sea salt, divided
1 tsp. pepper, divided
1 large yuca root
½ red onion, thinly sliced
1 clove garlic, finely minced
½ lemon
1 avocado, pitted, peeled, and thinly sliced
1 cup loosely packed microgreens
Preheat the oven to 375°F. Line a baking sheet with parchment paper.
Place the fish fillets in a shallow baking dish. In a small bowl, combine 2 tablespoons of the olive oil, lime juice, oregano, coriander, paprika, ½ teaspoon of the salt, and ½ teaspoon of the pepper. Whisk until blended. Pour over the fillets and let marinate at room temperature for 10 minutes.
Meanwhile, bring a medium pot of water to a boil. While you're waiting for the water to boil, peel the yuca, cut it in half lengthwise, then cut each half into thick wedges. Boil the yuca until the wedges are slightly soft (test with a fork), about 6 minutes. Drain the yuca wedges and transfer them to the prepared baking sheet.
Toss the yuca wedges with 2 tablespoons of the olive oil and the remaining ½ teaspoon salt and ½ teaspoon pepper. Spread in a single layer, leaving a bit of space between the wedges, and bake until crispy and golden, about 20 minutes, turning halfway through.
Meanwhile, in a medium frying pan, heat 1 tablespoon of the olive oil over medium-high heat. Place the fillets in the pan (discarding the marinade) and cook until golden brown and crispy, about 5 minutes per side. Transfer to a plate and cover loosely with foil to keep warm.
In a small frying pan, heat the remaining 1 tablespoon olive oil over medium heat. Add the onions and fry until soft and translucent, about 5 minutes. Add the garlic and cook, stirring constantly, for 30 seconds. Remove from the heat.
To serve, place a fillet on each plate, and add yuca fries and fried onions on the side. Squeeze lemon over the fish and fried onions. Enjoy with a few slices of avocado and microgreens on the side.