This Turmeric Cocktail Will Make Your Skin Glow & It's Pure Fall Magic
Contributing Food Editor
By Liz Moody
Contributing Food Editor
Liz Moody is a food editor, recipe developer and green smoothie enthusiast. She received her creative writing and psychology degree from The University of California, Berkeley. Moody is the author of two cookbooks: Healthier Together and Glow Pops and the host of the Healthier Together podcast.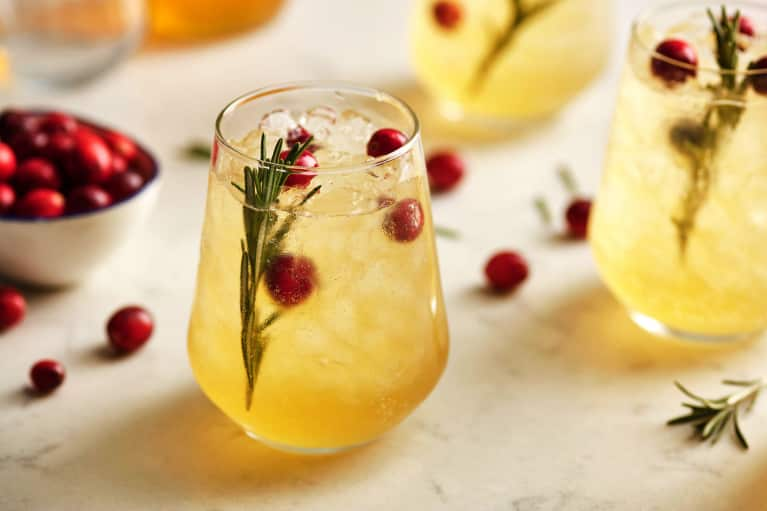 With the holidays fast approaching and fall cocooning us in her cozy embrace, it's natural to want to reach for a cocktail every now and then. Coming together and cultivating community is definitely an important wellness practice—and if you toss in a few cocktails that fall on the healthy-ish side, all the better. This one is designed to make your skin glow, with vitamin C-rich cranberries and oranges that help your skin synthesize collagen, and turmeric and ginger to fight inflammation as you sip. It tastes like the harvest in a glass, with a warmth from the spices and the seasonal cranberries (but don't worry, you can use frozen!). We recommend using a high-quality, gluten-free vodka to keep the health benefits and flavor at their peak (we tested this with Tito's, one of our favorites in the test kitchen).
Cinnamon Cranberry Orange Sunrise
Juice of 2 oranges (reserve peel for garnish)
¼ cup coconut sugar
½ teaspoon cinnamon
½ teaspoon turmeric
½ teaspoon ginger
1 cup fresh or frozen cranberries
5 ounces vodka
Sparkling water
Sprig of rosemary, for garnish
To make the cranberry puree: In a medium saucepan, combine orange juice, coconut sugar, cinnamon, ginger, turmeric, and cranberries. Cook over low heat for 10 minutes. Set aside and let it cool. Blend the cranberry mixture in a blender, then strain.
Fill a cocktail shaker with ice. Add the cranberry puree and the vodka and shake well; strain into 4 to 5 glasses. Top with sparkling water, and garnish with rosemary sprig and orange wedge.