Channel Spring With This Super-Easy Carrot-Cake-Inspired Breakfast
mbg SEO Editor
By Eliza Sullivan
mbg SEO Editor
Eliza Sullivan is an SEO editor at mindbodygreen. She writes about food, recipes, and nutrition—among other things. She studied journalism at Boston University.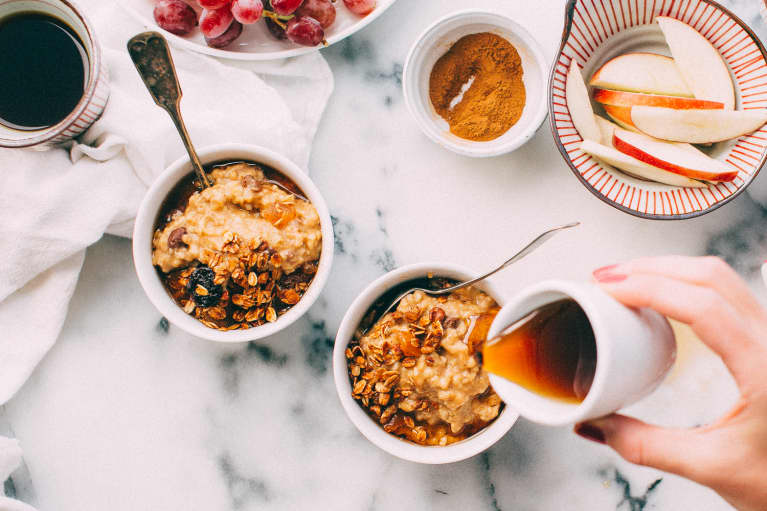 We know oatmeal can be the perfect base for a healthy breakfast. Whether steel-cut or rolled, oats are good sources of fiber, protein, magnesium, iron, and zinc. And while we've tried a number of methods for whipping up the whole grain, one of our surefire favorites is overnight oats—largely because of how simple they are to make.
This recipe for carrot-cake-inspired overnight oats is one of those breakfasts that has the potential to make a morning person out of anyone—even breakfast skeptics—with its healthy take on dessert-inspired flavors.
"This carrot cake raw oatmeal is always a hit when I make it," shares chef Amber Caudle. "Overnight oats are a staple in my house and so easy to grab in the morning. My body loves this raw oatmeal because my body easily digests it, and it seriously reminds me of delicious carrot cake." The ingredients in this recipe do more than just contribute that carrot cake flavor. They offer support for our gut, which means our brain will be happier, too.
"I am such a believer that a healthy gut equals a healthy and happy brain," she tells mindbodygreen. "This connection is so important and a topic I am very passionate about. I am always focused on having a strong, healthy gut to strengthen my mind and brain." Research has shown that the gut-brain axis, which connects the two, means that foods that support our gut are also brain-healthy by extension—including the fiber-rich ingredients in this tasty oatmeal recipe.
Raw Carrot Cake Overnight Oatmeal
2½ cups raw oats
1 cup coconut water
1 cup coconut milk
1 cup grated carrots
¼ cup flax meal
1½ tablespoons maple syrup OR ½ teaspoon stevia
1 teaspoon cinnamon
½ teaspoon ground ginger
Pinch of sea salt
Toppings: Currants, nuts, seeds, fruit, coconut flakes, maple syrup
1 cup pecans
1 tablespoon maple syrup
1 tablespoon coconut oil
Pinch of sea salt
To make the maple pecans:
Toss 1 cup raw pecans with1 tablespoon maple syrup, 1 tablespoon coconut oil, and a pinch of sea salt.
Roast in the oven for 15 minutes at 350°F.
Mix the oats, coconut water, coconut milk, flax meal, maple syrup or stevia, and ground ginger together and let soak, covered, overnight.
Blend the mixture in a blender or food processor until creamy. Let sit overnight in the fridge.
Stir in the grated carrots, top with the maple pecans, dried currants, coconut flakes, and any nuts, seeds, or fruit of your choice!